VIEW Blog Titles from June 2007
ARCHIVE
Blog Posts from June 2007:
Ya know shipmates, sometimes folks new to animation come to me and say:" Tom, just what the heck is ASIFA? Some kind of Israeli terrorist organization?" And I laugh, why? well, because I'm a jolly idiot who laughs a lot for no apparent reason.




Anywho, ASIFA was started in 1961 by progressive artists around the world who rejected the closed paranoia of the Cold War and wanted to share information and their common love of the art of animation. John Hubley(USA), Fyodor Khytruk(USSR),Bob Godfrey (UK) Paul Grimault(France), Nedjelko Dragic and Dusan Vukotic' (Yugoslavia) and Marcel Jankovic" (Hungary) and a number of others were the founders. Canadian Norman McClaren was the first president. They got an official charter from UNESCO because in the early 60s it was felt the United Nations was the best hope for world peace, and nothing was credible on an international level unless sanctioned first by the UN. This is of course, before multi-national corporations usurped all the real authority of nation states. Since the UN did everything in French, ASIFA means Association Internationale du Film Animation.

Today there are ASIFA chapters all around the world, they sponsor international festivals of animation like Annecy, Hiroshima, Ottawa, Zabreb and Varna. I am the vice president of ASIFA/Hollywood. You can visit our website at http://www.asifa-hollywood.org/ Our animation archives is become THE go to place for rare and hard to see animation art. ASIFA was given the complete archives of Disney nine old man Les Clark, Mike Lah and John K among many others. They are on line for you to study and enjoy. ASIFA also provides free screenings of the top feature cartoons and seminars.

ASIFA still remains the neutral arena all animators go to, and all fans and newcomers gather to meet the people who make the cartoons we love. Check out a chapter near you, and join and support the ASIFA movement.

Then you too can be the one to explain to your friends just what the heck ASIFA means.


ASIFA/Hollywood volunteers helping save wall murals done by legendary Disney artist Dick Huemer in the 1930s for his childrens playroom. When the original Burbank house was demolished, the family asked ASIFA to help save the murals.


-------------------------------------------------
Birthdays: Diego Velasquez, Pierre Corneille. Alexandre Pushkin, Nathan Hale, John Trumbull, Thomas Mann, The Dalai Lama, Klaus Tennestedt, Bjorn Borg, Dana Carvey, Richard Crane, Harvey Fierstein, Dr. Karl Braun, Walter Chrysler, Isaiah Berlin, Aram Kharachaturian, Sandra Bernhard, Paul Giamatti is 40

1683- The worlds first public museum , the Ashmolean, was opened. English archaeologist Elias Ashmole donated his collection of curiosities to Oxford University for the students to study. A building was commissioned from Christopher Wren and the museum opened to the public this day.

1727- BATTLE OF THE DIVAS- In Old London at this time the rage was for Italian Operas. Many international musicians made lucrative livings singing for Britons. Italian soprano Francesca Cuzzoni was the reigning star but a rival arrived in town named Faustina Bodoni. This night at His Majesty's Theatre Covent Garden with the Princess of Wales in attendance as Bodoni tried to sing Astianatte, Cuzzoni fans booed, hissed and shouted so much a fight broke out. Soon the two rival singers were up on stage tearing each others hair out, fistfights in the pit and scenery being pulled down. Composer George Frederich Handel laughingly accompanied the mayhem with an impromptu solo on kettledrums.

1925 - Walter Percy Chrysler founded Chrysler Corp.

1933-The first Drive In movie opens in Camden, New Jersey.

1939- Playright Eugene O'Neill had hit a dry spell of no writing and fears of impending Parkinsons disease. This day he got the inspiration to sketch out two outlines for two potential plays- The Iceman Cometh, and Long Days Journey into Night.

1941- Actor George Raft wrote a memo to studio head Jack Warner reminding him of his contractual commitment to send Raft only good quality scripts. The latest he got: " The Maltese Falcon" was a lousy substandard idea that has no chance." Humphrey Bogart did the film instead.

1942 – Adeline Grey does the first nylon parachute jump in Hartford Conn.

1944-D-DAY, the NORMANDY INVASION- General Dwight Eisenhower launched 4,000 ships, 11,000 planes and 150,000 troops on the shores of Nazi occupied France with the order: "Okay. Let's go.". In Moscow where the Soviets had been begging for a second front, there was wild celebrations and Radio Moscow played "Yankee-Doodle" all day. Eisenhower had planned that green troops be used in the first wave. "If they knew what was waiting for them like the veterans know, they wouldn't go." Many technological innovations were tried including floating pre-fabricated harbors "mullberries" and amphibious vehicles. Some were duds like the "swimming tanks" Sherman tanks with a large rubber donut around them. 36 tanks were launched into the waves and 32 sank almost immediately.
In the assault were future Senator Robert Dole, Disney key assistant Dale Oliver and Warner artist Victor Haboush. Sergeant Baumgarden drew on his jacket a large Star of David and wrote "Bronx, N.Y." under it to let Hitler know who was coming. Many of the infantry had rolled condoms onto the muzzles of their guns to keep sand and water out of them. Famed war photographer Robert Capa leaped into the surf before the landing barges reached shore and walking backwards with the whole Nazi army shooting at him photographed the first G.I.s landing on Omaha Beach. His 22 rolls of film were later ruined by an inept lab developer.
The German High command was taken completely by surprise. When the invasion happened many officers were coming home from a weekend seminar on how to fight an invasion, and Hitler had taken a sleeping pill and left orders not to be disturbed.

1949-Comic strip character Joe Palooka gets married to Ann Howe.

1949-BIG BROTHER IS WATCHING- George Orwell's book about technological tyranny -1984 was first published. Orwell's working title was "The Last Free Man", but the publisher thought it too depressing to sell. So Orwell picked the date 1984, who's only significance was that it was the year he was writing 1948- reversed

1955 - Bill Haley & Comets, "Rock Around the Clock" arguably the first rock and roll hit, gets to #1 in the charts.

1972 - David Bowie releases "Rise & Fall of Ziggy Stardust"

1976- The Glendale Galleria shopping mall in Glendale Cal. opened.

1991 - NBC announces Jay Leno would replace retiring Johnny Carson, winning out over David Letterman. Letterman proceeded with his plans to move his Late Night Show to CBS.

My hat is off to the studio that animated those Stolichnaya Vodka ads on TV with the over-the-top Soviet graphics and Red Army Chorus.
I'm very jealous, Congrats! You are awarded THREE TIMES A HERO OF THE SOVIET UNION!
I still prefer my martini's with Belvedere, though....

-------------------------------------------------------------

Birthdays: Socrates, Pancho Villa, Thomas Chippendale -furniture maker, not male strip club owner, Igor Stravinsky, Archduchess Anastasia Romanov, Frederico Garcia Lorca, Bill Moyers, Hopalong Cassidy, Tony Richardson, Kenny G., Lancelot Ware the founder of Mensa, Spaulding Gray, Mark Wahlberg

221B.C. - The Chinese poet Chu Yuan drowned himself as a protest of an unjust Emperor. His memory is remembered by the annual Dragon Boat Festival. People decorate boats like dragons and created dumplings to drop into the river to dissuade fish from eating the remains of the poet.

1455- Poet Francois Villon gets thrown out of Paris again, this time for stabbing a priest in a bar fight. Gotta watch out for priests in bars....

1502- LEONARDO GETS A JOB- This day Leonardo Da Vinci was hired by Caesare Borgia as a military engineer. Borgia was the son of Pope Alexander VI and wanted to conquer Italy for the Church. The artist-scientist Leonardo had promised Borgia he could design horrific war making devices like tanks, flame-throwers and poison gas. Most of these things were impractical for the Renaissance but Borgia used him study the topography of the lands he intended to conquer. After a few months the Pope died and the new Pope exiled the Borgias. Leonardo went on the job search again.

1876- At the Philadelphia Centennial Exhibition Americans become enamoured of an exotic new food- Bananas.

1963- BRITAIN ENTERS THE 60'S, BABY...The Profumo Scandal. Sir John Profumo was defense minister, personal protege of Prime Minister Harold MacMillan and seen as a rising star in Tory politics. This day he resigned in disgrace and brought down the government when it came out he was keeping a 19-year-old `party-girl' named Christine Keilor as his mistress. She was not only sleeping with married Sir John but was also dating a known Russian spy.

1964 - Davie Jones & King Bees debut "I Can't Help Thinking About Me," The group disbanded but Davie Jones went on to success after changing his name to David Bowie.




There is a great review of DRAWING THE LINE in today's LONDON REVIEW OF BOOKS. The article reviews my book as well as Neil Gabler and Mike Barrier's Walt Disney bios.

http://www.lrb.co.uk/v29/n11/grei01_.html


He described Drawing the Line as "The best account yet on the Walt Disney Strike of 1941..."

Thank you, Britain!
The Third Man. Now that's lighting, baby!



Some other ideas for films all animation and film people should see at least once in their careers-

THE THIRD MAN (1949) Sir Carol Reed- The famous chase in the sewers.
TRIUMPH OF THE WILL (1934) Leni Reifenstahl- you need a strong stomach to stand all the Nazi idolizing, but it Leni's hauntingly hypnotic poem to power and the regimentation of evil. Try the documentary by German Peter Muller, THE TERRIBLE, WONDERFUL LIFE OF LENI REIFENSTAHL for an interesting look at this controversial filmmaker.
In fact, try to see some of Frank Capra's WHY WE FIGHT series like PRELUDE TO WAR- 1942. It is intended to be a propaganda film to e show on troop ships so kids from Detroit and Nashville will understand why they have to hate and kill the enemy. Propaganda films are film in the raw with a simple message, and so now the the message is no longer relevant, it can be studied for it's style.
LAWRENCE OF ARABIA-(1962) David Lean- masterful frame composition in the wide screen format.
FORBIDDEN PLANET and THE DAY THE EARTH STOOD STILL for sci-fi beginners.
RAW DEAL (1952) and KISS OF DEATH (1953) for more film noir fans.
CASABLANCA (1943) Michael Curtiz, for an all around great movie experience, great script, great performances.

The AGONY AND THE ECSTASY( 1965) Carl Reed. Reed's story of the clash of egos involved in Michelangelo's painting of the Sistine Ceiling is more an allegory on the relationship of creative people with their employers. Once it was popes, now producers.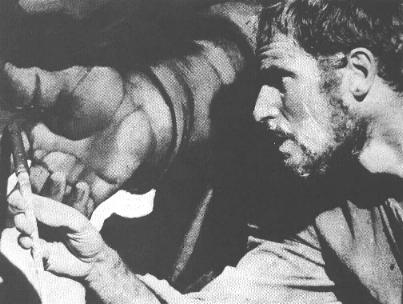 Big Chuck shows us how it's done! courtesy CharltonHestonworld.com

Some of these films may not move as fast as the post-MTV generation might like, but there is something to be learned out of all of them. Disney Nine Old Man Ken Anderson used to teach us- when you see a film you like, watch it three times. Once to get the plot over with, a second time just watch the cutting, the third time watch the way the film is lit and framed.

ENJOY!


----------------------------------------------------------------------------------------
Birthdays: King George III, Alvah Bessie, Rosalind Russell, Gene Barry, Dennis Weaver is 82, Robert Merrill, Bruce Dern, Andrea Jaeger, Dr Ruth Westheimer, Freddy Fender, Noah Wylie, Rachael Griffiths, Angelina Jolie is 32

Happy Saint John the Baptist Day.

1666- Moliere's play"Le Misanthrope"premiered.

1896-Henry Ford tests out his automobile with headlights in a nighttime drive around Detroit.

1912-The first minimum wage law passed, in the state of Massachusetts.

1916-THE HERO PIGEON OF VERDUN- During the horrific battle of Verdun the Germans had surrounded the French strongpoint of Fort Vaux. The fighting in the underground 15 foot high concrete tunnels of the fort was ghastly, men killed each other with hand grenades and flamethrowers at close quarters while groping through the blackness and gagging at the stench of rotting corpses. The French commander Captain Reynal, his telephone communications cut, sent his last carrier pigeon to get help. The pigeon, despite being badly gassed and perching on the roof of the fort for a little while, got through to the high command. Delivering his message like Phiddipides of Marathon he then fell over dead. Help never got through, and Captain Reynal had to surrender, but the dead pigeon was awarded the medal of the Legion d'Honneur. Go figure.

1916 - Mildred J Hill, one of the two Hill sisters who composed the song Happy Birthday To You, died at 56.

1942- Capitol Records opened for business.

1944- American armies at last enter Rome. An Allied beachhead had been established at Anzio last February only a few miles away and scouts had reported the Eternal City wide open, but the American generals Lucas and Clark hesitated until the Germans could bring up reinforcements and bog them down for weeks. But this day they entered the city to the cheers of the populace. A G.I. cartoonist named Vinny solicited laughs from the troops by appearing on Mussolini's balcony on the Via Del Corso and doing a mock interpretation of Il Duce.

1947- The film "A Miracle on 34th St." opened. Starring Maureen O'Hara, Edmund Gwen and 8 year old Natalie Wood.

1951- The Supreme Court upholds the anti-Communist Smith Act. This act stated you could be fired from your job or jailed even on a suspicion that you were a communist, no proof required.

1951- Tony Curtis married Janet Leigh. the result was to produce Jamie Leigh-Curtis.

1965- The Rolling Stones release the single "Satisfaction".

1967- The television show "The Monkees" win the Emmy award for Best Comedy. The producers of the Pre-Fab Four raise enough money and clout to fund later projects like the hit movie Easy Rider. Band member Mike Nesmith later married into the Liquid Paper fortune and helped start the all music channel MTV. This same ceremony saw Bill Cosby become the first African-American to win an Emmy, this for his role in the series I-Spy.

1977- The Apple II went on sale. It became the Model T of the cyberworld, the first successful mass marketed personal computer.


Even with cinema classes, film appreciation and Turner Classic Movies, one thing that is lacking today that we had in the 1960s was Million Dollar Movie. When local stations ran endless streams of classic old Hollywood films instead of reruns of Fear Factor and Fresh Prince. For years it was an effortless daily seminar of Hollywood's greatest filmmaking techniques, all for free. Small wonder you hear animators my age speaking of the technique of John Ford and the antics of the Buster Keaton and the Marx Brothers, even when they did their thing long before many of us were born.

As if it's not hard enough learning to be an animator, you have to learn new software programs, study acting and the Disney features and Ren & Stimpy. Today's audience demands filmmaking on a par with the best live action movies have to offer. Wacky wabbits and cuddly bears aren't enough any more. Our performances, art direction and cutting have to compete with the best a Speilberg and Tarantino can do.

So as a service to my animation students and various sundry others who think I have anything informative to say, here are some ideas for films you should make it a point of seeing at least once in your filmic life. I'll post some more ideas tomorrow.

STAGECOACH (1939) John Ford- Akira Kurosawa and Francois Truffault both said they taught themselves film technique by watching this film over and over. Kurosawa said he watched the Indian attack sequence at least 50 times!
While you're at it, see FORT APACHE (1948) and THE SEARCHERS (1956), two of the best Ford films. Fort Apache is a masterpiece of giving us the backstory of the characters, without beating us over the head with long explanations or crawls of type. Instead of watching a players in a play, we feel we are intruding in one moment of these characters lives.
By the way, go see Kurosawa's RASHOMON (1950) to understand what the term means.

See BATTLESHIP POTEMKIN (1923) by Sergei Eisenstein so you can see what all the jokes about the staircase sequence are about.

For screwball comedy see DUCK SOUP (1934), the Marx Brothers at their finest, THE MUSIC BOX - Laurel and Hardy on another type of staircase, as well as BRINGING UP BABY (1938), ARSENIC AND OLD LACE (1944), SULLIVAN'S TRAVELS (1941) Preston Sturges, and TWENTIETH CENTURY (1934) the last features John Barrymore and Carol Lombard, two of the greatest actors America has ever produced, doing broad comedy beautifully.

For more comedy see THE GENERAL (1927) Buster Keaton, SAFETY LAST (1923), Harold Lloyd and THE CIRCUS (1928) Charlie Chaplin.

For art direction, see THE GRAPES OF WRATH (1939), CITIZEN KANE (1941) and for noir WHITE HEAT (1949). For suspense see PSYCHO (1960), and NORTH BY NORTHWEST (1959) both by Alfred Hitchcock.

Of course these are by no means a complete list. Some are obvious and some are my opinion. I hope some of these ideas inspire further searching of these film masterworks on your part. I was in Nagoya recently on a panel with Mamaru Oshii, the director of the GHOST IN THE SHELL (1995). He said he's getting a lot of inspiration lately by studying the films of the European New Wave Cinema of the 1960's- Godard, Antonioni and Truffault.
Disney animator Art Babbitt said to be an animator is to be a student of everything.


Laurel & Hardy in THE MUSIC BOX- shot at the staircase at 923 Vendome Ave. in Silverlake

Go exploring for yourself and enjoy!
------------------------------------------------------------------
Birthdays: John Paul Jones, Josephine Baker,Tony Curtis is 81, Allen Ginsburg, Collen Dewhurst, Alain Renais, Curtis Mayfield, Paulette Goddard, Maurice Evans, Jack Oakey, John Dykstra, Tom Arnold, Chuck Barris

1888-The poem: "Casey at the Bat" by Edward Lawrence Taylor published in the San Francisco Examiner.

1939- Movie director Alexander Korda married movie star Merle Oberon.

1946- A consumer study finds there are only 10,000 television sets in America.
A follow up study five years later finds the number at 12 million.

1949 - Dragnet is 1st broadcast on radio ( KFI in Los Angeles ). Creator Jack Webb wanted to capture the dry, non-theatrical delivery he heard real cops use. He ordered his actors to "stop acting, just read the lines". Webb wrote the scripts from real LAPD cases and starred as well.

1967 - Aretha Franklin's "Respect" reaches #1. Sockittome,sockittome,sockittome.

1968- Artist Andy Warhol was shot in the gut three times by Valerie Solanas, author of the "SCUM Manifesto". Warhol barely survived. Solanas was institutionalized.

1971- The First artificial gene created.

1976 –Galileo-Galileo Fig-a-ro! Queen's single "Bohemian Rhapsody" goes gold.

1980- President Jimmy Carter announced the United States would boycott the 1980 summer Olympic Games in Moscow because of the Soviet Invasion of Afghanistan. The Russians boycotted the LA Olympics in 1984 and left Afghanistan in 1989.
One result of the embargo was NBC dropped it's animated feature Animalympics, a toon spoof of the Olympics directed by Steve Lissberger (TRON). Artists involved included Bill Kroyer, Randy Cartwright, Roger Allers, Andy Gaskill, Dan Haskett and me.
| | |
| --- | --- |
| | |