VIEW Blog Titles from August 2009
ARCHIVE
Blog Posts from August 2009:
Quiz: What do you mean by something being called apocryphal?

Yesterday's Question: The movie G.I. Joe is opening soon. What does G.I. mean?
---------------------------------------------------------------
History for 8/2/2009
Birthdays: Perre L'Enfant the architect –designer of Washington DC, Jack Warner, Myrna Loy, Sir Arthur Bliss, James Baldwin, Carrol O'Connor, Joanna Cassidy is 47, Pete Sampras, Butch Patrick (Eddie Munster ), Bob Beamon, Wes Craven, Apollonia, Edward Furlong, Kevin Smith is 38, Peter O'Toole is 77, Marie Louise Parker is 45

47BC- Battle of Zela. Pharnaces the King of Pontus- a land today in the middle of Turkey, decided he could take advantage of the Roman civil war by rising in revolt. He called for all the eastern provinces throw off the Roman yoke. This day Julius Caesar took time off from Cleopatra, and hurried up to Pontus, where he destroyed Pharnaces army in one large battle. Caesar then sent his famous three word report to the Senate: " VENI VIDI VICI- I came, I saw, I conquered."

1100- King William II Rufus (the Red), son of William the Conqueror, was shot with an arrow while hunting in the New Forest. His son Henry I became king. Truth be told, nobody liked Rufus very much, so it was probably not an accident.

1589- French King Henri III de Valois is stabbed in the guts by a demented Dominican, Brother Jacques Clement. He thought the King wasn't doing enough to stamp out Protestantism. The kings last words were: "That little bastard has killed me. Kill him!"
Henry IV de Bourbon becomes one of Frances most well beloved kings. The children's song "Frere' Jacques" is about this assassin "Brother Jacques, Why are you sleeping?" another King needs stabbing, in other words.

1865- The Confederate raider CSS Shenandoah, after sinking a dozen U.S whaling ships in the Bering Sea off Alaska, is told by a passing British merchantman that the American Civil War had ended over 3 months ago......doh! They refused to believe it until shown some newspapers.

1873- The first San Francisco cable car began service. Inventor Arthur Halliday had conceived the idea in 1869 after seeing a horse drawn tram fail to get up a steep hill.

1876- In Deadwood South Dakota at Nuttall & Manns No.10 Saloon gunfighter Wild Bill Hickock was shot in the back and killed while playing cards. He was 48 years old. He was holding the "Deadman's Hand" aces & eights all black, and a jack of hearts. His assailant 'Crooked Nose" Jack McCall was found hiding in a butchers shop and hanged for the murder. An eyewitness said:" It was very sad. Bill had won the hand too."



1909- The US issues the first Lincoln head pennies.

1914- THE GUNS OF AUGUST-General mobilization began throughout Europe for World War One. Large armies moved towards their frontiers amid hysterical street demonstrations of patriotism, Jubilant mobs shouting "A Berlin!" "Nach Paris!" ring out as Europe prepared to destroy itself. In Russia Czar Nicholas II in a solemn religious ceremony takes the oath his ancestor Alexander Ist had taken to drive out Napoleon. In Berlin a torchlight parade stopped under the Japanese Embassy to salute their friends. They were unaware that Japan had already decided to join the other side. The terrified diplomats thought the crowd was there to lynch them. From the Reichchancellory window German foreign minister Von Bethman-Holveig mumbled: "How did this all happen? If only I knew..." In London Lord Grey similarly reflected-" The Lamps are going out all over Europe. We shall not see them lit again in our lifetime."

1920- Marcus Garvey addressed a rally of 25,000 African Americans at Madison Garden New York. He called upon Black Americans not to integrate with White Society but to work for economic self-sufficiency and an eventual return to Africa. Garvey told biographers he was never born, he had "combusted himself" on the corner of 125 & Lennox in Harlem.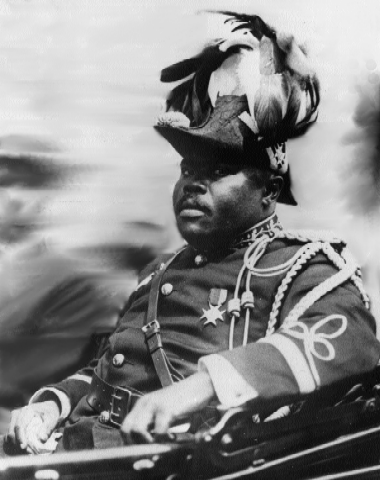 1923- President Warren Harding died suddenly in San Francisco's Palace Hotel. He was touring the country to get away from the festering 'Tea Pot Dome'' bribery scandal in Wash. The official cause of death was listed as " a stroke of apoplexy". It was rumored he may have committed suicide or had eaten bad crab meat. A popular idea was that First Lady Florence "Flossie" Harding had poisoned him. Harding was a womanizer and once locked a girlfriend he was entertaining in a closet in his office to run a cabinet meeting. Flossie was well aware of his indiscretions; She refused an autopsy and had him quickly embalmed. She controlled all media coverage. To the press she was the Duchess. Nan Britton, the tootsie in the closet, immediately sued for $50,000 for the daughter she bore Harding. She lost but wrote a best selling book called the President's Daughter in 1927. "Silent Cal" Coolidge became President.

1934- Elderly President of the German Republic Paul von Hindenburg died, leaving Chancellor Adolf Hitler alone in charge of Germany. Hitler had waited for the old man to croak before dispensing with the parliamentary niceties. Hindenburg's death signaled the official end of the Weimar Republic. Hitler combined the offices of President and Chancellor and becomes Der Fuehrer- the Leader.

1939- Albert Einstein then living in New Jersey, wrote a famous letter to President Franklin Roosevelt describing the potential power of atomic energy. That the US must develop atomic bombs before the Nazis do. The Manhattan Project was the result. In later years Einstein described this letter as "one of the biggest mistakes of my life."

1961 - Beatles 1st gig as house band of Liverpool's Cavern Club.

1962- If you are a fan of the "Marilyn Monroe was done in by the Kennedy's " conspiracy theory, a recently unearthed CIA document dated this day mentioned that Marilyn's bungalow was under electronic surveillance. Also that she kept a "red book" diary. The diary disappeared after her death, two nights from now.

1990 –After Kuwait refused to waive Iraq's outstanding debts. 100,000 troops of Saddam Hussein's army invaded Kuwait.
-----------------------------------------------------------------------
Yesterday's Quiz: The movie G.I. Joe is opening soon. What does G.I. mean?

Answer: General Inductee, During World War II it was meant to differentiate between the career army professionals and the newly drafted recruits. Joe seemed the most common American name, the way British were called Tommies and Germans were called Fritz.
Question: The movie G.I. Joe is opening soon. What does G.I. mean?

Yesterday's Quiz answered below: Ever notice most books are the same size? Who decided the standard size and why?
---------------------------------------------------------
History for 8/1/2009
Birthdays: Roman Emperor Claudius, Emperor Pertinax, Francis Scott Key, Captain William Clark of Lewis and Clark, Herman Melville, Robert Todd Lincoln- Abe and Mary Lincoln's only child to live a full life, Geoffrey Holder, Yves St. Laurent, Giancarlo Giannini, Dom Deluise, Jerry Garcia, Coolio, Sam Mendes

31 B.C. Marc Anthony falls on his sword. It wasn't an accident, that's how they did themselves in back then. Most people felt the final showdown between Marc Anthony and Augustus would be much bloodier than the war between Caesar and Pompey. But after the naval defeat of Actium, Anthony's supporters melted away.

14 A.D. The Roman Senate decided to change the name of the Month Sextilus (number 6) to the Month of the Divine Augustus, or August. Greek scientist Sosigene's plan for the Julian Calendar was a mix of alternating months- 30 days, then 31 days. The system got messed up when Augustus' relations hated that Julius Caesar's month July had 31 days but their August had only 30! So the Senate added a day onto August and took one from, February, which was named for a god of the underworld that nobody liked anyway, which went down to 28.

1096- Peter the Hermit's Crusade, in reality an enormous horde of chanting, bloodthirsty peasants, arrived at Constantinople. Their nominal leaders were the monk Peter and Walter Sans Sou or Walter the Penniless. They had spent the march through Europe massacring Jewish enclaves in many cities and the Byzantine Emperor Alexius didn't want them turning his city into a war zone. So he had them ferried them over to Asia without allowing them to enter his city. They were soon destroyed by the first large Saracen force they encountered. The real First Crusade army arrived months later.

1714- George Louis/Ludwig, German Elector of Hanover, became George Ist King of Great Britain upon the death of Queen Anne, last of the Orange dynasty. He never trusted his English subjects, they had too many revolutions, too many confusing Parliamentary checks and balances and just 60 years earlier had beheaded their king. George spoke no English "The English asked me to Rule them, not to Speak to them!".

1716- The first sculling race, down the Thames from London to Chelsea. Stroke! Stroke!

1740- Thomas Arne's song "Rule Britannia" is performed for the first time.

1744- British chemist Joseph Priestley isolated oxygen, first calling it "dephlogisticated air" . Swedish chemist Carl Scheele isolated the gas in 1771-2 but didn't publish his results until after Priestley. Before this doctors knew how the heart, lungs and blood operated but no one was sure why. Some thought the heart was a little furnace that kept the blood warm, others thought it sifted blood as it passed through the ventricle walls like a cheesecloth.

1793 – Revolutionary France became the 1st country to use the metric system.

1797- According to C.S. Forrester, his British naval hero Horatio Hornblower received his captain's commission today.

1893 - Henry Perky & William Ford patent Shredded Wheat cereal.

1914- Count Friedrich von Portales, the German ambassador to Russia, suffering from nervous exhaustion after a sleepless week of negotiations, appeared in the office of the Czar's foreign minister Nikolai Sazonov. He asked if Russia had reconsidered Germany's ultimatum that Russia demobilize. Sazonov said they did not. Whereupon Portales pulled a paper out his pocket and read the Declaration of War: "His Majesty the Emperor, my august sovereign, accepts the challenge in the name of the empire and now considers himself at war with Russia!" Portales then burst into tears and was comforted by his old friend Sazonov. Late that night Czar Nicholas II was lowering himself into his bathtub with a glass of tea when a final telegram pleading for peace from Kaiser Wilhelm himself arrived. "Silly man! Hadn't he just declared war on me?" Nicholas remarked.
The Czar said he slept soundly that night.

1924- Six months after his death Russian Leader Nikolai Lenin's mummified body is unveiled in his great tomb in Red Square. After the USSR fell there were many calls to finally bury the Commie-Under-Glass but in 2001 the decision was made to leave him as is.

1933- The WPA Arts Project set up to employ starving artists on large public works projects like murals for libraries and bridges, etc. Artists like Grant Wood, Andrew Wyeth, Dorothea Lang , Orson Welles and Bernice Abbott got commissions. At the time American artists were obliged to post on the outside of their residences or studios a sign "A.I.R." or artist-in-residence. This was to warn the general public that the person at this dwelling may have nude models, bongo players and other such depravities cavorting around at all hours.

1936- The opening ceremonies for the Olympic Games in Berlin. The United States was the only nation to refuse to dip their flag in salute to the host head of state- Adolf Hitler. Filmmaker Leni Reifenstahl was given unlimited access to document the Games. She pioneered the use of slow motion, tracking shots and closeups to revolutionize the way sports is filmed.

1940- Hitler released War Directive #17, calling for increased air and sea operations against the British Isles. Operations were to commence August 5th which der Fuehrer called "The Day of the Eagle". We call it the Battle of Britain.

1943- Late at night off the coast of Borneo the little torpedo boat P.T. 109 rammed and sunk by the Japanese destroyer Amaqiri. Lieutenant John F. Kennedy and his crew swam to an uncharted island. They will be rescued when a native in a canoe delivers a message from Kennedy scrawled on a coconut. "Naru Is. Native knows it. 11 alive need small boat." When President, Kennedy had the native man to the White House and kept the coconut on his desk in the Oval Office. In June 2002 Dr Robert Ballard, who had discovered the Titanic, found the wreckage of the PT 109 on the ocean bottom.

1946- Congress authorized all the left over World War Two army surplus to be sold off and the money given out as educational scholarships. The Fullbright Scholarships.

1946- Truman signed the Atomic Energy Act. It nationalized atomic energy research but created a civilian commission to review peacetime uses of atomic energy.

1946-The first drive-in bank teller opens in Chicago.

1950-Jay Ward's "Crusader Rabbit" the first animated cartoon show made for television.

1953- The Alan Ladd movie Shane released.

1960 - Chubby Checker releases "The Twist" and starts a world wide dance craze.

1960 –A young Baptist preachers daughter who had sung nothing but gospel went into a recording booth to try her hand at R & B. Aretha Franklin's career began.

1966- TEXAS TOWER WHITMAN-Lunatic Charles Whitman barricaded himself into the steeple of Texas University and shot 15 people at random during a day long gunbattle with police. The tragedy reached comic proportions when Texas recreational gun owners hauled out their pieces and joined the fun alongside the police. Whitman's Marine training was cited for his excellent marksmanship and his eccentric behavior, like constantly polishing his shoes during the day long battle.

1971- The Rock Concert for Bangladesh, organized by George Harrison. The first charity-fund raising rock-concert.

1971- The Sonny & Cher Comedy Hour debuted.

1971- PBS started a new television series called Masterpiece Theater hosted by Alastair Cooke. It's first presentation was a the Six Wives of Henry VIII. The high quality BBC and Thames Television programs became so popular in the US, that people said PBS meant Preferably British Shows.

1972- Bob Woodward and Carl Bernstein's first articles in The Washington Post exposing the depths of the conspiracy in the Watergate Scandal. The two journalists claimed they were fed information by someone very high in the Nixon White House who would only give his name as Deep Throat. In 2005 his identity was revealed as W. Mark Felt, the assistant head of the FBI. Their story was dramatized in the film All The Presidents Men.

1972- 187th Tactom Flight Group of the Air Texas National Guard suspended the flight privileges of Lieutenant George W. Bush for failing to take a drug test. The future US president went AWOL (away without leave) from May 1972-to May 1973 to work on his dads' congressional campaign. It was well known the National Guard then was an easy way for rich kids to avoid being sent to combat.

1973- With the tag line "Where were you in '62?" the film American Graffiti opened in theaters. The hit made skinny young director George Lucas a player in Hollywood, and made stars of kids like Harrison Ford, Richard Dreyfus and Susanne Somers.

1981-I WANT MY MTV! MTV goes on the air, rock videos 24 hours a day. The idea was funded by a consortium of investors including Mike Nesmith of the Monkees, now on the board of 3M Paper company. If you put on the TV this day you saw a slide of an astronaut for several hours, then finally a voice said :"Ladies and Gentlemen, this is Rock & Roll." The first rock video played was by a British New-Wave Band called the Buggles entitled "Video Killed the Radio Star." followed by a Pat Benatar single. There are now MTV channels around the world- Beijing, Rio de Janeiro, Berlin and Moscow, but they hardly ever show music videos. That kind of experimental filmmaking has moved to U-Tube.

1991- elderly movie queen Heddy Lamarr was busted in Tampa Florida for shoplifting.

1994- NASDAQ stock trading on Wall Street was halted for 35 minutes because a squirrel gnawed through a main fiber optic cable at the organization's computer center in Connecticut.

2007- THE MINNEAPOLIS BRIDGE COLLAPSE. The I-35 Bridge, which crosses the Mississippi through the center of Minneapolis, collapsed during the afternoon rush hour, plunging 113 cars into the river. It killed 110 people. The tragedy was a big wake up call to America's neglected infrastructure. Most American bridges were 40-70 years old and built only intended to last 75 years. In 1958 the U.S. spent 12% of the Federal Budget on infrastructure, in 2007, - 2%.
-----------------------------------------------------------
Yesterday's Quiz: : Ever notice most books are the same size? Who decided the standard size and why?

Answer: Before Johannes Guttenburg (1450), Arab merchants had brought the secrets of making paper and block printing from China. Rather than make scrolls or heavy religious books, they create the concept of a Quarto- one large page folded in half to make four pages. They created a standard size that could fit easily into a saddlebag- 8 1/2inches by 11 inches. Later when printing became common in Europe, they created their printing blocks to the same size as the old Arab standard, and so it remains to this day.
| | |
| --- | --- |
| | |