More Wisdom from the Ancient Animators




In animation, anything can work!
-Dwayne Crowther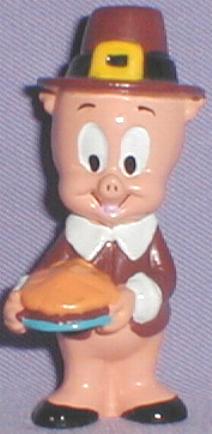 HAPPY U.S. THANKSGIVING- Since the earliest recorded times societies have had harvest festivals to give thanks to the appropriate deities that they're not going to starve come winter. Whether or not you believe in 1621 Pilgrim Gov. Bradford and Massacoit and his Wampanoag Indians sat down to dinner, the custom of Thanksgiving was a New England custom for decades thereafter. A few years later the New Englanders exterminated these same Indians and stuck Massacoits son King Phillips dismembered head on a post. In 1789 George Washington had called for a thanksgiving celebration in late November to celebrate the new Constitution but the holiday didn't really become an annual custom until the Civil War. Sarah Hale the editor of the Ladies Magazine had been lobbying the US Government to make the New England practice a national one. In 1864 after the capture of Atlanta and Mobile Bay it looked obvious that the Union was finally going to win the Civil War. President Lincoln issued a decree that the last Thursday of November be set aside as a feast of national Thanksgiving –Old Abe had just won his re-election so he had lots to be thankful for as well. As blue clad troops chowed down on their turkey and chicken dinners the Confederates withheld their fire in honor of the new Yankee holiday. To this day Thanksgiving is still declared by Presidential decree, probably buried somewhere in the back of today's newspaper.
In 1940 President Roosevelt tried to move Thanksgiving earlier in the month to help Depression-wracked business by spurring early Christmas shopping, but people were used to it where it was. If he was alive today he would see that Xmas shopping gets going before Halloween these days..
Thanksgiving is the mellowest holiday. somehow if you're not in a festive mood on New Years or July 4th you feel doubly guilty. All Thanksgiving demands is you make a big meal and eat it. So enjoy. Happy Thanksgiving.


---------------------------------------------
Birthdays: German Emperor Otto Ist 972AD, President Franklin Pierce, Krystoff Penderecki, Manuel DeFalla, William Henry Pratt better known as Boris Karloff, William Bonney better known as Billy the Kid, Susan Anspach, Victor Jory, Vincent Cassel, Robert Towne, Joe Esterhaus

1889- The first Juke Box installed at the Palais Royale Saloon in San Francisco. Created by Louis T. Glass it used Edison cylinders instead of records and cost 5 cents a play. Juke comes from Juke Joint, a slang term for a dance hall.

1897-First Royal performance for Queen Victoria of a Cinematograph moving picture, at Windsor Castle. Also on the program was Monsieur Taffary's Calculating Dogs.

1903- Italian tenor Enrico Caruso made his debut at New York's Metropolitan Opera in Verdi's Rigoletto. The great singer loved drawing cariacatures, collecting police badges, pinching ladies bottoms and doing practical jokes like filling your hat with flour. Painter Norman Rockwell recalled when he was paying his way through school by being a Met stagehand Caruso liked to talk art with him and he asked about George Bridgemans class, the great anatomist.

1936- The first florescent lighting tubes are installed, in the U.S. Patent office.

1936- Time Magazine owner Henry Luce launched LIFE Magazine. The first picture on the cover was a dam photographed by Margaret Bourke-White. The second picture was a doctor slapping a newborn baby with the caption: "Life Begins!"

1938- Bob Hope recorded his signature tune "Thanks for the Memory" for the movie The Big Broadcast..

1942- PLAY IT AGAIN SAM- The movie CASABLANCA premiered. Based on an unproduced musical play "Everybody Comes to Ricks', Howard Koch and the Epstein Brothers adapted the play into one of the most memorable Hollywood movies ever. It was never expected to be more than a rehash of the popular Charles Boyer film Algiers. The role of Rick was turned down by George Raft, and Hunmphrey Bogarts first reaction was " Aw..it's just some more sh*t like Algiers.." Bogart acted opposite Ingrid Bergman, although he had to stand on apple boxes to appear taller than his Swedish leading lady. During the famous scene where the French exiles drown out the singing Germans with a stirring rendition of le Marseillaise the Germans are singing Watch On the Rhine. The director wanted them to sing the Nazi Party anthem the Horst Wessel Song but the Warner Legal Dept discovered it was copywrighted! We're at war but we don't want them Nazis to sue us! At this time the real Casablanca was still in a war zone so director Michael Curtiz and his art director Carl Jules Wyl had to fake what a North African French colonial city might look like. A decade later while filming in Spain he took the ferry over to Casablanca to see how close they came. Driving around Curtiz remarked "Carl, this doesn't look anything like our movie!!"

1952- Animator Fred Moore, who drew Mickey Mouse in Fantasia and the Brave Little Tailor, died in an auto accident in the Tujunga Canyon area of Los Angeles.

1960- The Hollywood Walk of Fame is dedicated, featuring over 1,500 names- but not Charlie Chaplin, who was banned until 1972 because of his lefty political views.

1963- The first episode of Dr.Who premiered on the BBC.

1966-The film " Spinout " premiered. Elvis Presley pioneered the genre movie of bored male movie stars who use their studio muscle to make us watch movies of them in racing cars. James Garner in Grand Prix-arguably the best one, Steve McQueen in LeMans, Tom Cruise in Days of Thunder, Sly Stallone in Driven, etc.

1990- 37 year old baseball catcher Bo Diaz was crushed to death by a large satellite dish he was trying to install.
More Wisdom from the Ancient Animators




Just remember your scenes are up there forever.

Eric Larson (note: the picture is not Eric)

---------------------------------------------------------------------
Birthdays: French explorer Sieur de LaSalle, George Elliot- pen name for Mary Anne Evans, Benjamin Britten, Charles DeGaulle, Andre Gide, Wiley Post, Billy Jean King, Boris Becker, Geraldine Page, Jamie Lee Curtis is 48, "Cactus Jack" Garner, Hoagy Carmichael who wrote the music for Max Fleischers last film Hoppity Goes to Town, Rodney Dangerfield, Terry Gilliam is 66, Robert Vaughn,Tom Conti, Mark Ruffalo, Steven Van Zandt, Victoria Paris- porn star of such classics like Bimbo Bowlers from Buffalo, Scarlett Johanssen is 22

St. Ceceilia's Day- Patron Saint of Musicians

1739- Georg Frederich Handel premiered the oratorio Ode to Saint Cecilia's Day.

1809- Baltimore native Peregrine Williamson invented a re-usable steel pen. This finally freed the western world from sharpening goose quills and other feathers to write.

1888- According to Edgar Rice Burroughs this is the birthday of the boy who would become Tarzan.

1916- Author Jack London died at 40 in Glen Ellen California of kidney disease. The author of White Fang and Call of the Wild was a lifelong socialist and supporter of the labor movement. In 1918 Emma Goldman eulogized in an article in The Masses: "It's a pity that brother Jack never lived long enough to see the Red Flags of Freedom flying over the Kremlin!"

1917- The National Hockey League-NHL, founded in Montreal. The first teams The Quebec Bulldogs, Ottawa Senators, Montreal Canadiens, Toronto Arenas, and Montreal Maroons.

1928- Long before Bo Derek ran down a beach, Ravel's Bolero Suite premiered in Paris.

1950- The Lowest Scoring Basketball game in NBA history. The Fort Wayne Pistons defeated the Minneapolis Lakers 19-18. They later became the Detroit Pistons and Los Angeles Lakers.

1957- The Miles Davis Quintet debuted.

1963- ONE DAY IN DALLAS- At 12:30 Central time President John F. Kennedy was shot and killed. Whether you believe the assassin was Lee Harvey Oswald, The Military Industrial Complex, Vice President Johnson, the Mob, Corsican contract killers, The C.I.A., Fidel Castro, Anti-Castro Cubans, space aliens or all of the above, it remains one of the traumatic moments of US History. Only 15% of Americans believe Lee Harvey Oswald did it alone. One Mafia don said in his memoirs:" If you believe Oswald, a rather lackluster Marine, could get off three carefully aimed shots from an old bolt action rifle in just six seconds, you have a vivid imagination." One of the last things Kennedy heard before the bullets struck him was the wife of Texas governor John Connolly said:" Well Mr President, now nobody can say they don't love you in Dallas!" After taking the oath of office on Air Force One Lyndon Johnson broke down and locked himself in the toilet crying hysterically "They're out to kill us all!" Jackie Kennedy, who after flying to D.C. from Dallas still wearing the blood soaked pink Channel dress "let the people see what they've done!" immediately started going over the funeral arrangements. Before retiring she had her staff comb the National Archives for the details of the Lincoln Funeral. Cub reporter Robin MacNeil remembers after the shots running into the nearest building to phone in the story. He ran into the Texas Book Depository and asked a skinny t-shirted man who was just leaving where the nearest phone was. Two days later when watching the footage of the assassin being arrested he realized he had been talking to Oswald!
In 1966 key evidence from the Kennedy assassination including the presidents brain and Oswalds tax returns disappeared. People claiming knowledge of a conspiracy died in strange ways, like karate chops and boating accidents.

1963- Aldous Huxley died. The author of Brave New World had inoperable cancer so his wife kept him high on LSD. Huxley had once tried to sell a screenplay of Alice in Wonderland to Walt Disney.

1965- The musical The Man of La Mancha opened on Broadway. " To Dream, the Impossible Dreaaammm…"Brings back memories of Junior High School band practice.

1980- Screen goddess Mae West died at 87. He apartment suite at the Ravenswood in the Hancock Park section of Los Angeles has been lovingly restored since the owner claims her ghost nagged him to put her furniture back!

1993- Sir Anthony Burgess died. The author of A Clockwork Orange had been diagnosed with a brain tumor and told he had one year to live, back in 1959.
Wisdom of the Ancient Animators...




We will always have animators, the question is, what to animate?



Animator Chris Armstrong, formerly of ILM and Nelvana and now chair of the animation department at the Art Institute of San Francisco, has done a funny short film on his website www.landofchris.com check it out!

-------------------------------------------------------------
Birthdays: Francios Arouet called Voltaire, Marlo Thomas called That Girl,, Rene Magritte, Adolphe Marx called Harpo, Colman Hawkins called Bean, Stan ' called the man' Musial, Tom Horn, Pope Benedict XlV, Earl the Pearl Monroe, Goldie Hawn, Harold Ramis, Ken Griffey Jr, Mariel Hemingway, Lorna Luft, Troy Aikman, Bjork

1718- BLACKBEARD THE PIRATE KILLED. William Teech from Bristol England had served on privateers fighting the French. When the war was over he went into business for himself. He grew a huge black beard, which he twisted into ringlets and tied smoking cannon fuses into it to scare people. This day two sloops of Royal Marines sent from Virginia colony led by a Lieutenant Maynard RN, boarded Blackbeard's ship when she ran aground on the coast of North Carolina. The fighting was all hand to hand. Blackbeard finally went down after he was shot five times and slashed with cutlasses 25 times. Blackbeard had stationed a black child with a lit match in the powder magazine with orders to blow everything to hell the moment the battle was lost, but the boy was killed before he could accomplish his task. After the battle Lt. Maynard found papers proving the Royal Governors of Bermuda and North Carolina were receiving bribes from the pirates for safe harbor. Blackbeard's head was cut off and hung it from the bowsprit for the trip home. (No one had invented foam dice yet.) They threw the rest of his corpse into the ocean where legend says it swam around the ship once before sinking.

Shiver Me Timbers!

1933- Columbia director Frank Capra went to Claudette Colbert's home to talk her into delaying her holiday vacation long enough to star with Clark Gable in "It Happened One Night". Colbert said she would only do it for double her normal salary and if they would be done by Dec 23rd so she could spend Christmas with friends at Squaw Valley Idaho. They made the picture on a rush and Colbert later told her friends: I just finished the worst picture in the world! It Happened One Night" became a monster hit for Capra, Columbia and is one of Colbert's most memorable performances.

1934- Cole Porter's musical 'Anything Goes!' opened on Broadway. Ethel Merman starring, In olden days a glimpse of stocking was looked upon as somewhat shocking. Now Heaven knows- Anything Goes!

1942- Warner's "A Tale of Two Kitties" the first Tweety Pie. I tawt I taw a puddy cat !

1959- The day after he was fired WABC radio DJ Alan Freed refused to sign a statement that he never received cash payments or payola to run Rock & Roll records on the air, which is exactly what he did.

1969- THE BIRTH OF THE INTERNET- In 1957, after Sputnik scared the US, the Defense Department asked the Rand Corporation to theorize a communication system that could survive Russian atomic bombs. They conceived of a "net" of computers all in communication with one another around the world. Because there was no center, a bomb could not knock out the entire system. This day in 1969, UCLA scientists J.C.R. Licklider, Robert Taylor and others working for the Defense Dept. successfully hooked up five computers at Stanford, UC Santa Barbara and Univ of Utah using long distance phone lines. They called it ARPANET- Advanced Research Projects Agency-NET, a few years later, Internet. By 1978, the Defense Department didn't want to run the thing anymore so they offered to turn over the entire Internet to AT&T for free. AT&T said no thanks, we just don't see the value in it. In 1992, the US government made the Internet public and the rush was on.

1980- Australian Olivia Newton John's disco anthem to aerobic exercize "Let's Get Physical " goes to number one of the pop charts and stays there for ten weeks.

1987- Bruce Willis married Demi Moore in Las Vegas. The divorced five years later.
I had a wonderful time signing books at the Cartoon Art Museum this past weekend. My thanks to the Cartoon Art Museum and ASIFA San Francisco for the great turnout.

posing at the museum with Summerlea, Steve Segal, and ASIFA Prez Karl Cohen. Interestingly enough, behind us is the animation camera that the Jay Ward Company used to film the first animated TV show Crusader Rabbitt in 1949.

San Francisco's Cartoon Art Museum is a wonderful place with a great collection. Currently they have a great show of New Yorker cartoons that were rejected for publication for questionable taste. Hysterical! If you are in the city by the bay, drop in and have fun!
http://www.cartoonart.org



Also I had a chance to make an appearance at the Academy of Art and hold a childrens workshop at ZEUM, the Childrens' interactive museum near the Moscone Center.



With Zeum coordinator Michelle Hlubinka. I wish I had places this cool when I was a kid! www.zeum.org

Thanks to all for making me feel welcome, Pat and I had a great time.

-----------------------------------------------------------
Birthdays: Robert F. Kennedy, Maya Plisetskaya, Gene Tierney, Dick Smothers, Bo Derek is 50, Sean Young is 47, Richard Dawson, Estelle Parsons, Barbera Hendricks, Duane Allman, Joe Walsh, Chester Gould the creator of Dick Tracy, Alastair Cooke, Newly re-elected Senator Robert Byrd is 89, Ming Na

1718- " Fifteen men on a Dead Man's Chest, Yo-Ho-Ho and a Bottle of Rum! Even though he knew the British Navy was going to attack him tomorrow, violent buccaneer Blackbeard spent this night drinking and partying with his crew. Someone asked Blackbeard that if he died did his wife know where he had buried his treasure? Blackbeard laughed" No one but me and the Devil himself knows where it is, and the longest liver can have it all!" It was said Blackbeard actually enjoyed being a pirate. In the thickest of hand-to-hand fighting amidst the blood and mayhem he could be seen smiling. Ultimate job satisfaction. Another time he made his officers sit with him in a locked cabin with smoldering pots of choking, sulphurous brimstone. He told them as they were all going to Hell ,they might as well get used to it now..

1783-In Paris Benjamin Franklin is in the crowd watching the first humans go aloft in a balloon designed by the Montgolfier Brothers. For 25 minutes Piastre de Rosier and the Marquis d'Arland flew 500 feet over the Seine, sipping champagne.

1820- In the Pacific Ocean the Nantucket whaling ship Essex was sunk by an enraged sperm whale. The whale's nickname was Mocha-Dick. Only six men survived floating on driftwood for ninety days, resorting to cannibalism before being rescued. This incident is thought to have been one of the inspirations for Herman Melville to write his novel Moby Dick.

1947- The longest running television show in history- Meet the Press, premiered. And it is still on today.

1994- Rock & Roll star David Crosby received a new liver.

1998- Several state governments and the US tobacco industry reach a landmark settlement arising from lawsuits over smoking illnesses. The trial also killed off once and for all ads featuring The Marlboro Cowboy and Joe Camel, a cartoon character that at one point was as recognizable to children as Donald Duck.

------------------------------------

Congratulations to Happy Feet. Wow, $40 million and beating out Casino Royale? Like Sally Field used to say, They Like me, they really like me!
Lots of fun at, the Art Institute of San Francisco, Zeum and the Cartoon Art Museum in San Francisco. Our thanks to Karl Cohen of ASIFA San Francisco, Summerlea, Michelle and Luanna! I also had a nice lunch with a historian friend Eric Niderost, who currently has an article in World War II magazine and frequently contributes to Military Heritage.

-----------------------------------------------------------------------------------------------------
Birthdays: King Charles Ist of England, President James Garfield, Ferdinand de Lesseps, Roy Campanella, Tommy Dorsey, Ted Turner, Calvin Klein, Indira Ghandi, Dick Cavett, Jean Kirkpatrick, Larry King, Kathleen Quinlan, Alan Young -Mr. Ed's friend, Ahmad Rashad, Allison Janey, Meg Ryan is 45, Jodie Foster is 44, Terry Farrell,.

1703- The "Man in the Iron Mask" died in the Bastille prison. Louis XIV had him locked up for forty years. He was first mentioned in Voltaire's History of the Age of Louis XIV as having a velvet mask which writer Alexandre Dumas changed to iron for dramatic effect. No one ever discovered who he was or why his face was covered. Speculation was that he was everyone from an Italian diplomat, to the son of Oliver Cromwell, to a twin brother of King Louis XIV himself. It made for great literature but he remains a mystery.

1863- THE GETTYSBURG ADDRESS-At the dedication of the soldiers cemetery on the Gettysburg battlefield, the crowd watched Rev. Edward Everett, a famous abolitionist, deliver a fiery two hour speech. Then President Abraham Lincoln stood up and in just two minutes delivered the most famous speech in U.S. History. "Forescore and Seven years ago Our Forefathers set Forth....And Government Of the People, By the People and For the People Shall Not Perish from the Earth. "
The crowd was polite but indifferent. The Times of London correspondent thought it "vague and uninspiring". Lincoln himself told his aide: "Lehman, that speech won't scowl !" meaning a plow blade that's too dull to cut. But Rev Everett was inspired "Mr. President, you said in two minutes much more than I did in two hours." Contrary to legend Lincoln didn't write it quickly on the back of an envelope, he worked long on his speeches and was seen doing corrections up to the last minute. There are three pencil copies of the speech still in existence. The photographer at the scene was still setting up his equipment when the brief speech ended and Lincoln started to sit down. He opened his shutter in time to get a blurry view of Lincoln's head in the crowd.

1942- In a concentration camp in Poland author-artist Bruno Schulz was executed. The author of "Street of Crocodiles" last act was being forced by a Gestapo officer to paint images from Brothers Grimm fairytales on his sons bedroom wall before he was shot.

1959-Happy Birthday Rocky, Bullwinkle, Boris & Natasha. Jay Ward's television show 'Rocky and his Friends' debuts. Ward and Bill Scott had been planning the adventures of the denizens of Frostbite Falls since 1957. Many of it's writers like Alan Burns and producer Sheldon Leonard would later help create classic television sitcoms like the Mary Tyler Moore show. On that show they inspired a young writer named James L. Brooks who would one day create the Simpsons.

1969- The great soccer champion Pele scored his 1,000 goal.

1998- Film Director Alan J. Pakula was one of the Hollywood community who preferred living in New York City. This day he was driving on the Long Island Expressway when he was killed in a freak accident. A large truck kicked up in its tires a discarded piece of steel pipe. It flipped it through Pakula's windshield, killing him instantly.
| | |
| --- | --- |
| | |