birthdays: British Prime Minister Stanley Baldwin, Elisha Otis inventor of the Elevator, John T. Scopes- the teacher accused in the Monkey Trial, Habib Bourghiba, Ernie Pyle, Gene Kelly, Lenny Bruce, Tony Bennett, John Landis, Jay North, Dolores Del Rio, Leon Uris, Ann Klein, Martin Sheen

1347- THE BURGERS OF CALAIS- When King Edward III attacked France to press his claim for it's throne the first city he needed was the port of Calais. After a long vicious siege the leaders of Calais agreed to surrender. England held Calais for 250 years. The king wanted to hang the burgers (city leaders) because of their stubborn resistance but they were spared after pleas of mercy from Edward's Queen. August Rodin created a beautiful statuary group the Burgers of Calais in tribute. The six men loaded down with chains and ropes around their necks, defiance still radiating in their faces, are a symbol of resistance for all oppressed peoples.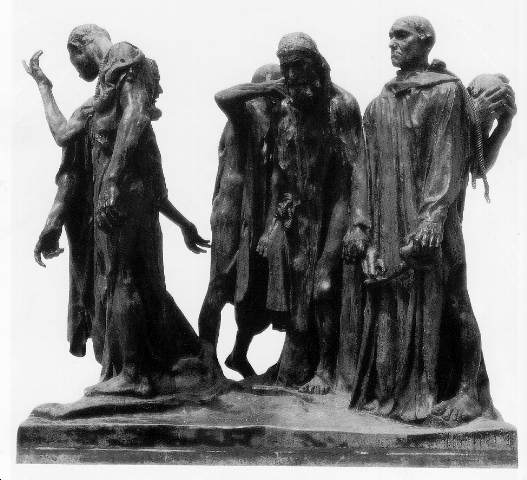 1492- One half hour before dawn Christopher Columbus set sail from Palos, Spain on the Nina, Pinta and Santa Maria in search of the Indies. This was the first of four voyages. He took on board a linguist fluent in Turkish ,Sanskrit and Hebrew to speak to any natives they might encounter.

1807-Former Vice President Aaron Burr is arrested for treason. President Jefferson accused him of plotting to make himself dictator of a republic in newly acquired Louisiana and conquering Texas for himself. The charges were never proven and when the Chief Justice tried to call the President to the witness stand Jefferson invented the concept of "Executive Privilege". You can't make a sitting president testify under oath for fear he may be compelled to reveal damaging national secrets. The Chief Justice thought that was baloney too and acquitted Burr.

1916- Sir Roger Casement was executed for treason in London. Casement was an Irish patriot who went to Berlin to get Germany to fund the Irish Easter Sunday Uprising and he exposed human rites violations done by the Belgians in the Congo. After his conviction many leading English intellects like Arthur Conan-Doyle and Bernard Shaw lobbied for mercy for Casement, but the government produced his "black diaries" from his home in London, that proved he was homosexual. So the mercy movement was silenced, and he was hanged.

1943- In Sicily Gen. George S. Patton while touring a field hospital encountered a Pvt. Herman Kuhl. Private Kuhl wasn't physically wounded but suffering from nervous exhaustion called today Traumatic Stress Syndrome. Patton angrily accused him of cowardice and slapped him down. Allied High Command ordered Patton to apologize to Kuhl and the entire army, then recalled him to England. He would have no part in military actions until after D-Day, to the amazement of the Nazis General staff. Patton never could understand battle fatigue, I guess he never got tired of it.

1948- Now that Baseball was finally integrated Satchel Page, genius of the Negro Leagues, makes his belated Major League debut with the Cleveland Indians. A 45 year old rookie. Page once said:" Don't look back, something may be gaining on you."

1948- Time Magazine editor Whittaker Chambers publicly denounced a top Truman presidential aide Alger Hiss of being a Russian spy. Alger Hiss was a protege of both Franklin Roosevelt and Chief Justice Oliver Wendell Holmes. The Hiss investigation eventually convicted Hiss of espionage based on the 'pumpkin papers', incriminating documents Chambers said were found hidden in a pumpkin. The senate investigation shot to national prominence a new young congressman named Richard Nixon. In 1991 Soviet KGB files revealed Hiss was never a spy.

1949 -The National Basketball League is founded.

1958 - USS Nautilus begins 1st crossing of the Arctic Ocean under the icecap

1961- The first airline hijacking to Cuba.

1963 –Unemployed television producer Alan Sherman released an album of comedy songs at the request of his friends. Called "My Son the Folksinger" it contained the hit "Hello Muddah, Hello Fadduh, Here I am at, Camp Granada" and became an overnight sensation.

1966- While celebrating his 39th birthday, Comedian Lenny Bruce died of a morphine overdose. The groundbreaking comedian who coined the term "T & A" was arrested in 1964 and charged with obscenity for using the "F" word in his act. President Johnson and his opponent Senator Barry Goldwater could swear enough to make a sailor blush, but comedians were only supposed to make mother-in-law jokes. Bruce served six months, was broken physically and financially and no club would hire him. Yet today he is the model for all modern stand-up comedy. Phil Spector said: Lenny died of an overdose of cops" Today no one is arrested for telling jokes. Whether he leapt to his death from a window yelling " I'm Super Jew! " is a matter of legend.

1975- The Louisiana Superdome stadium is dedicated. Some football coaches were skeptical. Mike Ditka of the Chicago Bears said:" Football is meant to be played in cold and mud. Domed stadiums are for RollerDerbys!" In our time the SuperDome was the scene of a disgraceful herding of the poor of New Orleans after Hurricane Katrina.

1981- U.S. Air traffic controllers (PATCO) go on strike despite Pres. Reagan's warning they would be fired. Reagan was once president of the Screen Actor's Guild. Ironically the only U.S. President who has ever been a labor leader was the most union-busting president of our time.

1996- The dance the Macarena by Los Del Rio becomes the #1 hit worldwide.
When I used to complain about the lack of job opportunities around, my old mentor Shamus Culhane would smile a worldweary smile and say-" This is nothing...1958 was a lousy year." Many of the other old animators had favorite war stories of good and bad times as well.

As I grew into an old animator myself, I became aware of the patterns of boom and bust in the business. Cycles, if you will.

By 1958 MGM's animation unit had closed, Warners was scaling down, and a recession had depressed the commerials market. Thirty years ago in 1977 saw one of the first big years for animated features- The Rescuers, Raggedy Ann, Wizards, The Mouse and His Child, Metamorphoses and the American Rabbit. 1983 was after a strike and another recession, then the great 2D Renaissance began in 1986 with American Tale and Great Mouse Detective.

I think we are currently in an upswing, after a downcycle that began in 1998 and bottomed out in 2003. That was the year of the mass traditional artists layoffs in the big studios. With employment at a high in town and the success of Simpsons, ShrekIII and Ratatouille, and the looming live action writers and actors strikes, perhaps it presages a good year next year.


courtesy wahinesurfing.com

Can't find a job? It's like surfing. Just keep paddling and keep your eye out for the next good wave.

------------------------------------------------------------
Birthdays: Pierre L'Enfant the architect-designer of Washington DC, Myrna Loy, Sir Arthur Bliss, James Baldwin, Carrol O'Connor- Archie Bunker, Peter O'Toole, Joanna Cassidy- Dolores in Who Framed Roger Rabbitt? and the exotic dancer in Blade Runner, Pete Sampras, Butch Patrick (Eddie Munster, Saving Private Ryan ), Jack Warner most famous of the Warner Bros, Bob Beamon, Wes Craven, Apollonia, Edward Furlong, Kevin Smith is 36

1589- French King Henri III de Valois is stabbed in the guts by a demented Dominican, Brother Jacques Clement. He thought the King wasn't doing enough to stamp out Protestantism. The kings last words were: "That little bastard has killed me. Kill him!" Henry IV de Bourbon becomes one of Frances most well beloved kings. The children's song "Frere' Jacques, Dorme Vous?" is about this assassin "Brother Jacques, Why are you sleeping?" another King needs stabbing, in other words.

1824- The first commercial store Altmans, opened on New York's Fifth Avenue, at that time all residential.

1865- The Confederate raider CSS Shenandoah, after sinking a dozen U.S whaling ships in the Bering Sea off Alaska, is told by a passing British merchantman that the American Civil War had ended over 3 months ago......doh! They refused to believe it until shown some newspapers.

1873- The first San Francisco cable car began service. Inventor Arthur Halliday had conceived the idea in 1869 after seeing a horse drawn tram fail to get up a steep hill.


1876- In Deadwood South Dakota at Nuttall & Manns No.10 Saloon gunfighter Wild Bill Hickock was shot in the back while playing cards. He was 48 years old. Bill was holding the "Deadman's Hand" aces & eights all black and a jack of hearts. His assailant 'Crooked Nose" Jack McCall was found hiding in a butchers shop and hanged for the murder. An eyewitness said :" It was very sad. Bill had won the hand too."

1909- The US issues the first Lincoln head pennies.

1961 - Beatles 1st gig as house band of Liverpool's Cavern Club.

1962- If you are a "Marylin Monroe was done in by the Kennedys" Conspiracy fan a recently unearthed CIA document dated this day mentioned that Marylin's bungalow was under electronic surveillance and that she kept a "red book" diary. The diary disappeared after her death in two nights from now.
In 2003, when most pundits were trumpeting the death of traditional animation, Leonard Maltin said:" It's nothing that another Lion King can't fix." Well, with the Simpson's Movie a success, maybe we've seen the fix in action.




It proves that trying to predict future trends is a fruitless enterprise. The weekend before Lion King (1994) opened, Jeffrey Katzenberg told the directors " If this film breaks even, I'll kiss the ground before you."It did $359 million, second on the all time list only to Jurassic Park. He did indeed, get down and pucker up. The day before Shrek (2001) opened, I couldn't have predicted what it would do. Two years ago Disney Feature animation was in the doldrums, everyone depressed, waiting for the final collapse. Now it's up and excited for the future, including building the 2D unit for Frog Princess.

Next year may see Writers Guild and Actors Strikes. Irregardless if a deal is made or they hit the bricks, The business is girding for a major slowdown in production next year. In summer 2008 Animation may be the only game in town.

So to my animation brothers and sisters who at times despair of the career opportunities out there, some words of comfort. When I started my career it seemed like every three months presented a new business reality. Today I think the job scene changes every month. Keep your ear to the ground, read the trades and look for the signs of new trends, and keep your contacts warm.

--------------------------------------------
Birthdays: Roman Emperor Claudius, Francis Scott Key, Captain William Clark of Lewis and Clark, Herman Melville, Robert Todd Lincoln- Abe and Mary Lincoln's only child to live a full life, Geoffrey Holder, Yves St. Laurent, Giancarlo Giannini, Dom Deluise, Jerry Garcia, Coolio, Sam Mendes

1793 – Revolutionary France became the 1st country to use the metric system.

1933- The WPA Arts Project set up to employ starving artists on large public works projects like murals for libraries and bridges, etc. Artists like Grant Wood, Andrew Wyeth, Dorothea Lang , Orson Welles and Bernice Abbott got commissions. At the time American artists were obliged to post on the outside of their residences or studios a sign "A.I.R." or artist-in-residence. This was to warn the general public that the person at this dwelling may have nude models, bongo players and other such depravities cavorting around at all hours.

1950-San Francisco producer Jay Ward's "Crusader Rabbit" the first animated cartoon show ever made for television.

1953- The Alan Ladd movie Shane released.

1960 - Chubby Checker releases "The Twist" and starts a world wide dance craze.

1973- with the tag line "Where were you in '62?" American Graffiti opened in theaters. The hit made young director George Lucas a player in Hollywood and made stars of kids like Harrison Ford, Richard Dreyfus and Susanne Somers.

1981-I WANT MY MTV! MTV goes on the air, rock videos 24 hours a day. The idea was funded by a consortium of investors including Mike Nesmith of the Monkees, now on the board of 3M Paper company. If you put on the TV this day you saw a slide of an astronaut for several hours, then finally a voice said :"Ladies and Gentlemen, this is Rock & Roll." The first rock video played was by a British New-Wave Band called the Buggles entitled "Video Killed the Radio Star."followed by a Pat Benatar single. There are now MTV channels around the world- Beijing, Rio DeJaniero, Berlin and Moscow, although all the experimental filmmaking has moved to U-Tube.

1991- elderly movie queen Heddy Lamarr was busted in Tampa Florida for shoplifting.

1994- NASDAQ stock trading on Wall Street was halted for 35 minutes because a squirrel gnawed through a fiber optic cable at the organization's computer center in Connecticut.
The Internet Movie Data Base among other periodicals are trumpeting the success of the SIMPSON'S MOVIE (
$74 million domestic, $168 million for the first three days). Their conclusions are that " audiences have demonstrated that they will go see a 2d traditionally painted cartoon as readily as a 3D CGI film if it's a good story..."



Well, whattaya know...

Congratulations and Felicterations to David Silverman, Matt Groening and all the crew who made that movie special. Now that the Hollywood Players have got the message, hopefully we'll see more such films. It's not that I desire 2D to totally overthrow CG, but it would be nice to see some balance. And an animator should never be told he has no future just because he or she prefers a pencil to a stylus. Let filmmakers have a real choice of mediums, rather than just a endlessly droning chorus the mantra- 3D Good, 2D Bad... Only 3D films make money....
In 2003, when the New York Times reported the mass layoffs at Disney , Warners and Dreamworks, the quote was " Traditional Animation is a thing of the Past.." Now, it seems, there is a new reality.

Perhaps we have turned a corner in Toon Town.
click to enlarge. The convention floor.

Mike Ploog and I drinking the health of all artists.

J.R.Goldberg siging copies of her book at Slave Labor Graphics

Evil Lynn and me. I hope Skeletor doesn't find out!

------------------------------------------
Birthdays: Liberace, Sebastian Sperling Kresge the founder of S.S.Kresge stores. Wesley Snipes, Milton Friedman, Sherry Lansing, Geraldine Chaplin, Kurt Gowdy, Dean Cain, Leon " Bull "Durham, Primo Levi, Ted Cassidy who played Lurch in the Adams Family, and according to J.K. Rowling this is the birthday of Harry Potter

1793- THE BIRTH OF THE TWO PARTY SYSTEM IN AMERICA- Secretary of State Thomas Jefferson informed President George Washington of his intention to resign. Jefferson was frustrated with his endless feuds with Treasury Secretary Alexander Hamilton and Vice President Adams. Although he told Washington he wished to retire to Monticello, in reality he planned to direct the strategy of his new opposition party the Democratic-Republicans. The party that became the Democratic Party was first called the Republicans, the term "democrat" was then seen as an insult. Jefferson called Hamilton's Federalist party "the Monocrats" because he felt they had royal ambitions. From now on with few exceptions the U.S. President's cabinet would not be a coalition of differing viewpoints but all from one party. The modern Republican Party would not be born until Lincoln's time, 60 years in the future. Washington was appalled that his old friend and fellow Virginia planter Jefferson would take partisanship so far that he would desert him. Washington thought political parties a bad thing because it encouraged people to put the needs of their party over the needs of their country…. Heh, he should see things now.

1830- The Revolution of the Ten Days- King Charles X of France overthrown and replaced with his cousin Louis Phillipe d'Orleans as a constitutional monarch, The event was remembered by Delacroix in his painting "Liberty Leading the People". The Royal French Army was deliberately held back from suppressing the rebellion by their leaders who were Napoleon's old Generals Marmont and Soult. Honore Daumier liked to draw new King Louis Phillipe"The Bourguois Monarch" as a fat pear in a top hat. Louis Phillipe's descendants, the D'Orleans branch of the Bourbon family are the present pretenders to the throne, should the French ever desire a king again. Prince Metternich the premier of Austria correctly predicted this uprising would signal a new round of revolutionary ferment throughout Europe:."When Paris Sneezes, Europe catches the cold."

1873- San Francisco's famous cable car system starts up.

1922- Ralph Samuelson invented water skis.

1930- Radio mystery show "The Shadow" premiered. "Who knows what evil lurks in the hearts of men? The Shadow knows…heh, heh, heh." Orson Welles did the voice of the crime fighting Shadow for a year in 1937 for $185 a week.

1948- President Truman dedicated New York City's second major airport Idlewild Field. In 1963 the airport was renamed Kennedy Airport.

1954- Steve Allen and Jayne Meadows married.

1966- Birmingham Alabama had a massed rally to burn Beatles records after John Lennon quipped that they were more popular than Jesus.

1971- Apollo 15 astronaut went for a drive on the surface of the moon in their land-rover.

1977- Son of Sam serial killer David Berkowitz had kept normally unflappable New York City in the grip of fear for one year. This night he killed his last victim and was caught because of his Volkswagen beetle being illegally parked. When writing the ticket the policeman noticed the 44 cal. pistol sticking out of a paper bag on the seat. Berkowitz was sentenced to three consecutive life sentences.While in Attica he's made friends with Mark David Chapman, the killer of John Lennon.

1995- The Walt Disney corporation bought the ABC Network, the Discovery Channel and ESPN.
| | |
| --- | --- |
| | |