Start Spreadin' da noose.." The Sito Booksigning Tour and Snake Oil Show is rolling towards the New York City this week. If you are anywhere in the Eastern Standard Time Zone, drop everything and head to my book signing Weds night. Strong men will weep!

-------------------------------------------------
Birthdays: John Harvard 1607(founder of Harvard University), Bat Masterson, Eugene Ionesco, Bruno Richard Hauptmann, Marian Mercer, Tina Turner, Charles "Sparky" Schulz creator of Charlie Brown and Snoopy, Cyril Cusak, Eric Severaid, Rich Little, Robert Goulet

1865- Lewis Carroll sent a copy of the completed manuscript of his fantasy Alice in Wonderland to his 12 year old friend Alice Liddell. Carroll later published the book with his own money. This is one of the first books written solely to amuse children, and not to educate or discipline them.

1896- AA. Stagg of University of Chicago invented the football huddle.

1926- Potato Chips, or Crisps in the UK, were invented in the 1880's and served in restaurants and fairgrounds. I remember in Brooklyn the Dugan's Bakery Truck delivering potato chips in a large tin container. This day Ms Laura Scudder was the first to put potato chips in a bag and sold them as a handy snack food. She sold them out of the back of her pickup truck until the business picked up. She ran her own company until 1959.

1939- The first Woody Woodpecker Cartoon, "Knock-Knock.'Mel Blanc originated Woodys voice until taken over by Gracie Lantz.

1945- Charlie Parker, Dizzy Gillespie and Miles Davis recorded Coco, the first true BeeBop Jazz single. The pianist at the session didn't have his New York union card so after his riff Miles Davis dropped his trumpet and did the piano backup to Birds' solo. The term Bop came from an earlier Lionel Hampton hit "Hey-Bop-A-ReBop".

1975- Former Charles Manson follower Lynette "Squeaky" Fromme is convicted of trying to assassinate President Gerald Ford with a starters pistol.

1976- Sex Pistols Punk single "Anarchy in the UK" released.

1990- Acting on the example of Sony's purchase of MGM-Columbia studios, Matushita (Panasonic) bought MCA- Universal studios for $6.6 billion. After a few fruitless years they sold it to the Bronfmans group, the distillers of Seagram's Whiskey.
More wisdom from the ancient animators



courtesy heroesonline.com

Animation storyboarding is like trying to pound ten pounds of horsesh*t into a Coke bottle!"-Mike Ploog

-----------------------------------------------------------
Birthdays: Lope de Vega, Pope John XXIII, Andrew Carnegie, Tina Turner, Joe Dimaggio, Carl Benz of Mercedes Benz, Virgil Thompson, Jeffrey Hunter, John Kennedy,Jr., Joe Gibbs, Percy Sledge, Ben Stein, Ricardo Montalban is 85, Bob Matheson, John Larroquette, Gloria Steinem, Berny Kosar, Former Chilean dictator General Augusto Pinochet is 91, Christina Applegate, Bucky Dent,animator Bill Kroyer

1783- EVACUATION DAY- The treaties ending the American Revolution signed, the last British troops leave U.S. soil, sailing out of New York Harbor. This also marks the beginning of the exodus to Canada of Americans who sided with England, maybe as many as 130,000. United Empire Loyalists, or Tories as you prefer. One other little reported migration was of freed African slaves. Slavery would soon be eliminated in the British Empire and whenever redcoats would capture an American town they would liberate the slaves. About 3,000 requested to return to Africa and were sent to Sierra Leone. Among their number was a personal slave of George Washington's, who bolted through the lines to the British the moment the offer was published. A large number also fought on the American side as well. Evacuation Day was a holiday in New York City for years afterwards.

1817- The first sword swallower performed in the US.

1864- In a production of Shakespeare's Julius Caesar at New York's Winter garden Theater the three Booth brothers- John Wilkes, Edwin and Junius Booth appeared together for the only time. Other famous acting families of the time included the Powers, who's descendant was the movie star Tyrone Power and the Barrymores, who's line continues down today from John to John Drew to Drew Barrymore.

1867- Alfred Nobel patented Dynamite. The riches he accumulated from this and Nitro-Glycerine he used to fund the Nobel Prize.

1869- Ned Buntline was a hack dime novelist who understood that selling stories about gunfighters of the west would be easier if you could occasionally produce one in the flesh. So on a trip to Nebraska he found among the cavalry scouts an accommodatingly colorful rogue named William Cody, who everybody called Buffalo Bill. This day Ned Buntline announced in the New York Weekly the first installment of a serial series "Buffalo Bill King of the Bordermen". Buntline and Cody collaborated to make Buffalo Bill the first true American media star, entertaining millions including crowned heads until 1916.

1929- Alfred Hitchcock's film Blackmail opened in London. It was the first full length talkie in Britain.

1949- Rudolph the Red Nosed Reindeer sung by Gene Autry hit number one on the musical charts.

1952- The stage adaptation of Agatha Christie's mystery the Mousetrap opened in London's West End and it's still running today.

1960- CBS cancelled it's remaining five radio soap operas, most of them now on television.

1963- THE GREAT FUNERAL OF JOHN F. KENNEDY. The massed muffled drums, bagpipes, bands blaring Chopin's Funeral March, the riderless horse with the boots in the stirrups turned inward, a tradition that went back to Genghis Khan, the black horse drawn artillery caisson modeled on Abraham Lincoln's. The day was also John Kennedy, Jr.'s birthday and a big party had been planned with lots of little tots. Jackie knew that John-John didn't understand the gravity of what had transpired so after the funeral she changed out of her widows weeds and ran a kiddie party.

1971- Con man D.B. Cooper hijacked a Northwest Orient passenger plane after stealing $ 200,000. He parachuted out of the 727 airliner with the money during a thunderstorm over Washington State and disappeared forever. Searchers found rotting bits of money in the forest but never a body. D.B.Cooper became a folk legend. In 1999 a man in South Carolina named Dwayne Weber was dying of liver cancer. Before he died he turned to his wife Jo and said "Before I go, I gotta tell ya something. I'm Dan Cooper" His wife said he loved singing at piano bars and his favorite song was "You'll never know.."

1975- According to the first movie Rocky, this was the date of the first prizefight portrayed in the film where we meet Rocky Balboa.

1998- Pixar's film A Bugs Life premiered.
More Wisdom from the Ancient Animators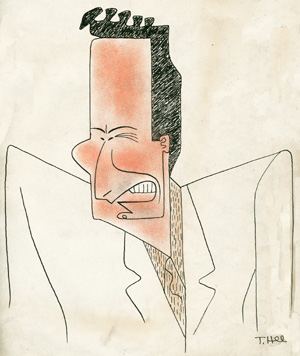 courtesy of billpeet.net

...after Walt Disney had made a big success with Snow White and the Seven Dwarves, his next thought was to make films more realistic, more impressive and more pretentious. And I think he was going in the wrong direction. What makes Snow White special are the marvelous personalities, and not it's attempt at getting more conventional......He tried all the technology available at the time, but I still say the charm of the animation is the obvious appearance of it. It is a drawing come to life. And the living drawing is the charm of it. It has always been, no matter how elaborate you make it.
Animation stands alone.

-Bill Peet, from Storytelling in Animation, The Art of the Animated Image, Vol.II, American Film Institute press, 1988

--------------------------------------------------------------
Birthdays: Benedict Spinoza, Henri de Toulouse-Lautrec, Scott Joplin, William F. Buckley, John Lindsay, Dale Carnegie- author of How to Win Friends and Influence People, Dick Powell, Garson Kanin, Cass Gilbert-the architect of the first skyscraper, Steve Yeager, Denise Crosby, Billy Connolly is 65

1933- The RKO movie Flying Down to Rio, the first pairing of the famous dance team Fred Astaire and Ginger Rogers.

1937- The Andrew Sisters record their Boogie-Woogie version of the German song "Bei Mir Bist Du Schon".




1938- LENI DOES TINSELTOWN -Adolf Hitler's top filmmaker Leni Reifenstahl arrived in Hollywood to meet the film community and show off her new film 'Olympia". Nazis Counsel General in L.A. Gerhard Gyssling bragged to the press that all Hollywood was dying to meet The Third Reich's top film artist. But Hollywood had different ideas. Paramount, Warner Bros., Columbia, Fox and Goldwyn refused to speak to her and picketers hounded her every step. Well known Conservatives like Louis B. Mayer and John Wayne were polite but begged off the bad publicity. The only studio heads who would meet Leni Reifenstahl were Hal Roach and Walt Disney. Uncle Walt gave her a tour of the studio but begged off running her film, saying the IATSE union projectionist would make trouble. ( uh-huh....) Years later Disney said he didn't really know who she was. ( uh-huh......)

1941- After suffering a strike and declining revenue because of the war in Europe Walt Disney's studio was in trouble. Disney animator Ward Kimball noted in his diary for this day: " 100 layoffs announced. Studio personnel from 1600 down to a Hyperion level of 300. Geez, It this the writing on the wall?" Disney saved itself with doing Defense films for the Army. After limping through the 1940's with the release of Cinderella in 1949 Walt Disney was back on top..

1947- THE WALDORF DECLARATION, THE START OF THE HOLLYWOOD BLACKLIST- 50 Hollywood moguls like Harry Cohn, Jack Warner and Dori Charey meet at the Waldorf Astoria in New York to formulate a group response to the House UnAmerican Activities Committee anti-commie hearings that were targeting Hollywood. Besides the heat from the feds their stockholders were clamoring for them to get the Reds out! They agreed to enforce an industry-wide blacklisting of anyone refusing to cooperate with the HUAC Committee. Nothing was ever officially written down or published, if you were blacklisted you suddenly were unable to find any work.
Eric Johnston, spokesman for the Motion Pictures Assoc. said on this day: "As long as I live, I will never be party ot anything as unAmerican as a blacklist!"
Two days later on Nov. 26th he said:We will forthwith discharge and never again knowingly employ a Communist. Loyalty oaths for the Entertainment Industry are now compulsory. Many Hollywood artists signed Communist Party cards in the 1930's when it was chic' to be lefty and the Communists were the only open opponents of segregation and Hitler. One screenwriters' excuse was CP parties had the prettiest girls. Out of an estimated 15,000 entertainment workers only around 300 were ever actually proven to be Communists. Famous blacklist victims included Zero Mostel, Lillian Hellman, Lloyd Bridges, Dashell Hammett, Gale Sondergaard, Edward G. Robinson, Charlie Chaplin, Sterling Hayden & Dalton Trumbo. Animators blacklisted included John Hubley, Phil Eastman and Dave and Libby Hilberman.'Somewhere over the Rainbow' composer Yip Harburg was blacklisted for writing a song: 'You Gotta Friend Named Joe" which the committee took to mean Russian dictator Josef Stalin.


Movie stars led by Humphrey Bogart and Lauren Bacall protest the HUAC hearings in Washington.

1950- The musical Guys & Dolls opened. I got da horse right here, his name is Paul Revere, I know a jock who tells me Never Fear, Can Do- Can Do..The Jock sez da horse can –do

1963- To complete the surreal drama that shocked America into the Sixties, JFK assassin Lee Harvey Oswald is shot on nationwide T.V. by smalltime gangster Jack Ruby. He is taken to the same hospital and has the same doctors as Kennedy but still dies. Ruby, real name Jacob Rubenstein, always hung around the Dallas police station so no one thought it was unusual to see him around.

1968- Hey Jude by the Beatles topped the pop charts while Tammy Wynette's Stand By Your Man headed the Country & Western listing.

1976- The Band announced at the Winterland in San Francisco that this was their last concert.

1991- Freddy Mercury, lead singer of the rock group Queen, died of HIV/AIDS.

1998- America On Line bought their chief competitor Netscape.
More Wisdom from the Ancient Animators




In animation, anything can work!
-Dwayne Crowther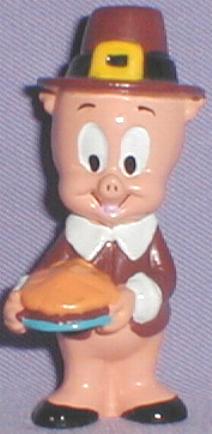 HAPPY U.S. THANKSGIVING- Since the earliest recorded times societies have had harvest festivals to give thanks to the appropriate deities that they're not going to starve come winter. Whether or not you believe in 1621 Pilgrim Gov. Bradford and Massacoit and his Wampanoag Indians sat down to dinner, the custom of Thanksgiving was a New England custom for decades thereafter. A few years later the New Englanders exterminated these same Indians and stuck Massacoits son King Phillips dismembered head on a post. In 1789 George Washington had called for a thanksgiving celebration in late November to celebrate the new Constitution but the holiday didn't really become an annual custom until the Civil War. Sarah Hale the editor of the Ladies Magazine had been lobbying the US Government to make the New England practice a national one. In 1864 after the capture of Atlanta and Mobile Bay it looked obvious that the Union was finally going to win the Civil War. President Lincoln issued a decree that the last Thursday of November be set aside as a feast of national Thanksgiving –Old Abe had just won his re-election so he had lots to be thankful for as well. As blue clad troops chowed down on their turkey and chicken dinners the Confederates withheld their fire in honor of the new Yankee holiday. To this day Thanksgiving is still declared by Presidential decree, probably buried somewhere in the back of today's newspaper.
In 1940 President Roosevelt tried to move Thanksgiving earlier in the month to help Depression-wracked business by spurring early Christmas shopping, but people were used to it where it was. If he was alive today he would see that Xmas shopping gets going before Halloween these days..
Thanksgiving is the mellowest holiday. somehow if you're not in a festive mood on New Years or July 4th you feel doubly guilty. All Thanksgiving demands is you make a big meal and eat it. So enjoy. Happy Thanksgiving.


---------------------------------------------
Birthdays: German Emperor Otto Ist 972AD, President Franklin Pierce, Krystoff Penderecki, Manuel DeFalla, William Henry Pratt better known as Boris Karloff, William Bonney better known as Billy the Kid, Susan Anspach, Victor Jory, Vincent Cassel, Robert Towne, Joe Esterhaus

1889- The first Juke Box installed at the Palais Royale Saloon in San Francisco. Created by Louis T. Glass it used Edison cylinders instead of records and cost 5 cents a play. Juke comes from Juke Joint, a slang term for a dance hall.

1897-First Royal performance for Queen Victoria of a Cinematograph moving picture, at Windsor Castle. Also on the program was Monsieur Taffary's Calculating Dogs.

1903- Italian tenor Enrico Caruso made his debut at New York's Metropolitan Opera in Verdi's Rigoletto. The great singer loved drawing cariacatures, collecting police badges, pinching ladies bottoms and doing practical jokes like filling your hat with flour. Painter Norman Rockwell recalled when he was paying his way through school by being a Met stagehand Caruso liked to talk art with him and he asked about George Bridgemans class, the great anatomist.

1936- The first florescent lighting tubes are installed, in the U.S. Patent office.

1936- Time Magazine owner Henry Luce launched LIFE Magazine. The first picture on the cover was a dam photographed by Margaret Bourke-White. The second picture was a doctor slapping a newborn baby with the caption: "Life Begins!"

1938- Bob Hope recorded his signature tune "Thanks for the Memory" for the movie The Big Broadcast..

1942- PLAY IT AGAIN SAM- The movie CASABLANCA premiered. Based on an unproduced musical play "Everybody Comes to Ricks', Howard Koch and the Epstein Brothers adapted the play into one of the most memorable Hollywood movies ever. It was never expected to be more than a rehash of the popular Charles Boyer film Algiers. The role of Rick was turned down by George Raft, and Hunmphrey Bogarts first reaction was " Aw..it's just some more sh*t like Algiers.." Bogart acted opposite Ingrid Bergman, although he had to stand on apple boxes to appear taller than his Swedish leading lady. During the famous scene where the French exiles drown out the singing Germans with a stirring rendition of le Marseillaise the Germans are singing Watch On the Rhine. The director wanted them to sing the Nazi Party anthem the Horst Wessel Song but the Warner Legal Dept discovered it was copywrighted! We're at war but we don't want them Nazis to sue us! At this time the real Casablanca was still in a war zone so director Michael Curtiz and his art director Carl Jules Wyl had to fake what a North African French colonial city might look like. A decade later while filming in Spain he took the ferry over to Casablanca to see how close they came. Driving around Curtiz remarked "Carl, this doesn't look anything like our movie!!"

1952- Animator Fred Moore, who drew Mickey Mouse in Fantasia and the Brave Little Tailor, died in an auto accident in the Tujunga Canyon area of Los Angeles.

1960- The Hollywood Walk of Fame is dedicated, featuring over 1,500 names- but not Charlie Chaplin, who was banned until 1972 because of his lefty political views.

1963- The first episode of Dr.Who premiered on the BBC.

1966-The film " Spinout " premiered. Elvis Presley pioneered the genre movie of bored male movie stars who use their studio muscle to make us watch movies of them in racing cars. James Garner in Grand Prix-arguably the best one, Steve McQueen in LeMans, Tom Cruise in Days of Thunder, Sly Stallone in Driven, etc.

1990- 37 year old baseball catcher Bo Diaz was crushed to death by a large satellite dish he was trying to install.
More Wisdom from the Ancient Animators




Just remember your scenes are up there forever.

Eric Larson (note: the picture is not Eric)

---------------------------------------------------------------------
Birthdays: French explorer Sieur de LaSalle, George Elliot- pen name for Mary Anne Evans, Benjamin Britten, Charles DeGaulle, Andre Gide, Wiley Post, Billy Jean King, Boris Becker, Geraldine Page, Jamie Lee Curtis is 48, "Cactus Jack" Garner, Hoagy Carmichael who wrote the music for Max Fleischers last film Hoppity Goes to Town, Rodney Dangerfield, Terry Gilliam is 66, Robert Vaughn,Tom Conti, Mark Ruffalo, Steven Van Zandt, Victoria Paris- porn star of such classics like Bimbo Bowlers from Buffalo, Scarlett Johanssen is 22

St. Ceceilia's Day- Patron Saint of Musicians

1739- Georg Frederich Handel premiered the oratorio Ode to Saint Cecilia's Day.

1809- Baltimore native Peregrine Williamson invented a re-usable steel pen. This finally freed the western world from sharpening goose quills and other feathers to write.

1888- According to Edgar Rice Burroughs this is the birthday of the boy who would become Tarzan.

1916- Author Jack London died at 40 in Glen Ellen California of kidney disease. The author of White Fang and Call of the Wild was a lifelong socialist and supporter of the labor movement. In 1918 Emma Goldman eulogized in an article in The Masses: "It's a pity that brother Jack never lived long enough to see the Red Flags of Freedom flying over the Kremlin!"

1917- The National Hockey League-NHL, founded in Montreal. The first teams The Quebec Bulldogs, Ottawa Senators, Montreal Canadiens, Toronto Arenas, and Montreal Maroons.

1928- Long before Bo Derek ran down a beach, Ravel's Bolero Suite premiered in Paris.

1950- The Lowest Scoring Basketball game in NBA history. The Fort Wayne Pistons defeated the Minneapolis Lakers 19-18. They later became the Detroit Pistons and Los Angeles Lakers.

1957- The Miles Davis Quintet debuted.

1963- ONE DAY IN DALLAS- At 12:30 Central time President John F. Kennedy was shot and killed. Whether you believe the assassin was Lee Harvey Oswald, The Military Industrial Complex, Vice President Johnson, the Mob, Corsican contract killers, The C.I.A., Fidel Castro, Anti-Castro Cubans, space aliens or all of the above, it remains one of the traumatic moments of US History. Only 15% of Americans believe Lee Harvey Oswald did it alone. One Mafia don said in his memoirs:" If you believe Oswald, a rather lackluster Marine, could get off three carefully aimed shots from an old bolt action rifle in just six seconds, you have a vivid imagination." One of the last things Kennedy heard before the bullets struck him was the wife of Texas governor John Connolly said:" Well Mr President, now nobody can say they don't love you in Dallas!" After taking the oath of office on Air Force One Lyndon Johnson broke down and locked himself in the toilet crying hysterically "They're out to kill us all!" Jackie Kennedy, who after flying to D.C. from Dallas still wearing the blood soaked pink Channel dress "let the people see what they've done!" immediately started going over the funeral arrangements. Before retiring she had her staff comb the National Archives for the details of the Lincoln Funeral. Cub reporter Robin MacNeil remembers after the shots running into the nearest building to phone in the story. He ran into the Texas Book Depository and asked a skinny t-shirted man who was just leaving where the nearest phone was. Two days later when watching the footage of the assassin being arrested he realized he had been talking to Oswald!
In 1966 key evidence from the Kennedy assassination including the presidents brain and Oswalds tax returns disappeared. People claiming knowledge of a conspiracy died in strange ways, like karate chops and boating accidents.

1963- Aldous Huxley died. The author of Brave New World had inoperable cancer so his wife kept him high on LSD. Huxley had once tried to sell a screenplay of Alice in Wonderland to Walt Disney.

1965- The musical The Man of La Mancha opened on Broadway. " To Dream, the Impossible Dreaaammm…"Brings back memories of Junior High School band practice.

1980- Screen goddess Mae West died at 87. He apartment suite at the Ravenswood in the Hancock Park section of Los Angeles has been lovingly restored since the owner claims her ghost nagged him to put her furniture back!

1993- Sir Anthony Burgess died. The author of A Clockwork Orange had been diagnosed with a brain tumor and told he had one year to live, back in 1959.
| | |
| --- | --- |
| | |