I saw this today on the wire service and had to mention it-



Hamas 'Mickey Mouse' Wants Islam Takeover
By DIAA HADID (Associated Press Writer)
From Associated Press
May 08, 2007 1:26 PM EDT
GAZA CITY, Gaza Strip - Hamas militants have enlisted the iconic Mickey Mouse to broadcast their message of Islamic dominion and armed resistance to their most impressionable audience - little kids.

A giant black-and-white rodent - named "Farfour," or "butterfly," but unmistakably a Mickey ripoff - does his high-pitched preaching against the U.S. and Israel on a children's show run each Friday on Al-Aqsa TV, a station run by Hamas. The militant group, sworn to Israel's destruction, shares power in the Palestinian government.


"You and I are laying the foundation for a world led by Islamists," Farfour squeaked on a recent episode of the show, which is titled, "Tomorrow's Pioneers."

"We will return the Islamic community to its former greatness, and liberate Jerusalem, God willing, liberate Iraq, God willing, and liberate all the countries of the Muslims invaded by the murderers."

Children call in to the show, many singing Hamas anthems about fighting Israel.

Israel has long complained that the Palestinian airwaves are filled with incitement.

An Israeli organization that monitors Palestinian media, Palestinian Media Watch, said the Mickey Mouse lookalike takes "every opportunity to indoctrinate young viewers with teachings of Islamic supremacy, hatred of Israel and the U.S., and support of 'resistance,' the Palestinian euphemism for terror."

The television station would not comment.

A spokeswoman from Walt Disney Co.'s headquarters in Burbank, Calif., did not immediately return messages asking for comment about the use of a Disney-like character.

Yehia Moussa, a Hamas leader in the movement's Gaza Strip base, denied inciting children against Jews. "Our problem is not with the Jews. Our problem is with the (Israeli) occupation and the occupiers," Moussa said.

Israeli officials denounced the program. David Baker, an official in Prime Minister Ehud Olmert's office, said, "There is nothing comic about inciting young generations of Palestinians to hate Israelis."

Foreign Ministry spokesman Mark Regev called the program "outrageous" and charged that the Palestinians have not carried out their commitments to stop incitement of hatred toward Israel. "Children are taught that killing Jews is a good thing," he said. "Children are taught to hate Jews and to hate nonbelievers."

In strife-ridden Gaza, however, dreams of Islamic dominion and animosity toward the U.S. and Israel are widespread.

A Gaza-based psychologist said the program proved that the culture of glorifying violence had penetrated Palestinian society.

"It's the fault of both (Israel and the Palestinians)," said Samir Zakkout, from the Gaza Community Mental Health Program. "If Palestinians had peace, children wouldn't learn violence."

Children have been traumatized by bloodshed in the course of Israeli attacks and Palestinian infighting, he said.

"There's been a collapse of values," he said. "If I can kill my enemy, I can kill my brother."

Basem Abu Sumaya, head of the Palestinian Broadcasting Corp., said such programming was inappropriate.

"I don't think it's professional or even humane to use children in such harsh political programs," Abu Sumaya said. "Children's nationalist spirit must be developed differently."

The Palestinian Broadcasting Corp. is controlled by Hamas' political rival, the Fatah movement of Palestinian President Mahmoud Abbas..

Hamas loyalists launched the Al Aqsa satellite channel last year. Bearded young men read the news, often offering live news broadcasts. Islamic music is layered over footage of masked militants firing rockets into Israel. But the channel also broadcasts talk shows, programs about the disabled and cartoons.

Hamas loyalists also run at least five news Web sites, one newspaper - launched just last week - and a radio station.
--------------------------------------------

Never mind the CIA or Mossad, just wait till the Disney Legal Dept. finds out!
Birthdays: President Harry Truman, Roberto Rossellini, Don Rickles, Leopold Bakhunin, Louis Gottschalk, Oscar Hammerstein, Ted Sorenson, Sonny Liston, Toni Tennille, Ricky Nelson, Peter Benchley, Thomas Pinchon, David Attenborough, Keith Jarrett, Alex Van Halen, Melissa Gilbert is 43, French illustrator Jean Giraud aka Moebius is 69, Enrique Inglesias is 32

1824- Ludwig Von Beethoven performed his Ninth (Choral) Symphony and Missa Solemnis in concert for the first time. Even though he was stone deaf he was still in demand as a conductor. The orchestra trained themselves to ignore the Maestro's baton waving and follow the lead of the concert-master ( first violinist ). It was said when they finished and the audience was cheering poor Beethoven was still flapping his arms about and moaning the melody, unaware of the sound of his own voice.

1874- Massachusetts adopted a ten-hour workday for women, down from 12-14 hours.

1878- David Hughes invents the Microphone while trying to get over bronchitis.

1910-Mazeltov! Russian-Jewish immigrant glove salesman Schmuel Gelpfisch married Blanche Lasky, the daughter of vaudeville performer Jesse Lasky. Gelpfisch later changed his name to Goldfish, then Goldwyn. He and his father in law Jesse Lasky went into the new flicker business and started the Jesse L. Lasky Feature Play Company. They moved to Hollywood and in 1915 they merged with Paramount Pictures and Goldwyn merged into Metro-Goldwyn Mayer. Both became top Hollywood producers.

1933- When the Rockefellers were building their huge office complex Rockefeller Center in New York City they decided to get one of the greatest living Mexican painter Diego Rivera to design the murals for the interior of the atrium 'Man at the Crossroads". This despite the fact that Rivera was well known as a radical communist. Soon Nelson Rockefeller noticed Rivera was painting in the center of the mural a huge heroic portrait of Lenin stepping on John D. Rockefeller's face! Against Rivera's wishes Rockefeller ordered the mural painted over and no record of it's existence ever kept. But on the night before the painting was to be destroyed Swiss art student Lucienne Bloch slipped a camera into her shirt. While Frida Kahlo distracted the guards she took the only photos of the mural for posterity.

1943-Tex Avery's "Red Hot Riding Hood"- Ooohh Wolfy !

1962-"A Funny thing Happened to Me on the Way to the Forum" opened on Broadway.

1962- Director Joe Mankiewicz shot the climactic spectacle scene of Cleopatra –Elizabeth Taylor, entering Rome through the Arch of Titus on a mobile sphinx surrounded by thousands of extras. The shot had been delayed six months after a stunt woman fell off an elephant and then the light in the Forum had not been right. When she appeared in the scene the thousands of Italian extras were supposed to shout "Hail Cleopatra!" but instead they shouted "Liz! Liz!"

1973-A.I.M. Indian movement surrendered Wounded Knee to the F.B.I..

1978-In court postman David Berkowitz confessed to being "Son-of-Sam" or the "44 caliber killer", the serial killer who terrorized New York City by shooting to death teenage couples at random and toying with letters to journalist Pete Hamill . Berkowitz said he received his orders to shoot people from his neighbor's dog "Sam". His reign of terror had the normally blase' city so upset that in a scene out of Fritz Lang's "M", godfather John Gotti pledged the services of the Mafia to catch the maniac. Police finally caught Berkowitz when they found his Volkswagen Beetle illegally parked and noticed the infamous 44 handgun sticking out of a paper bag on the front seat. In Attica prison Berkowitz made friends with Mark David Chapman, the murderer of John Lennon.

1998- The impotence drug Viagra gains national prominence when retired senator and Presidential Candidate Bob Dole confessed on the Larry King talk show that he participated in the drugs test trials and the had "thoroughly enjoyed himself."
Birthday: Johannes Brahms, Peter Ilyich Tschaikowsky, Gary Cooper, Gabby Hayes, Robert Browning, Marcus Loew of Loews Theater chain, Darin McGavin, Edward Land (inventor of the Polaroid lens and camera), Bob Clampett, Amy Heckerling, Traci Lords

Happy Birthday Clampett!Bob Clampett 1913-1984

Greek Festival of the Birth of Apollo.

1904 - Flexible Flyer trademark registered

1914-Jesse Lasky, Cecil B. DeMille and partners formed Paramount Pictures.

1915- THE LUSITANIA- The Civilian oceanliner Luisitania was torpedoed and sunk by the German submarine U-20. 1,198 drowned, including many Americans. The Kaiser later gave a medal to the U-boat Captain Walter Schweige. These acts outraged American opinion and led us into World War I despite many pro-German immigrants. It was revealed in recent years that the reason Lusitania sank so quickly, just 18 minutes - even Captain Schweige was surprised- was that it's cargo hold was full of contraband explosives. First Lord of the Admiralty Winston Churchill fought the German U-boat blockade by covertly transporting purchased American weapons on hospital ships, civilian ocean liners and let some British freighters illegally fly the flags of neutral countries. The German government knew that the Lusitania had been classified by the British admiralty a military cruiser. The German government apologized to the American government and stopped the unrestricted U-boat campaign for two years, but the Lusitania shifted neutral U.S. public sympathy irrevocably to the Franco-English side. Cartoonist Winsor McCay was moved to create a cartoon about the incident.



1926- Gangster Al Capone killed 3 of his men with a baseball bat over dinner.

1937-Nobel Prize winning writer William Faulkner hired by MGM Studios, earning $500 a week. He celebrated by going on a two week long drinking binge. When MGM's Head of Writing Sam Marx had him tracked down to an Oakie migrant camp in the Imperial Valley, he was dragged off boozily whining: " Ah only wanna write for Mickey Mouse !!"
Another time he requested that if he could work at home he would be more productive than in a studio environment. Marx agreed and Faulkner again disappeared. Finally after three weeks Marx got a telegram from Oxford, Mississippi.

1941-Glen Miller records the "Chattanooga Choo-Choo" for RCA. the first gold record million seller.

1942- Battle of the Coral Sea-The U.S. Navy, suffering only defeats up till then, stops a Japanese task force in the first battle between aircraft carriers. This is the first battle in which the two fleets never saw each other but fought long distance with airplanes. Veterans commented that one of the sadder losses was when the aircraft carrier Lexington went down she took the fleet's supply of 6 Bugs Bunny cartoons with her. War is Hell.

1966- "Monday Monday" by the Mammas and the Poppas becomes #1 in the pop charts.

1996- Comedian Martin Lawrence went berserk and ran down a main intersection in Van Nuys Cal. raving and waving a pistol. When asked to explain himself Lawrence blamed it on "Dehydration."

1998- Apple Computers introduced the iMac.
-SEVENTY YEARS AGO- 1937- Bill Cosby,George Carlin, Don Bluth and Robert Redford were born. J.R.R.Tolkien published the Hobbitt. The Hindenburg exploded, Aemelia Earhardt dissappeared, Japan attacked China, Daffy Duck and the antihystamine were invented.




-Seventy Years Ago- Animation artists finally did more than just whine to each other about lousy work conditions.

-Seventy Years Ago- animation artists did more than just screw one another to gain temporary advantage on one picture.

-Seventy Years ago- animation artists did more than moan about not getting a screen credit.

-Seventy Years ago- animation artists were not just grateful for every crumb that dropped from the table of their bosses for the priveledge of making them rich, and took real steps to create a stable livelhood for each other.

-Seventy Years ago- Animation artists didn't just think only of themselves, but stood shoulder to shoulder and laid it all on the line to make things better.

-Seventy Years Ago- Animation Artists united and went on strike for the first time, against the Max Fleischer Studio in New York.

- They were mostly young people, in their twenties. New practicioners in a new technology. There was no safety net if they failed, blacklisting was common. But they belonged to an age of joiners, people who saw more value in united action than going-for-yourself.

-With that spirit they made headlines, made Hollywood major studios like Paramount buckle and sent a message across America- animators are not magicians or gnomes who live under the rainbow, but men and women who pay bills and deserved respect.

All who work in the business of animation owe these brave people a debt of gratitude. I salute them all.

p.s. for those of you who don't know what I'm talking about, go get my book Drawing the Line and turn to chapter 4.
(sheesh, ya jes can't get an uplifting message without a &*%# commercial..)




-Seventy Years Ago- Unity, an old idea that maybe needs a second look.

----------------------------------------------------------
Birthdays: Maximillien Robespierre, Sigmund Freud, Rudolph Valentino, Orson Welles, Robert Peary, "Say Hey!" Willie Mays, Stewart Granger, Toots Schoor, Andriana Caselotti- the voice of Snow White, Ruben Hurricane Carter,Anne Parillaud- Nikita in La Femme Nikita, Britains PM Tony Blair, George Clooney is 47

1919- Wizard of Oz creator L.Frank Baum died of heart disease at 62. He was trying at the time to buy real estate in Los Angeles for an Oz- theme amusement park.

1937- Seventy Years Ago- THE FLEISCHER STRIKE-Cartoonists vote to strike Max Fleischers Studio after Max fires 13 animators for union activity and complaining about the 6 day work week. The strike was settled several weeks later when parent company Paramount forced Max to concede. Strikers sang "We're Popeye the Union Man! We're Popeye the Union Man! We'll Fight to the Finish, Cause We Can't Live on Spinach ! We're Popeye...etc."

1937- The Society of Motion Picture Art Directors formed.

1949-EDSAC invented in England. The first computer that could store programs in it's memory.

2001- Variety reported that the Walt Disney Company in promoting their upcoming summer film Pearl Harbor canceled the plans for Pearl Harbor Happy Meals at MacDonalds as being in bad taste. Hmmm…do ya think..?

2003- A giant tornado destroyed the factory in Jackson, Tennessee that produced most of the world's supply of Pringles Potato Chips.
Birthdays: Tyrone Power, Karl Marx, Elizabeth Cochrane called Nellie Bly, Soren Kierkegard, Alice Faye, James Beard, Michael Palin, Pat Carroll the voice of Ursula in the Little Mermaid, John Rhys Davies, Lance Henriksen

Happy Cinco de Mayo! Like Saint Patrick's Day in Ireland , Cinco de Mayo in Mexico doesn't get that much attention, but it's a good excuse for Mexican Americans to show pride and all the rest of us to guzzle our Dos Equis and Cuervo Especial. Viva la Raza!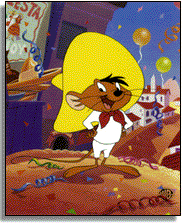 Warner Bros Character Speedy Gonzales, named for animator Frank Gonzales and designed by Bugs Hardaway.

National Cartoonist's Day.

1504 -Sir Anton of Burgundy, known as The Great Bastard, dies at 82. We don't know much about this knight but you gotta love that nickname!

1953- Broadway Director Jerome Robbins was riding high after directing hits like On the Town and King & I when he was labeled a Communist by Ed Sullivan. To save his career this day he testified before Joseph MacCarthy's House UnAmerican Activities Committee HUAC and named names. One actress he finked on -Margaret Lee said" I've just been stabbed by a wicked fairy". Ironically Robbins went on to direct two of his biggest hits "A Funny Thing Happened on the Way to the Forum and the Fiddler on the Roof using blacklisted actors like Zero Mostel, Bea Arthur and Jack Gilford, who all hated him.

1961- Alan Shepard became the first American in space on board Friendship VII. The rocket took him 115 miles into space but not high enough to achieve an orbit. That was done one year later by John Glenn. Shepard was kept on the ground in his capsule for so long he had to pee in his suit. In the upside down position the fluid ran up his back and puddles in his helmet behind his head. Ick.

1968- Albert Dekker, star of monster movies like Dr. Cyclops, was found hanged in his bathroom handcuffed and wearing ladies lingerie and with a narcotics syringe sticking in his arm. The police declared it an 'auto-erotic episode that had gone wrong."




1975- Anne Rice's novel The Interview With The Vampire first published.

1985- President Ronald Reagan started a firestorm of controversy among veterans groups when he laid a wreath in Germany at a cemetery in Bitburg that contained graves of Nazi Waffen-SS soldiers. Some of them may have participated in the infamous Malmedy Massacre of US prisoners. When looking for a place for Reagan to stay the State Department scouted around for a German host who was conservative but had no Nazi connections. Finally they found a Junker Baron who was born in 1942. So Reagan stayed at his castle. Once there the Baron revealed even though his father was not in the party, when born his godfather was Adolf Hitler! Doh!


Don't blame me, I voted for Cheney.
| | |
| --- | --- |
| | |