Birthdays: Elvis Presley would have been 72, composer Robert Schumann, Jose Ferrer, Billy Graham is 89, Shirley Bassey, cartoonist Peter Arno, Yvette Mimieux, David Bowie, John Nierhardt, Bruce Sutter, Charles Osgood,publisher Frank Doubleday, Steven Hawkings. Soupy Sales, real name Milton Supman is 81. Can anyone out there remember Philo Kvetch or do the Mouse?

1889- Herman Hollerith received a patent for the electronic counting machine. The machine fed numbers onto punch cards and was used extensively in the U.S. census of 1890. In 1896 Hollerith founded the Tabulating Machine Company, which later was renamed International Business Machines or IBM.

1904- Pope Pius X banned women wearing low cut dresses in front of clergy. He also tried to ban tango dancing.

1962- The Mona Lisa traveled to America and went on display today at the National Gallery in Washington. It was loaned in a deal brokered by Jackie Kennedy and French interior minister Andre Malreaux

1965- NBC TV premiered Hullabaloo, a Rock & Roll dance show with lots of mini-skirted go-go girls. ABC later came up with Shindig.

1973- Carly Simon got a gold record for "You're So Vain".

1992- BARF! President George Bush Sr. projectile vomited on the lap of Japanese Prime Minister Nakasone in front of press cameras at a state dinner in Tokyo.
Birthdays: Jacques Montgolfier- balloonist and paper maker, Joseph Bonaparte- Napoleons older brother, St. Bernadette of Lourdes, Revolutionary War General Israel Putnam, Francois Poulenc, Butterfly McQueen, Adolph Zukor, cartoonist Charles Adams, E.L. Doctorow , Jean Pierre Rampal, Millard Filmore*, Katie Couric, William Peter Blatty the author of Jaws, David Caruso, Nicholas Cage- originally Nicolo Coppola is 43

HAPPY MILLARD FILLMORE DAY!! Millard Fillmore is famous, if you could call it that, as Americas most obscure and irrelevant president. So far. This day the Millard Filmore Society has a banquet in his birthplace of Buffalo, N.Y.

George W. who..?

1839- Frenchman Louis Daguerre announces the invention of Photography.( Just three weeks later on the 31st William Fox Talbot will say HE invented it first ). Despite the controversy of credit, the Daguerrotype photgraphic process becomes the popular system worldwide in the nineteenth century. The image of Lincoln on the five dollar bill is from a daguerreotype.

1894-" The Sneeze" The first motion picture film to be copyrighted by Thomas Edison and his engineer Canadian W.K.L. Dickson



1924- George Gershwin completed his Rhapsody for Jazz Orchestra, popularly called the Rhapsody in Blue. Ira Gershwin came up with the name after seeing a museum show of Whistler paintings with names like "Composition in Grey, Nocturne in Green," etc. It was comissioned by famed band leader Paul Whiteman, who gave Billie Holiday and Bing Crosby their starts. A retired band member of his I knew told me Whiteman had no sense of tempo nor could he carry a beat, and as a band member you quickly learned to play your part while ignoring his baton waving.

1926- George Burns married Gracie Allen.

1927- The first private telephone call from America to England.

1929-With the approval of Edgar Rice Burroughs artist Hal Foster began drawing the Tarzan comic strip. Burne Hogarth took over after Foster had a financial dispute with the publisher.

1934 –The First Buck Rogers adventures.

1935- Roger Sherwood's play the Petrified Forrest opened to smash revues at the Broadhurst Theater on Broadway. Leslie Howard got great notices, but the real find was an obscure hard drinking actor with sad eyes playing the gangster Duke Mantee – Humphrey Bogart. In the audience was Jack Warner of Warner Bros, who decided Mr Bogart might just make it in motion pictures.

1943- Nikolas Tesla died. The inventor of AC current, rotary field motors and the Tesla coil, in his last years he had been experimenting with telegraphy and trying to develop a death ray for the US Army.

1961- In Providence Rhode Island a bunch of kids were stopped by police for driving a round a neighborhood store suspiciously carrying guns and masks. One 21 year old who did three days in jail for carrying a concealed weapon later became a pretty good actor- Al Pacino.

1966- A San Francisco hippie band called the Grateful Dead got their first gig playing a club called the Matrix. They would be one of the most successful rock bands in history, only breaking up after the death of their leader Jerry Garcia in 1995.
history for 1/6/2007
Birthdays: St. Joan La Pucelle also called Joan of Arc, Mountainman Jedediah Smith, Tom Mix, Alexander Scriabin, illustrator Gustav Dore', Loretta Young, Earl Skruggs. Carl Sandburg, Danny Thomas, Nancy Lopez, John DeLorean, Alan Watts, John Singleton, Rowan Atkinson, Anthony Minghella

Happy Feast Of Epiphany, Twelfthnight and The Eastern Orthodox Christmas.
Today is the end of the twelve days of Christmas when the Magi, the three kings Caspar, Melchior and Balthasar visited the Holy Family. The Magi were the priestly caste of ancient Persia and the Zoroastrian religion. They were believed to predate the Persians and come from the Chaldaeans, the people who invented the western branch of the science of astronomy, the Maya and Chinese were doing the same thing on their sides of the world. A lot of their ritual concerned observation of the stars. Some astronomers theorize the Star of Bethlehem was a rare planetary alignment that created a bright spot the Magi weren't used to, or a close orbit of Jupiter. The Chinese have calculated that there was a supernova around 6 BC which is more or less the right time.

1849- the first cartoon cover of Punch Magazine.

1945- First Pepe Le Pew cartoon, "Odorable Kitty". When the Warners producer who replaced Leon Schlesinger, Eddie Selzer, heard the plans to do a short about a skunk he thundered: "Absolutely Not! Nobody will like a cartoon skunk!" Chuck Jones recalled: "As soon as he said no, I knew we just had to do it." Selzer's final opinion:" Nobody'll laugh at that sh*t!" The short won an Oscar. Selzer later went on into network T.V.

1949- Composer Leonard Bernstein noted in his diary that "JR (Jerome Robbins) called today with a novel idea- a modern version of Romeo and Juliet set in the slums." At first the musical was going to be called East Side Story, then GangWay, finally West Side Story.

1956- Prince Rainier of Monaco announced his engagement to movie star Grace Kelly.

1956- Walt Disney met his old enemy, Max Fleischer. Max had retired and Walt had hired his son, Richard Fleischer, to direct Twenty Thousand Leagues Under the Sea. The meeting was cordial and Max was reunited with a number of his former old artists. But Richard Fleischer sensed the bittersuite mood. It felt like Goliath had beaten David.

1962- Bob Clampett's Beany and Cecil the Sea-Sick Sea Serpent. This was the animated version of his popular puppet show."So Long Kids ,Wind Up Your Lids, We'll look for You Real Soooooon." Animator Carl Bell recalled when you conferred with Bob Clampett, sometimes he'd have the Cecil puppett on his arm, and you'd have to receive your critique or get a new assignment from Cecil.



1975-" Ease on Down the Road.-" The Wiz premiered on Broadway.

1994- "WHY ME, WHY ME?" Shortly after a practice in a Detroit skating rink Olympic hopeful Nancy Kerrigan was attacked by a man trying to smash her knees with a steel pipe. The man Derrick Smith later confessed to the FBI that he was paid $6500 to do the deed by Jeff Gilhooly, the ex-husband and manager of Kerrigans rival skater Tanya Harding. Despite all the intense media coverage in the end Kerrigan got one Silver medal, Harding nothing and the Olympic gold in Figure Skating went to Ukrainian Oksana Baiul, who was later busted for drunk driving.
Birthdays: Alvin Ailey, J. Stuart Blackton- the first American animator, born in Lincolnshire, England, Jack Norworth -composer of Take Me out to the Ballgame, Astrologist Jean Dixon, Umberto Eco, Yves Tanguy, George Reeves, Roger Spottiswoode,Robert Duval is 76,Diane Keaton is 61,King Juan Carlos, Hiyao Miyazaki is 66

1477- THE BATTLE OF NANCY- The Duke of Burgundy, Charles the Rash, found out why the Swiss are left alone by most European powers. Upon invading Switzerland, his army was cut to pieces and his body was found naked in a ditch with his head stuck in a puddle of ice. Battle Axes were protruding from his groin and butt. These wounds were seen as more for insult's sake.

1643- The first divorce granted in North America. Pilgrim Anne Clarke was granted a divorce by the Massachusetts Bay Colony from her deadbeat husband, Dennis.

1757- A man named Robert Damiens attacked French King Louis XV and stabbed him. It was a flesh wound that Voltaire described as a pin-prick. The king survived and the court sentenced Damiens to the most horrible death they could think of, the medieval punishment for regicides. Nobody had done it for generations so the court executioner, Charles Samson, had to consult the history books. Hmm...Drawing and quartering....cut off assailants hands and stick stumps in pan of burning sulfur...uh-huh..got it! The execution was so ghastly that the witnesses fled, the executioner fainted and his assistants had to finish the job.

1825- Writer Alexander Dumas fought a duel with the Chevalier Saint George, a black Creole duelist from Martinique who played violin so well he helped Beethoven write his Violin Concerto. Neither man was seriously hurt and Dumas went on to write the Three Musketeers. Saint George also once fought a duel with the enigmatic Monsieur d'Eon, a transvestite who fought his duels in a woman's ballgown. In later life, Dumas would have young writers up to his Paris home on weekends and cook dinner for them. He told young Jules Verne" People may criticize my prose style, but they dare not criticize my sauce!"

1896- The New York World began printing the Yellow Kid comic strip with a yellow color on his shirt. The strip gave the name to the sensationalist tabloid press 'Yellow Journalism".




1914- The Ford Motor Company shocked the captains of American Industry by raising its wage rates for work shifts from $2.40 a day to $5.00 a day and adopting the new 8 hour work day. Henry Ford's idea was "when workers have more money they buy cars". The idea worked and sales of cars quadrupled and the economic climate of Detroit boomed. I wonder what Henry Ford would have thought of today's companies who lay off thousands of workers and move plants overseas to make their stock rise, then seem perplexed by the stagnant rate of consumer spending?

1953- Beckett's play Waiting for Godot ( En attendant Godot ) first premiered in Paris.

1959- Buddy Holly released his last single," It Doesn't Matter Anymore."

1959- The first Bozo the Clown TV show premiered on TV. Chicago based Larry Harmon invented the famous children's clown.

1961- "Hello Wilbur" Mr Ed the Talking Horse appeared on tv for the first time.

1979- EMI Records ended their contracts with the punk band the Sex Pistols. They felt their outrageous behavior had gone just too far.

1980- The first Hewlett Packard Personal Computer or PC goes on the market.

1998-At the Heavenly Valley Ski Resort, former pop-singer-turned-Neocon Congressman Sonny Bono died when he skied into a tree.
Got a nice review on Amazon.com from Graham Hill. He is a Hollywood based film and TV critic, not the British Formula One race car champion. But, you never know on the Internet.

" Mickey Mouse, Popeye, Bugs Bunny, Tom & Jerry, Mr. Magoo, Fred Flintstone, the Pink Panther and Bart Simpson, are the biggest stars in the business. But they couldn't make the slightest move or even open their mouths, without the help of the animation worker. Meaning no disrespect, I say worker and not artist, because that's what Tom Sito's book "Drawing The Line" is all about. The eternal labor struggle of men and women in the animation industry and their right to be recognized and treated as artists. Of course Hollywood is not the kind of town where that is ever likely to happen any time soon. And for all those that scoff and think that anyone who gets paid to simply draw for a living, let alone getting to work in Hollywood at all should be forever grateful. Well -you're about to have your eyes opened as you turn the pages of this well written and lovingly researched history, that dares to speak the truth and document it in precise detail. Through first-hand accounts of the animators that struck the studios, were fired and blacklisted, Sito has chronicled their plight and shown the effect it has had on working conditions today.

As an animator himself and a former declared labor cynic. Sito learned from personal experience why their really was a need to be unionized. So much so that he later went on to become an active president of the screen cartoonists local in Hollywood. Yes, animation was and still is a labor intensive assembly-line that even in this digital computer age, still relies on the artistic and professional skill's of it's of workers. It's a "must read" not just for anyone with the least interest in animation, Hollywood or social and labor studies, but for anyone who's keen to know just how their favorite cartoon characters came into being in the first place. Believe me, you'll never see them as just simple drawings ever again!"
-- Graham Hill, film/TV reviewer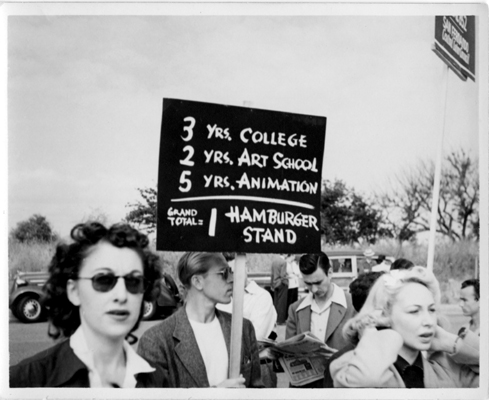 Disney strikers, 1941. Courtesy of the Animation Guild Archives, CSUN. Is that guy with the sign animator Dave Burgess? That would make him ninety five years old! That guy never ages!
| | |
| --- | --- |
| | |