Birthdays: Pilgrim leader John Winthrop, John Hancock, Edmund Burke, John Singer Sargent, Jack London , Charles Perrault (Mother Goose), James Farmer the founder of CORE, Herman Goering, Kirstie Alley is 51, "Smokin'Joe"Frazier, Tex Ritter, Howard Stern is 52, Rush Limbaugh, Oliver Platt, Wayne Wang, Tiffany, PIXAR's John Lasseter is 50

1669- Buccaneer Henry Morgan convened a meeting of the Captains of the Coast, a council of pirates on board his frigate, the Oxford. In their meeting they resolved to attack Cartagena Columbia, a rich Spanish port and staging area for the great treasure fleets. During the drunken celebrations someone fired a gun off in the Oxford's powder magazine and the ensuing explosion killed 200. Arrrg..Mateys!

1809- A group of Viennese businessmen convince Ludwig Van Beethoven not to move to another city by paying him a yearly allowance. Beethoven continually worried about money and pleaded poverty yet after his death people found thousands of silver coins hidden in little pots and cupboards throughout his home. He used to charge people on the street three marks to come and look at him through his window while he composed.

1928- Police raid the prestigious women's college, Radcliffe Hall and seize 800 copies of the novel "The Well of Loneliness" because it was considered to promote lesbianism.

1928- Henry Grey and Ruth Snyder are electrocuted in Sing-Sing Prison for the murder of Mrs. Snyder's husband. The love triangle was the inspiration for the films 'Double Indemnity, The Postman Always Rings Twice' and 'Body Heat". Press photographer Thomas Howard taped a small camera to his ankle and snapped a photo of Mrs Snyder frying in the chair. The New York Daily News published the photo on its front page.

1960- "The Scent of Mystery"- the first film in Smell-O-Vision.

1962- President John F. Kennedy signed Executive order 10988, mandating federal workers had the right to join unions and bargain collectively. In 2001, in the trauma over 9-11, President George W. Bush insisted his new 50,000 member Department of Homeland Security be forbidden to unionize.

1966- Holy Cult Classic ! The t.v. show "Batman" with Adam West and Burt Ward premiered.

1970- The Boeing 747 makes it's first flight.

1971- "ALL IN THE FAMILY" ,Norman Lear's t.v. sitcom about racism and the 60's,
debuts. Based on a successful British show, it broke new ground for American sitcoms by frankly discussing prejudice, menopause, rape and other taboo subjects. Its first show featured the sound of a toilet flushing. The networks were so worried about its explosive content ABC rejected the show twice and CBS ran the first episodes with a long apologetic disclaimer. Carrol O'Connor, the actor who played Archie Bunker was so convinced the show would flop he demanded as part of his contract a round-trip plane ticket home. The show ran for 13 years, won a bushel of Emmy Awards and made Archie Bunker a folk hero.

1992-According to Arthur C. Clarke's "2001, a Space Odyssey", the HAL-9000 computer was booted up today.

1987-No mystery, Agatha Christie dies at 88 of natural causes.

1995- Steven Speilberg, Jeffrey Katzenberg and David Geffen announced that the name of their new partnership would be 'Dreamworks SKG'. Someone in Florida immediately bought the domain name "Dreamworks.com" and waited for their buyout offer.I heard it was $5,000
QUIZ: What do the Pillsbury Doughboy and the Terminator have in common?

Started teaching my classes at UCLA and USC this week. I read in USC Cinema Arts bulletin that director and alumni Robert Zemeckis ( Who Framed Roger Rabbit?, Forest Gump) is going to teach a workshop at USC on his performance capture technique. The same rotoscope-mo-cap stuff that was used for Polar Express, Monster House and now Beowulf. Yesterday the Hollywood Reporter said James Cameron announced he wants to do a heavy mo-cap movie called Avatar. George Millar Mad Max has scored a hit for Warner Bros with Happy Feet.

Since all these great live action guys want to be animators, why don't someone give me a Terminator movie to direct?

-----------------------------------------------------
Birthdays: Roman Emp Theodosius 1st, Alexander Hamilton, Gliere, Domenico Ghirlandaio, Mr. Selfridge the London department store guy, Rod Taylor, David Wolper, Lyle Lovett, Naomi Judd, Stanley Tucci, Amanda Peet is 32

Roman festival Carmentalia, or the Feast of the Nine Muses

1874- Gail Borden, the inventor of condensed milk, died and was buried beneath a tombstone made to look like one of his milk cans.

1892- French impressionist painter Paul Gaughin, aged 46, married a 13 year old Tahitian girl named Tehura.

1908- President Teddy Roosevelt declared the entire Grand Canyon a National Monument. "The Ages have been at work at it and Man can only mar it."

1958- the TV show Seahunt permiered. It made a star out of Lloyd Bridges.

1964- U.S. Surgeon General Luther Terry gave the first warnings against smoking. Which government agency was the first to declare smoking caused lung cancer? The Nazi Government in 1939.

1965- Whiskey-A-Go-Go, the first Disco opened on Sunset Strip in Los Angeles. Discotecque is French for record library.

1995- Warner Bros purchased a dozen metromedia television stations around the US and this day started them off as the WB Network.

2000- America On Line announced its takeover of the worlds largest media conglomerate Time Warner Inc who had earlier merged with Ted Turner. The Walt Disney Company, who had just purchased ABC/Cap Cities, ESPN and Jim Henson, complained to the US Government that Time Warner was creating a monopoly. Uh- huh. After three years of plunging stock prices Time Warner regained control of itself and reduced AOL to a subsidiary.
--------------------------------------------------------------
QUIZ:What do the Pillsbury Doughboy and the Terminator have in common? Answer: Animator Peter Kleinow (1934-2007), he gave life to the pudgy biscuit seller and the metal armature of the Terminator in the first movie. He also worked for Art Klokey on the Davey and Goliath show. Jerry Beck's site Cartoon Brew has more.
I hate to be focusing on so many death notices, but this all seems to be the news lately. Mark Mayerson has a posting today about the death of producer Steve Krantz. Producer Krantz, the husband of romantic novel writer Judith Krantz, gave young director Ralph Bakshi his chance to make his movies Fritz the Cat and Heavy Traffic, two films that marked a new direction in U.S. animation.
Check Mark's posting http://mayersononanimation.blogspot.com
Birthdays: Frank James -Jesse's brother, Francois Poulenc, Ray Bolger (the Scarecrow in the Wizard of Oz), Al Goldstein the publisher of Screw Magazine, Stephen Ambrose,Pat Benatar, Sal Mineo, Jim Croce, Frank Sinatra Jr., Rod Stewart, Walter Hill, George Foreman, Linda Lovelace

1529- Michelangelo elected to design the military defenses of Florence. They failed to keep out the enemy but they must have looked really cool!

1888-date of LOUIS LePRINCE's claim of a patent on Motion Pictures, predating Edison 1893 and the Lumiere Brothers1895. LePrince even had as proof film he shot of his mother, who died in 1887. Despite this, LePrince could get no one to take him seriously. One day he boarded a train from Dijon to Paris and disappeared from the face of the Earth.

1924- Columbia Pictures created, ruled by Harry Cohn, who's motto was "I don't get ulcers, I give them!"

1927- Fritz Lang's masterpiece film Metropolis premiered.

1939- Science fiction writer Isaac Asimov sold his first story to Amazing Stories Magazine "Marooned off Vesta".

1941- The comedy play ARSENIC AND OLD LACE opened on Broadway. When buying the movie rights Warner Bros agreed to wait until the play ended it's theatrical run. They thought plays usually are done in a few months. Arsenic and Old Lace ran until 1944.

1949- For years the recording industry had been working on ways to improve the 78 RPM record –RPM means Rotations Per Minute. RCA records announced the invention of the 45 RPM record. Columbia (CBS) had announced the LP 33 rpm record and originally offered to share the technology but RCA (NBC) was having none of it. But the 33 stored more music and could use old 78 rpm turntables adapted so the 45 soon became a vehicle for hit singles.

1958- Jerry Lee Lewis single "Great Balls of Fire" topped the pop charts.

1958- GET MARRIED..OR ELSE! Blond actress Kim Novak had starred in Hitchcock's Vertigo and was touted as the new Marilyn Monroe. In 1957 she began a love affair with black entertainer Sammy Davis Jr.. Davis was a member of Sinatra's Ratpack and he challenged America's racial barriers with his great talent. But this high profile interracial match was just too much for Hollywood society to handle. Columbia's studio head Harry Cohn said of Novak-"That fat Polack Bitch! How could she do this to me?! " Legend has it Cohn called the Chicago Mafia and put a contract out on Sammy Davis. L.A. mobster Mickey Cohen told Davis' father that if Sammy didn't marry a black girl in 24 hours he would have his legs broken and his remaining good eye poked out. On this day in Las Vegas' Sands Hotel Sammy Davis Jr. married black actress Loray White. Harry Belafonte was the best man. The couple honeymooned separately and divorced 6 months later. But the affair with Novak was over and Harry Cohn died of a heart attack the same year. In 1960 Sammy Davis married blonde German actress May Britt.

1992- The GREAT RUBBER DUCKY DISASTER- A North Pacific storm causes a ship to lose 29,000 bath toys overboard. They joined 61,000 Nike sneakers already bobbing in the water from a similar accident. Scientists used the rubber ducky migration to plot Pacific ocean currents around Alaska.

2004 NY based Writer and actor Spaulding Gray spent the day taking his kids to the movies. They saw Tim Burton's Big Fish. Gray put is kids into a taxi home and from the Staten Island Ferry Terminal called his wife to say he would be home soon and that he loved her. Then he took the ferry, jumped into the harbor and drowned himself. He had waged a long battle with depression and his mother had commit suicide. His body did not resurface until March 9.
We all heard yesterday of the death of Iwao Takamoto at age 81.


Iwao Takamoto in 1945, courtesy of Berkeley/edu

Iwao was a young artist of Japanese descent who had been imprisoned at camp Manzanar with his family for the duration of World War Two. When he wasn't picking strawberries for local farms, he was drawing. When the Manzanar inmates were at last allowed to go home, friends suggested he try for a job at the Walt Disney Company. Iwao was hired as an inbetweener and his skills quickly brought him up to key assistant on such classics as Cinderella, Peter Pan and Alice in Wonderland. He was a lead on Princess Aurora on the film Sleeping Beauty. Many stories abound of his pickiness. Every morning the inbetweeners sullenly lined up in the hallway to show him their stuff and get little red x's where they went wrong. Assistants Stan Green and Bud Hester used to play tricks on them while they were waiting.

Leaving Disney in the early 60s' he landed at Hanna Barbera where he became a senior designer. From blank paper Iwao gave birth to Scooby Doo, Astro George Jetson's dog, Penelope Pittstop and the Ant Hill Mob, Dastardly and Mutley, Wally Gator, Peter Pottamus, Hong Kong Fooey and Jabberjaws.

Although Iwao became one of the most important artists at Hanna Barbera when it was called the General Motors of Animation, he was shy, retiring and gracious; content to let others take the spotlight. Even in the studios decline, Iwao was always there. When Hanna & Barbera had shrunk to a few offices in Warner Animation, Iwao was there every day.

In 2001 when my film Osmosis Jones was sharing offices with the preproduction of Scooby Doo, the Movie, I recall how their design team tussled with how to design Scooby, not realizing that the man who thought him up sat in an office on the floor above.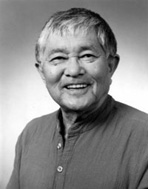 Iwao was blessed with good health and worked almost to the day he died. A gentleman and gifted artist, Adieu Iwao!

----------------------------------------------------------
Birthdays: Woody Guthrie, Richard Nixon, Ray Bolger, Roy Disney Jr., William Powell,George Balanchine, Judith Krantz, Bob Denver, Crystal Gayle, Joan Baez, Simone de Beauvoir, Sir Rudolph Bing, Herbert Lom, Gypsy Rose Lee, Joely Richardson

Festival of Janus, the namesake of January, Roman God of gateways and doors, not
to be confused with Terminus, God of borders and terminal points, Lemintinus the
God of Threshholds and stoops. Cardea the Goddess of hinges or Forculus the God
of the door leaves and sectioned doors.

1768- Former English cavalry sergeant Phillip Astley combined trick riding in a tight circular ring with a clown and some jugglers and took it all on the road. The first Circus.

1857- The Fort Tejon earthquake shook Los Angeles This was the last major quake in Southern Cal of the great San Andreas Fault, an estimated 8.0 !

1914 -John Randolph Bray takes out patents on the principles of film animation: cycles, arcs, keys and inbetweens. He even later tried to sue Winsor McCay, who had already been using them for years.

1924- The breakfast cereal Wheaties invented.

1936- Actor John Gilbert died of a heart attack after years of alcohol abuse. The accepted reason was he was a has-been silent film star who's voice was too thin and squeaky for talking pictures. Actually his voice wasn't too bad, some of it may of had to do with his punching Louis B. Mayer in the mouth when Mayer made a crude remark about Gilbert's sexual relations with Greta Garbo -something like "Why marry her when you're getting it anyway ?.."-BOP! . Mayer got up and screamed: "I'll ruin you if it costs me millions!"Gilbert's fading popularity and decline into alcohol as his second wife Virginia Bruce's film career blossomed was the inspiration for "A Star is Born".

1939- Top Looney Tunes director Frank Tashlin was hired by Walt Disney. He quit after two fruitless years and left so angry he wrote a children's book called the "Bear that Wasn't" about his experiences. " I always pick the wrong people to pick a fight with." he said. An early vice president of the Cartoonists Guild, he also joined the Mouse House to help unionize the studio. In 1945 Tashlin went into Paramount's live action division and became the director of the Dean Martin & Jerry Lewis comedies.

1959- The tv series Rawhide debuted, starring a young cowpoke named Clint Eastwood. President Lyndon Johnson was a Rawhide fan. In a recently released White House tape Dmitri Tiompkins' theme from Rawhide can be clearly heard on his TV in the background."Rollin', Rollin' Rollin'; keep them dowgies moving…Rawhide!!"

1976- First day of shooting in Philadelphia of the movie Rocky. It was the first movie to utilize the Steadicam, a system that balanced hand-held camera shots.
| | |
| --- | --- |
| | |