Dear Readers,
Many times I am asked where I get all this trivia from. What book was I getting it out of? The answer is I write all of this myself. I've been collecting data and writing trivia for many years. It's a hobby of mine. When I go through a book or article I find interesting, I keep some dates for my collection. I may be off at times, but that is what makes the hunt all the more interesting. Rest assured, Virginia, while the city sleeps, animation trivia is being written and recorded.

-------------------------------------------------------------------------------------
Birthdays: "God's Imp" King Edward VI- only son of Henry VIII, Emperor Pedro Ist of Brazil 1798, actress Helena Modjeska, Ralph Vaughn-Williams, Alastair Crowley, Luciano Pavarrotti is 72, animator Izzy Klein, Joan Rivers, Dick Gregory, Tony Kubek, Hugh Jackman

1492- COLUMBUS STEPS ASHORE IN AMERICA.- The Nina, Pinta and Santa Maria drop anchor off San Salvador in the Bahamas Oct 22nd Old Style. It was a full moon. Columbus had offered a reward for the first man to see land. Juan de Boromeo aboard the Pinta sighted land first around 2:10AM, but Columbus later claimed he did and kept the money- cheap bugger. Expecting to meet Chinese people Columbus brought with him a translator who could speak Spanish, Portuguese, Greek, Turkish and Hebrew as well as a letter from King Ferdinand and Queen Isabella to the Great Khan of Cathay. Obviously none of this was of much help with the Taino Indians. Although other people have claimed to have discovered the Western Hemisphere earlier: The Chinese, the Vikings or Irish Saint Brendan, Columbus' landing was the beginning of the great European-African Migration to the Western Hemisphere. As Noel Coward put it:" Let's just say that by 1492 we just couldn't ignore you any longer."

1810- THE FIRST OCKTOBERFEST- Bavarian Crown Prince Ludwig 1st invited the people of Munich to celebrate his marriage to Princess Theresa von Sachsen-Hildeburghausen. Big tables were set up outside the city gates, horse races held and beer flowed freely for days. The custom was too good to do only once so every year the Octoberfest occurs in Therese's Fields- Thereseweisen, or simply Weis'n. Ein Prozit!

1886- Beginning of Sherlock Holmes story:" Adventure of the Second Stain".

1928- The Winnie the Pooh stories featuring Tigger are first published

1937- Under pressure from parent Paramount Studio, Max Fleischer signed the first animation union contract and settled the Cartoonist strike begun May 8th. The following year Fleischer tried to escape unions by moving his studio to Right-To-Work State Florida, but the additional expenses and poor box office ruined his studio.

1940-60 year old silent movie star Tom Mix died in auto crash outside of Florence, Arizona. He ignored signs that a bridge was out and fell into a dry gulley. A large overpacked suitcase popped out of his back seat and crushed him. The "Suitcase of Death" is preserved along with Tony the Wonder Horse at the Tom Mix Museum in Oklahoma.

1942- Louis Armstrong married his fourth wife, singer Lucille Watson. She made a home for him in a suburban neighborhood in Queens,New York that Sachmo always returned to after traveling the world.

1960- During a long,loud debate on colonialism, during a speech by the Phillipine Ambassador, Soviet leader Nikita Khruschev got the attention of the U.N. General Assembly by taking off his shoe and banging it on the table. This caused an uproar so uncontrollable that the Secretary General broke his gavel trying to restore order.



1966- Sammy Davis Jr. appeared on the Batman TV Show. Sock-it-to-me!

1971-Weber & Rice's hippy musical Jesus Christ Superstar opened on Broadway at the Mark Hellinger theater.

1977- Script completed for the classic film comedy Animal House.

1994-Steven Spielberg, David Geffen and Jeffrey Katzenberg announce the partnership that would later be named Dreamworks SKG.

1997-53-year old Singer John Denver died when he crashed his ultra-light Long E-Z plane into the ocean near Monterey, California. Later reports showed he was flying inebriated.He had the remains of a sixpack of beer he was drinking by himself. The impact was so great his body had to be identified by fingerprints.

2005- Chinese archaeologists near the Yellow River discover the world's oldest bowl of noodles. Someone's fossilized noodle lunch from a bowl tipped over four thousand years ago or 2,000BC.
Birthdays: Eleanor Roosevelt, Henry Heinz the Ketchup king,, Jerome Robbins, Carl Hubbard, Ron Leibman, John Candy, Omar Shariff, Art Blakey, Luke Perry, Joan Cusak, Sig Ruman – the fat actor with the goatee and the over-the-top German accent in the Marx Brothers comedies and Ninotchka

1800- The remaining French army trapped in Egypt and abandoned by Napoleon made a deal with the Egyptians and their English allies to get evacuated back to France. One of the things that had to give up to the Brits was the Rossetta Stone, the key to deciphering Ancient Heiroglyphics. Another thing the French troops brought back to Europe was marijuana, easily purchased in Egyptian bazaars. The old soldiers said the weed didn't give you a hangover like drinking brandy did and made recovering from wounds easier.

Psst! Dude,dude! Do you feel it? Man, I am sooo wasted!"

1868- Telegraph operator Thomas Edison patented his first invention. It was a device that recorded the votes of legislators automatically. It proved unpopular with politicians because it eliminated their ability to rig votes and filibuster.

courtesy talkingpix.com
1944-" To Have and to Have Not," written by Ernest Hemingway premiered. The movie paired Humphrey Bogart with a sultry Harpers model turned actress named Betty Persky, now changed to Lauren Bacall. Bacall originally had a higher voice but director Howard Hawks told her to go behind the soundstage and scream for an hour every day to bring her voice down to a dusky, sexy alto. It worked on Bogart who fell in love and married her despite his being 44 and she 20 years old. The nicknamed each other Slim and Steve after the characters in the film."If you want me, just whistle. You know how to whistle, don't you? Just put your lips together and blow."

1960- The Bugs Bunny Show premiered on TV. "Overture, hit the lights! This is it, we'll hit the heights, and oh what heights we'll hit…..etc.."

1975- NBC needed a Saturday replacement for Best Of Carson reruns, so Lorne Michaels' TV show SATURDAY NIGHT LIVE premiered. First guest host George Carlin did his opening monologue while high- and the Not-Yet-Ready-For-Prime-Time Players: John Belushi, Dan Ackroyd ,Gilda Radner, Garret Morris, Chevy Chase, Lorraine Newman, Gilda Radner, Jane Curtin and Mike O'Donaghue. Albert Brooks did a short film and Andy Kaufman did his Mighty Mouse lip sync routine. Paul Shaefer conducted the music and the show was held in NBC's Studio 8H, which was built originally for Maestro Arturo Toscanini and the NBC Symphony of the Air. At the last moment a sketch by young Billy Crystal was cut from the show.. The show also revived the career of announcer Don Pardo, who had trouble finding work since the original Jeopardy Show was cancelled.

1975- Bill Clinton married Hillary Rodham.

1978- Sex Pistols bassist Sid Vicious stabbed his girlfriend Nancy Spungen at the Chelsea Hotel in New York. Sid was too stoned to adequately explain why he killed the love of his life. It's assumed they had a suicide pact. Vicious died of a drug overdose before his trial.

2001- V.S. Naipul won the Nobel Prize for literature.
Yesterday I had a nice interview with KPCC radio-journalist John Rabbe for his show Off Ramp. Don't know if it will air this Saturday, but I'll let you know. We met at El Coyote on Beverly in Hollywood. It's been there since 1931, and in those early years it was one of the places the underground animation union would hold its secret meetings. Present at those early meetings were President Ted Pierce, Grim Natwick, Ed Friedman, Shamus Culhane, Al Eugster and Frank Tashlin. No Walt Disney Artist would show up yet to support the nascent movement.
------------------------------------------------
Birthdays: Martin Luther, Guiseppi Verdi, Helen Hayes, Disney art director Mary Blair, Louis Lumiere of the cineam inventing Lumiere Brothers, Thelonius Monk, Warner Bros surrealist animator Rod Scribner, LaVerne Harding one of the first women animators, Alberto Giacometti, Tanya Tucker, Harold Pinter, James Clavel, Jodi Benson the voice of the Little Mermaid, David Lee Roth, Bradley Whitford, Sharon Osbourne is 55.

1469- Renaissance master artist Fra Filippo Lippi died, probably poisoned by the family of a girl he seduced. The great painter was a major influence on Leonardo daVinci and Massaccio, but for a Carmalite monk he had an immoderate lust for women. He left one son, the artist Fillipino Lippi, by his wife Lucrezia Buti, a nun he had carried off from the convent of Santa Margherita promising to use her as a model for the Madonna.

1886- The first Tuxedo jacket worn at the Autumn Ball at Tuxedo Park, New York. Another story of the origin of the fashion was supposedly invented by English gentleman on safari with Bertie the Prince of Wales. Wanting to appear at dinner formally but because of heat and high spikey grass they cut the lower part of their long dinner jackets off.

1953- "Winky Dink and You" show. Children were invited to place a piece of celluloid acetate on their t.v. screens from a kit and help Winky Dink through numerous adventures by drawing on their t.v. screens. Of course many kids didn't wait for the acetate but just drew on their family TVs with indelible markers. The birth of Interactive T.V. -?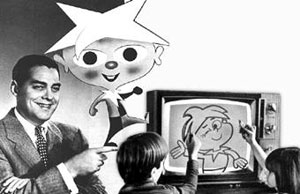 courtesy GoodDealGames.com

1957- RKO Studios, who produced King Kong, The John Ford Westerns and the Fred Astaire-Ginger Rogers musicals, was sold to Desilu- the television production company of Lucille Ball and Desi Arnez.

1962- The BBC banned on air play of a novelty record The Monster Mash, by Bobby Picket doing his impersonation of Boris Karloff. For some reason they considered it offensive.

1980- Actor William 'Billy" Thomas, also known in the Our Gang kiddie comedies as Buckwheat, died at 49. His last words weren't "O' Taayy !"

1985- Orson Welles and Yul Brynner die one hour apart. They were both 70. Welles had just finished taping yet another appearance on the Merv Griffin Show. Brynner had a furious smoking habit, supposedly leaving one lit cigarette in every room of his house as he paced around thinking.When he knew he was dying of the stuff, he recorded several television spots to be aired after his death. He looked squarely at camera and said: " I smoked. -Don't."
Mark your calendar and join us for a CTN Octoberfest networking event at Gordon Biersch in Burbank California. On Friday the 13th we'll relax, network and take a load off and feature Tom Sito in a book signing of "Drawing the Line". Free food and no host bar. It's no fun unless you come. Hope to see you there!!!
A CTN Octoberfest on Friday the 13th

Wooo..uh, anybody need any more voice work..?
Featuring Tom Sito and "Drawing the Line"
EVENT DATE: October 13, 2006
TIME: 7:00-10:00 pm
LOCATION: Gordon Biersch
145 S. San Fernando Blvd. Burbank, CA 91502
www.creativetalentnetwork.com

------------------------------------------------------------
Birthdays: Camille Saint Saens, E. Howard Hunt, Jacques Tati, Alastair Sim, Bruce Catton, Joe Pepitone, cartoonist Mike Peters, porn star Savannah, John Lennon, his son Sean Lennon, E. Howard Hunt,, Scott Bakula, Tony Shalloub, Peter Tosh, Charles Rudolph Walgren-the inventor of the modern Drugstore, Guillermo Del Toro is 42

Happy Canadian Thanksgiving!

1609- Invalid Captain John Smith is put on a ship back to England. Smith had earlier gotten stung by a stingray and almost died. This time a powder horn exploded on his hip and blew out part of his side. While Smith was leader of the Jamestown Colony he had many enemies among the jealous gentry and some don't think he had an accident. Opinions also differ as to why the Jamestown settlers put Smith through a two month Atlantic crossing that could kill even healthy men. Some say they were hoping he wouldn't make it. He survived but never returned to America. Nobody told Pocahontas he had left and when she visited camp the men told her he was dead and forget about him. And no one sang any Broadway tunes. She would meet him ten years later in England when she was a wife and mother of the children of settler John Rolfe.

1779- THE LUDDITE RIOTS- A movement of English peasants and tradesmen started by a man named Ned Lud who felt that all this newfangled machinery was going to cost them their jobs. The Luddites roamed the countryside smashing any looms, pistons, flywheels or other such devices they encountered.Today a person who hates new technology is called a Luddite. A similar movement in France. French peasants would remove their wooden clogs, called sabots, and throw them into a machine's gears to jam them, and coined the term Saboteurs.

1855- James Stoddard patents the steam calliope.

1938- Eugene O'Neill's play 'The Iceman Cometh' opened.

1951- RKO Pictures asked Marilyn Monroe to please wear panties while working, She was distracting the film crew.

1963- Uganda became a republic from a British Colony.

1986- The Fox Network's first program-the Joan River's Show, premiered. The show didn't last but future hits like The Simpson's, Married With Children and the X-Files made Fox a major network in ten years.

1989- First edition of Penthouse Magazine in Hebrew. Oy Vey!

Ink and Paint Department at Warner Bros,1962. Courtesy of Annie Guenther.

Speaking of Martha Sigall, for those who are worried that my book on union history will be dry-dull stuff, just full of wage scales and negotiations for residual percentages, here is an excerpt :

Nowadays, everyone is sensitive to the issue of sexual harassment. In Hollywood's Golden Age, guys who got fresh with girls were joked about as wolves and tomcats. But a woman who complained about a butt pinch was called a killjoy or an Old Maid. -----Martha Sigall tells a story of a big-breasted painter who had to endure a certain male animator who liked to reach around from behind and squeeze her breasts while she tried to paint. When she complained, she was just laughed at as a spoilsport. Finally she came up with a solution. She lined a padded bra with sharp steel pushpins points-out, and covered it with a loosely fitted silk shirt. When the animator in question grabbed the "booby traps", he let out a howl. Marked as he was with this curious form of stigmata, the miscreant was cured of such behavior.
( Drawing the Line: Chap 1, Page 27.)

---------------------------------------------------------------------------------
Birthdays: Eddie Rickenbacker, Rev Jesse Jackson, Juan Peron, David Carradine, Art Babbitt -the creator of Goofy, Chevy Chase, Paul Hogan, Rona Barrett, Johnny Ramone, Sigourney Weaver is 56, Matt Damon is 35

1907- Charles Frederick Dow, one of the founders of the Wall Street Journal, started his system of charting the average performance of industrial stocks, the Dow Jones Industrial Average.

1929- British Imperial Airways shows the first in-flight movie.

1933- HOLLYWOOD ACTOR'S FIRST MASS PROTEST- When Franklin Roosevelt created the NRA to fix wages and prices to try and solve the Depression, he even went as far as to try to regulate Motion Picture rates and fees. The catch was the rates were drafted with the advice of friends of the studio heads in Washington. The actors went ballistic when they saw new rules such as a ceiling cap on actors salaries of $100,000 a year (the producers had no such cap), restriction of actors independant agents, and terms of an old salary contract would stay in effect even after the contract expired until it was renegotiated.
This night at the El Capitan theater on Hollywood Blvd. hundreds of moviestars met to draft a petition calling for rewriting of the codes. The activists included Paul Muni, Frederic March, Jeanette MacDonald, Groucho Marx and Boris Karloff. SAG president Frank Morgan (the Wizard of Oz) was considered politically too far left to face Roosevelt, so he stepped down in favor of comedian Eddie Cantor, who had helped Vaudeville acts unionize. In previous meetings at the El Capitan the earth tremors from the Great Long Beach Earthquake the previous March made actors reconvene in the Grauman's Chinese parking lot across the street. Cantor went to the president's retreat at Warm Springs Georgia with the petition and had the hated articles taken out of the code.

1945- "Bloody Monday" During a big strike Three hundred and fifty armed thugs club their way through picketing Warner Bros. film workers. Jack Warner had stationed sharpshooters behind the studios billboards. A logo on the studio wall said:"Better Movies through Better Citizenship", which the union folk changed to "Better Movies through Better Marksmanship". Similar scenes were happening in front of Fox and MGM.

1957- Walter O'Malley announced the move of the Brooklyn Dodgers to Los Angeles.

1957- Jerry Lee Lewis recorded his hit single Great Balls of Fire.

1966- LSD is added to the list of illegal drugs.

2004- Home decorating guru Martha Stewart began serving her 5 month prison term for perjury and insider trading.
| | |
| --- | --- |
| | |