Yesterday I had a nice interview with KPCC radio-journalist John Rabbe for his show Off Ramp. Don't know if it will air this Saturday, but I'll let you know. We met at El Coyote on Beverly in Hollywood. It's been there since 1931, and in those early years it was one of the places the underground animation union would hold its secret meetings. Present at those early meetings were President Ted Pierce, Grim Natwick, Ed Friedman, Shamus Culhane, Al Eugster and Frank Tashlin. No Walt Disney Artist would show up yet to support the nascent movement.
------------------------------------------------
Birthdays: Martin Luther, Guiseppi Verdi, Helen Hayes, Disney art director Mary Blair, Louis Lumiere of the cineam inventing Lumiere Brothers, Thelonius Monk, Warner Bros surrealist animator Rod Scribner, LaVerne Harding one of the first women animators, Alberto Giacometti, Tanya Tucker, Harold Pinter, James Clavel, Jodi Benson the voice of the Little Mermaid, David Lee Roth, Bradley Whitford, Sharon Osbourne is 55.

1469- Renaissance master artist Fra Filippo Lippi died, probably poisoned by the family of a girl he seduced. The great painter was a major influence on Leonardo daVinci and Massaccio, but for a Carmalite monk he had an immoderate lust for women. He left one son, the artist Fillipino Lippi, by his wife Lucrezia Buti, a nun he had carried off from the convent of Santa Margherita promising to use her as a model for the Madonna.

1886- The first Tuxedo jacket worn at the Autumn Ball at Tuxedo Park, New York. Another story of the origin of the fashion was supposedly invented by English gentleman on safari with Bertie the Prince of Wales. Wanting to appear at dinner formally but because of heat and high spikey grass they cut the lower part of their long dinner jackets off.

1953- "Winky Dink and You" show. Children were invited to place a piece of celluloid acetate on their t.v. screens from a kit and help Winky Dink through numerous adventures by drawing on their t.v. screens. Of course many kids didn't wait for the acetate but just drew on their family TVs with indelible markers. The birth of Interactive T.V. -?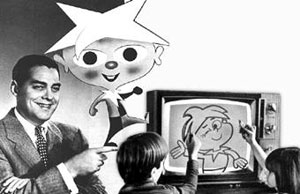 courtesy GoodDealGames.com

1957- RKO Studios, who produced King Kong, The John Ford Westerns and the Fred Astaire-Ginger Rogers musicals, was sold to Desilu- the television production company of Lucille Ball and Desi Arnez.

1962- The BBC banned on air play of a novelty record The Monster Mash, by Bobby Picket doing his impersonation of Boris Karloff. For some reason they considered it offensive.

1980- Actor William 'Billy" Thomas, also known in the Our Gang kiddie comedies as Buckwheat, died at 49. His last words weren't "O' Taayy !"

1985- Orson Welles and Yul Brynner die one hour apart. They were both 70. Welles had just finished taping yet another appearance on the Merv Griffin Show. Brynner had a furious smoking habit, supposedly leaving one lit cigarette in every room of his house as he paced around thinking.When he knew he was dying of the stuff, he recorded several television spots to be aired after his death. He looked squarely at camera and said: " I smoked. -Don't."
Mark your calendar and join us for a CTN Octoberfest networking event at Gordon Biersch in Burbank California. On Friday the 13th we'll relax, network and take a load off and feature Tom Sito in a book signing of "Drawing the Line". Free food and no host bar. It's no fun unless you come. Hope to see you there!!!
A CTN Octoberfest on Friday the 13th

Wooo..uh, anybody need any more voice work..?
Featuring Tom Sito and "Drawing the Line"
EVENT DATE: October 13, 2006
TIME: 7:00-10:00 pm
LOCATION: Gordon Biersch
145 S. San Fernando Blvd. Burbank, CA 91502
www.creativetalentnetwork.com

------------------------------------------------------------
Birthdays: Camille Saint Saens, E. Howard Hunt, Jacques Tati, Alastair Sim, Bruce Catton, Joe Pepitone, cartoonist Mike Peters, porn star Savannah, John Lennon, his son Sean Lennon, E. Howard Hunt,, Scott Bakula, Tony Shalloub, Peter Tosh, Charles Rudolph Walgren-the inventor of the modern Drugstore, Guillermo Del Toro is 42

Happy Canadian Thanksgiving!

1609- Invalid Captain John Smith is put on a ship back to England. Smith had earlier gotten stung by a stingray and almost died. This time a powder horn exploded on his hip and blew out part of his side. While Smith was leader of the Jamestown Colony he had many enemies among the jealous gentry and some don't think he had an accident. Opinions also differ as to why the Jamestown settlers put Smith through a two month Atlantic crossing that could kill even healthy men. Some say they were hoping he wouldn't make it. He survived but never returned to America. Nobody told Pocahontas he had left and when she visited camp the men told her he was dead and forget about him. And no one sang any Broadway tunes. She would meet him ten years later in England when she was a wife and mother of the children of settler John Rolfe.

1779- THE LUDDITE RIOTS- A movement of English peasants and tradesmen started by a man named Ned Lud who felt that all this newfangled machinery was going to cost them their jobs. The Luddites roamed the countryside smashing any looms, pistons, flywheels or other such devices they encountered.Today a person who hates new technology is called a Luddite. A similar movement in France. French peasants would remove their wooden clogs, called sabots, and throw them into a machine's gears to jam them, and coined the term Saboteurs.

1855- James Stoddard patents the steam calliope.

1938- Eugene O'Neill's play 'The Iceman Cometh' opened.

1951- RKO Pictures asked Marilyn Monroe to please wear panties while working, She was distracting the film crew.

1963- Uganda became a republic from a British Colony.

1986- The Fox Network's first program-the Joan River's Show, premiered. The show didn't last but future hits like The Simpson's, Married With Children and the X-Files made Fox a major network in ten years.

1989- First edition of Penthouse Magazine in Hebrew. Oy Vey!

Ink and Paint Department at Warner Bros,1962. Courtesy of Annie Guenther.

Speaking of Martha Sigall, for those who are worried that my book on union history will be dry-dull stuff, just full of wage scales and negotiations for residual percentages, here is an excerpt :

Nowadays, everyone is sensitive to the issue of sexual harassment. In Hollywood's Golden Age, guys who got fresh with girls were joked about as wolves and tomcats. But a woman who complained about a butt pinch was called a killjoy or an Old Maid. -----Martha Sigall tells a story of a big-breasted painter who had to endure a certain male animator who liked to reach around from behind and squeeze her breasts while she tried to paint. When she complained, she was just laughed at as a spoilsport. Finally she came up with a solution. She lined a padded bra with sharp steel pushpins points-out, and covered it with a loosely fitted silk shirt. When the animator in question grabbed the "booby traps", he let out a howl. Marked as he was with this curious form of stigmata, the miscreant was cured of such behavior.
( Drawing the Line: Chap 1, Page 27.)

---------------------------------------------------------------------------------
Birthdays: Eddie Rickenbacker, Rev Jesse Jackson, Juan Peron, David Carradine, Art Babbitt -the creator of Goofy, Chevy Chase, Paul Hogan, Rona Barrett, Johnny Ramone, Sigourney Weaver is 56, Matt Damon is 35

1907- Charles Frederick Dow, one of the founders of the Wall Street Journal, started his system of charting the average performance of industrial stocks, the Dow Jones Industrial Average.

1929- British Imperial Airways shows the first in-flight movie.

1933- HOLLYWOOD ACTOR'S FIRST MASS PROTEST- When Franklin Roosevelt created the NRA to fix wages and prices to try and solve the Depression, he even went as far as to try to regulate Motion Picture rates and fees. The catch was the rates were drafted with the advice of friends of the studio heads in Washington. The actors went ballistic when they saw new rules such as a ceiling cap on actors salaries of $100,000 a year (the producers had no such cap), restriction of actors independant agents, and terms of an old salary contract would stay in effect even after the contract expired until it was renegotiated.
This night at the El Capitan theater on Hollywood Blvd. hundreds of moviestars met to draft a petition calling for rewriting of the codes. The activists included Paul Muni, Frederic March, Jeanette MacDonald, Groucho Marx and Boris Karloff. SAG president Frank Morgan (the Wizard of Oz) was considered politically too far left to face Roosevelt, so he stepped down in favor of comedian Eddie Cantor, who had helped Vaudeville acts unionize. In previous meetings at the El Capitan the earth tremors from the Great Long Beach Earthquake the previous March made actors reconvene in the Grauman's Chinese parking lot across the street. Cantor went to the president's retreat at Warm Springs Georgia with the petition and had the hated articles taken out of the code.

1945- "Bloody Monday" During a big strike Three hundred and fifty armed thugs club their way through picketing Warner Bros. film workers. Jack Warner had stationed sharpshooters behind the studios billboards. A logo on the studio wall said:"Better Movies through Better Citizenship", which the union folk changed to "Better Movies through Better Marksmanship". Similar scenes were happening in front of Fox and MGM.

1957- Walter O'Malley announced the move of the Brooklyn Dodgers to Los Angeles.

1957- Jerry Lee Lewis recorded his hit single Great Balls of Fire.

1966- LSD is added to the list of illegal drugs.

2004- Home decorating guru Martha Stewart began serving her 5 month prison term for perjury and insider trading.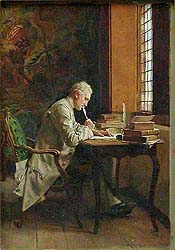 Well, the book is off to a good start. I see DRAWING THE LINE is in the stacks in Barnes & Noble, Powells in Portland, The Strand in Greenwich Village and many more. I did my first podcast today, for Chuck Oberleitner's fan site www.o-meon.com. It's not on line yet, but I'll let you know. He has an interview with Floyd Norman there now which is very good. PLans are moving ahead for the big party at Gordon Biersch in Burbank this friday the 13th, and the big UCLA nite on monday October 23rd. Some more interviews, and in November I take my show on the road to San Francisco and the Big Apple.

But by far the best compensation I've gotten is all the good reactions from the family of the great animation folks I write about. Walt and Selby Kelly's family, Dave Hilbermans, Chuck Jones, Art Babbitts' and the amazing Martha Sigall, and more. All very flattering and excited for the book. Martha told me tonight she was glad that the story was finally told, that it was a story that all animation artists need to know.

For those who don't know her, Martha is an inker and cel-painter who started at Looney Tunes in 1936 and moved to MGM in 1943 and at Hanna Barbera in 1957. She worked with all the great animation directors, walked the picket lines and is blessed with a wonderful memory. I included a lot of her great stories, and you can read her memoirs for yourself- Living Life Inside the Lines:Tales From The Golden Age of Animation by Martha Sigall, Univ Press of Mississippi.
Birthdays: Hans Holbein, Heinrich Himmler, Andy Devine, Archbishop Desmond Tutu, Yo Yo Ma, Henry Wallace, June Allyson, Oliver North, Al Martino, Jose Cardenal, Neils Bohr, Ameil Buraka, Johnny Cougar Mellencamp, Toni Braxton.

1870- Writer Edgar Allen Poe was found sprawled over a barrel in a Baltimore street, dressed in someone else's clothing. He was taken to a hospital where he died raving at the walls. It was thought he died from heavy alcohol abuse but recently scholars theorize he may have died from a brain tumor or diabetes impacted by alcohol sensitivity, which would explain the violent mood swings, and that he drank heavily to deaden the pain. Another scholar also theorized that the symptoms strongly point to rabies. Poe loved cats and as we all know there was no rabies shot or test at the time. How or why the cats changed his clothes, is another puzzle.

1915- President Woodrow Wilson reversed his position and announced he was now in favor of giving women the vote.

1927- Sam Warner, the Warner Brother most responsible for committing the studio to gambling on a talking picture process, died of a brain hemmorage on the day after the 'Jazz Singer 'opened. The film's success made Warner-Vitaphone a major Hollywood Studio. His brother Jack Warner had earlier said "Who the heck wants to hear actors talk?"

1947 "Hey Stella !!" The Actor's Studio opened, teaching the Stanislavski Method, sometimes called Method Acting. The group later suffered a feud between it's two top teachers-Lee Strassberg and Sandy Meisner. Ask any old actor if they were with Lee or Sandy, odds were they sided with one and hated the other.

1957-Dick Clark's T.V. show American Bandstand debuts.

1959-MARIO LANZA.- Philadelphia born Italian–American Lanza was the pop icon opera singer long before there were three tenors in concert. With moviestar good looks and a velvety voice his records and movies sold millions. But he was temperamental and had angered most of the powers that be in Hollywood, climaxing with skipping a $250,000 promise to perform in Las Vegas. This day in Italy he was found dead of a heart attack at age 38. For years there were rumors that he was actually done in by the Mafia for offending Lucky Lucciano, but in the 1990s a forensic investigation by his son proved his brutal regimen of binge eating and furious dieting wore out his heart. He literally dieted himself to death.

1960- The movie Spartacus opened. Producer/star Kirk Douglas had been using blacklisted screenwriter Dalton Trumbo for the script , smuggling him in and out of the lot for story meetings. Finally Douglas got fed up and ordered Trumbo to be brought out in the open as the movie's true author. This was considered the official end of the Hollywood Blacklist era, which had lasted since 1947. After director Anthony Mann left the project Douglas hired Stanley Kubrick, who had such a hard time he afterwards left Hollywood never to return.

1982- London musical 'Cats' opened on Broadway.

1993- Steven Spielberg's "Jurassic Park" earned $ 712 million dollars just in North American box office.

2003-Conan the Republican The state of California had an unpopular Democratic Governor named Grey Davis. A Republican congressman named Daryl Issa who made a fortune making annoying car alarms "step away from the car.." found an obscure codicil in the State constitution calling for a recall election. The recall election soon had 154 candidates including a porn star, former child star Gary Coleman, Porn publisher Larry Flynt,, a woman who financed her campaign by selling autographed thongs and Grey Davis' own lieutenant governor Cruz Bustamante who couldn't stand him. This night after a comical election the state overwhelming voted for Austrian action movie star Arnold Schwarzenegger.
| | |
| --- | --- |
| | |