QUIZ: WHO FIRST THOUGHT OF GIVING WRAPPED GIFTS ON CHRISTMAS? (answer below)



Had a great time at the Hollywood Heritage Museum doing booksignings. The powerpoint never worked, but I spent the time telling stories. Met other local historians, an archivist for the Screen Actors Guild, even one who knew Leni Reifenstahl and got her version of her meeting with Walt Disney in 1938.

--------------------------------------------------------
Birthdays: Roman Emperor Nero, Roman Emperor Lucius Verus- who was known for little else but his really swell haircut, Gustav Eiffel, J. Paul Getty, Jeff Chandler, Alan Freed, animator Ernie Pintoff who's films include the Critic and the Violinist, XVIII century painter George Romney, Helen Slater, Don Johnson, Stuart Townsend

1815- Giacomo Rossini received the commission to write a new opera based on Beaumarchais the Marriage of Figaro- The Barber of Seville.

1893-Czech composer Anton Dvorak premiered a symphony he wrote while living in Minnesota. The New World Symphony.

1939- The gala premiere of Gone With The Wind at the Loews Grand Theater in Atlanta, Georgia. Clark Gable and Vivien Leigh flew out from Hollywood and the Governor of Georgia declared it a state holiday.

1941- Lena Horne recorded her signature tune "Stormy Weather."

1943- In Harlem, jazz great Fats Waller died of alcoholism and heart failure. He was 39.

1952- British Fashion photographer George Jorgenson has the first sex change operation in Denmark and becomes Christine Jorgenson.

1954-"Davy Crockett, Indian Fighter" starring Fess Parker was featured on the Walt Disney TV show for the first time. The show created a mania for little kids, all wanting coonskin caps. " Born on a mountaintop in Tenn- Ah- See.."

1964- Canada adopted the Maple Leaf flag. It did not completely replace the Dominion Flag until 1979.

1966-Walt Disney died at age 65. He was alone in the room at Saint Joseph's when he died. A heavy cigarette smoker- his favorites were Malboro and French Gitanes- he suffered from lung cancer and respiratory failure. Contrary to the legend that he's cryogenically frozen in a room in the Sleeping Beauty Castle at Disneyland, he was cremated and interred at Forest Lawn. Or maybe that's what he wants us to think?!



1967- Beverly Hills police chief C.H.Anderson assured the public that there are "No Hippie Pads in Beverly Hills". Chief Andersen said many oddball types arrested on the Sunset Strip and West L.A. are sent to Beverly Hills municipal courts for trial, but inhabitants need not fear an outbreak of long haired hopped-up psychedelic speed freaks. Like, Groovy Maannn.
------------------------------------------------------

QUIZ: WHO FIRST THOUGHT OF GIVING WRAPPED GIFTS ON CHRISTMAS?
ANSWER: Before Christ, the ancient Romans celebrated the end of December as the feast Saturnalia, a time of peace and feasting, when people gave each other gifts wrapped in pretty ribbons.
Latin people don't give gifts until Jan 6th, when the Three Kings gave gifts to the Christ Child.
I was asked by a researcher the other day about what cartoons do I wish I could see? What long lost classics remain a mission to discover? It made me recall back in the 1980s writer Charles Solomon was helping LA County Museum Film historian Ron Haver organize a big Disney animation show. He asked what Disney films should they screen? I suggested-"Ooh oh! Show Victory Through Air Power. No one has seen it in years! So we had the first LA screening of the famous film in decades. We even had Marc Davis present, who did a lot of work on it.

When we watched it, we noticed something interesting, it was a 90 minute documentary lecture of arcane military theory, advice Washington didn't use and got annoyed at Walt Disney for promoting, topped with two minutes of superb animation at the end. After the lights came up, Marc Davis said to us"Well, now I know why we kept it in a vault for 40 years.It's BORING!" So be careful what you crave after, it may not be what you remembered..!




------------------------------------------------------------
Birthdays: 1553-King Henry IV of Navarre, Tycho Brahe, Nostradamus -Michel de Nostre Dame-1503, English King George VI-1895, Spike Jones the bandleader, Morey Amsterdam, Charlie Rich, Gen. Jimmy Doolittle, Lee Remick, Patty Duke , Adult film star Ginger Lynn, Clark Terry, trumpeteer, ex-Ellingtonian, is 86. Cecil Pay, Saxophonist, 84. Jane Birkin "Je t'aime moi non plus" chanteuse is 59.

Welcome to the first day of the HALCYON DAYS. The seven days prior to and after the Winter Solstice, a time of tranquility and peace.

1799- GEORGE WASHINGTON DIED. 67 year old Washington had retired to Mount Vernon after his last presidential term in 1796. On Dec. 12th he went riding five hours during a sleet storm and caught the flu. Another theory was a viral infection of the epiglottis.
He might still have survived had it not been for modern medicine. Doctors bled him of four pints of blood, while applying leeches, mustard sulfur packs and laxatives to purge him of the ill humours. He developed pneumonia and died swiftly. Because coma was so little understood people had a dread of premature burial. Washington left instructions that his body be left out several days to make sure he was dead before being sealed in a tomb. After assurances put his mind at ease his last words were:" Tis well." No priests or religious last rites were performed or called for. The US government wanted to place his tomb at the center of the planned dome in the capitol building, but Washington's wish was to be in a simple tomb in Mt. Vernon. He also freed all his 137 slaves and sent them each off with a pension.

1901- The first Ping-Pong tournament held in London.

1913- Cartoonist Johnny Gruelle entertained his dying daughter Marcella by making up stories involving her rag dollies. After her passing friends urged Gruelle to publish them. The RAGGEDY ANN & ANDY stories are born.


1924- Ottorino Respighi 's stirring rhapsody the Pines of Rome premiered.

1944- Hollywood starlet Lupe Velez, the "Mexican Spitfire' committed suicide. She had taken an overdose of sleeping pills and laid herself out in a beautiful negligee of her own design to be found radiant. But instead of dying immediately the pills made her sick and she was found dead with her head in the toilet. In her prime she counted Gary Cooper, Anthony Quinn and Johnny Weissmuller among her lovers. When Weissmuller was filming 'Tarzan' the studio complained to her that their lovemaking was so...err..athletic? exhuberant?....that she was leaving scratch marks all over his back. The makeup department complained of all the effort to cover them.

1944- The film National Velvet premiered, making a star out of 12 year old Elizabeth Taylor.

1947- The National Association of Stock Car Racing or NASCAR formed.

1953- Young pitcher Sandy Koufax was signed by the Dodgers. He became one of their most famous players.

1957- Hanna Barbera's first t.v. cartoon "Ruff and Ready" premieres.

1970- George Harrison's single My Sweet Lord went gold.

1972-THE LAST MAN LEAVES THE MOON. Apollo 17 blasts off. We all remember the first man on the moon, but do you remember the last? Eugene Cernan and Harrison Schmidt. President Nixon annoyed NASA by saying he doubted that men would return to the moon in the Twentieth Century, but he was right.

1977- DISCO! The movie Saturday Night Fever starring John Travolta and the music of the Bee Gees make the Disco dancing scene a national craze.

1979- STUDIO 54 RAIDED- The Internal Revenue Service busted the worlds most notorious disco club. Formerly the hangout of Andy Warhol, Bianca Jagger, Truman Capote and other "Beautiful People", now the Feds were on to them. The IRS seized doctored account books, cocaine and undeclared cash, landing the owners in jail and bringing the celebrity playland's days to an end.

1984- Howard Cosell retired from sports reporting and calling the Monday Night Football game. "And now to Dandy Don down on the field."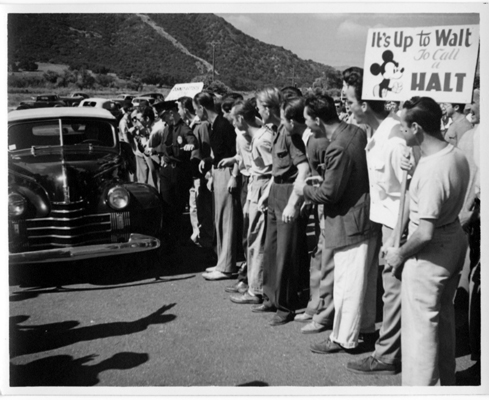 Disney pickets 1941
Hey Brother! Don't cross the line! Come to Tom Sito's Talk at the Hollywood Museum Thursday Night at 7:30PM!

God, I love how well done their picket signs were!
The Hollywood Museum is in the DeMille Lasky barn in the parking lot opposite the Hollywood Bowl entrance on Highland Blvd in Hollywood!
The barn is where the first Hollywood movie The Squaw Man was shot in 1913. It houses treasures like Cecil B. DeMille's office, swords and armor from the 1925 Ben Hur and classic posters and lobby cards.
There's a small entrance fee ($8) but it goes to Hollywood Heritage, a society that fights developers to prevent Hollywoods past from being lost. For example, check out the Chasen's Story below.

--------------------------------------------------------
Birthdays: Heinrich Heine, Mary Todd Lincoln, Dick Van Dyke, Mike Mosley, Darryl Zanuck Jr., George Schulz, Tim Conway, Ted Nugent, Christopher Plummer, Steve Buscemi, Jamie Fox is 39, Lynn Holly Johnson, Wendy Malick

Today is the Feast of Saint Lucy, who was ordered by the Romans to be violated in a brothel, set on fire, stabbed to death and to stop men saying how beautiful her eyes were she ripped them out and handed them over on a plate. But they miraculously grew back. So Lucy is the patron saint of opticians.

1543-THE COUNCIL OF TRENT convenes- Officially called the XIX Ecunemical Council this conference launched the Catholic Counter-Reformation against the Protestant reformers. Among it's doctrinal pronouncements was to declare that the only Good Art is Realism, all attempts at stylization or mannerism was heresy. Michel Caravaggio master painter and wiseguy decided to test this law by painting a Death of the Virgin. This is a terribly touchy subject because in Catholic tradition she's always portrayed as16 years old even though she lived to 64 and four other children by Joseph. You can imagine the furor when he did her realistically as a chubby dead old lady with three chins, and the accompanying apostles as balding old vagrants.



1642- Dutch explorer Abel Tasman in the Pacific discovered a big island near Australia and named it for the Dutch province of Zeeland, so New Zealand. He also found another island and called it Van Deimans Land, but it was later named in his honor as Tasmania.

1872- Wild Bill Hickok was fired as sheriff of Abilene Kansas because he was more violent and out of control than most of the men he arrested.

1895- Gustav Mahlers 2nd Symphony "Resurrection" premiered.

1928- Leopold Damrosch conducted the premiere of George Gershwin's -"An American in Paris."

1936- At the urging of New Yorker editor Harold Ross to find a better line of work, actor Dave Chasen opened Chasen's restaurant in Beverly Hills, which catered to Hollywood stars for 60 years. It is the restaurant where Leopold Stokowski was introduced to Walt Disney and as a result they conceived "Fantasia". Humphrey Bogart, John Huston and Lauren Bacall met upstairs to discuss the Blacklist of 1947. Elizabeth Taylor ordered Chasen's chili flown out to Rome so she could eat it on the set of Cleopatra. The restaurant closed in 1995 because the Chasen family wanted to cash in on the real estate. Today it's a supermarket.


no, thats not me in the 60's. Geez, I'm not that old!

1940- Fleischer Popeye cartoon "Eugene the Jeep" .The Thimble Theater character would give its name to the new army General Purpose vehicle- G.P. or "Jeep".

1951- One of the legendary Hollywood producers was Walter Wanger- starting in 1921 his films included The Sheik, Stagecoach, Queen Christina, Invasion of the Body Snatchers, Silk Stockings and Cleopatra. His wife was beautiful starlet Joan Bennett, but at this time she had taken a lover. On this day Wanger surprised Hollywood by pulling out a gun and shooting his wife's lover in the nuts right in the MCA studio parking lot. In true Hollywood fashion Wanger got off, sentenced to just a few months in an honor ranchero compound and was soon back to work. Contributors to pay his legal fees included the Jack Warner, Walt Disney and Sam Goldwyn. The boyfriend, Jennings Lang, recovered and later became an executive producer of comedies like House Calls. After all, who needs balls to be a producer?

1961- Jimmy Dean's folk ballad Big Bad John went to #1 of the country charts. Later Dean had his own TV variety show featuring Jim Hensons Muppets, and started Jimmy Dean's Pure Pork Sausage Co.

1969- Arlo Guthrie's hit song Alice's Restaurant released.

1996- In Terry Gilliams' sci-fi apocalypse epic the Plague of the 12 Monkeys was unleashed today, a virus that killed 4/5ths of the world's population and drove the remainder underground.
I had a great time yesterday at Santa Monica College talking to Jim Keeshen's Story class.
------------------------------------------------------------
Birthdays: Frank Sinatra, Edvard Munch, Gustav Flaubert, Auguste Rodin,Edward G. Robinson- real name Emmanuel Goldenberg,former NY Mayor Ed Koch, Zack Mosley –the cartoonist who drew "Smilin' Jack", Connie Francis, Dionne Warwick, Bob Barker,Cathy Rigby, Tracy Austin, Jennifer Connelly is 36

1897-The Katzemjammer Kids comic strip by Rudolph Dirks appears. The adventures of Hans & Fritz was so popular a rival Hearst newpaper started an imitation called the Captain and the Kids, leading to the first artistic plagiarism lawsuit. Gertrude Stein and Alice B. Toklas had a problem whenever they bought the American newspapers for their Paris salon, because Picasso and Fernand Oliver would fight over who got to read the comics first.

1899- George Grant of Boston invented the Golf Tee.

1901-First transatlantic wireless signal received by Guglielmo Marconi. This finally ended the frustrating hoopla over laying transatlantic telegraph cables and have them break down almost constantly since the 1850s. The pioneers of radio broadcasting like Armstrong, Lee Deforrest and David Sarnoff got their start working for the Marconi Wireless Company.

1925- The world's first Motel opened. Arthur Heinman opened the Milestone Motel in San Luis Obispo California. Motel was a contraction of Motor-Hotel.

1952- The first Screen Actors Guild Strike. President Walter Pidgeon -Dr. Morbius in Forbidden Planet- had the movie stars hit the bricks to win television and commercial residuals. The final deals were settled by then SAG president Ronald Reagan in 1960. Ronnie compromised with the studio heads (who later backed his bid for the governorship of California) that only residuals for films after 1955 would be paid. The studios made it known to the membership that if you didn't vote for Reagan you can forget about your residuals. So the deal was struck. Actors who made their big hits in the 30's and 40s like Laurel and Hardy, the Marx Brothers, The Little Rascals and Mickey Rooney were left out. Mickey Rooney, who's Andy Hardy movies were the box office champs of the mid-1940's put it mildly: "Reagan screwed me !!"

1980- The song "Whip It" by Devo won a gold record.

1991-Actor Richard Gere married supermodel Cindy Crawford.

2000- THE SUPREME COURT PICKED THE PRESIDENT. In the tightest presidential election since 1877 The Supreme Court ruled on the case Bush Vs Gore. The High Court decided George W. Bush won over Vice President Al Gore. They stated that although there may have been irregularities in the vote counting in the decisive state of Florida, it was pointless to continue the recount so they were suspending all further appeals. Al Gore and the Democrats quickly caved in and squelched attempts by African-American congressmen to point out vote discrimination. In 1960 the difference between Nixon and Kennedy was around 100,000 votes in a population of 150 million people- in 2000 Bush's lead was down to a mere 140 votes in several states out of a population of 350 million.

Reflecting on last fridays' Animation Guild Holiday Party, I had a great time signing books and meeting people. About 600-800 partied the night away. So much for those who wonder, who's in a union?

I have been going to union parties since my first in New York City in 1976. Then I was a young pup watching all these old silver haired artists laughing and drinking. These were the men and women who made the cartoons that I grew up on. They were the Gods who manufactured dreams for a living. It must be a symptom of maturity that
I've come to miss the faces in the crowd I once saw there in years past:



-Ed Freidman- Steady Eddie, Jewish Olympian in the 1932 LA Games, Filmation Director. He had 55 years experience and a dry humor. He once told me"You know, life's been easy since I gave up.."

-Dale Oliver- Tall, well dressed, a glider pilot with the 82nd Airborne on D-Day. He was Milt Kahl's assistant where his rough thick-thin line was a standard to be emulated by all the crew, the Dale Oliver Line.

-Hicks Lokey, who animated the hippo leaping into the alligators arms in Fantasia (no, Preston Blair didn't do that particular scene) Hicks had been in every union strike since 1935 and no matter how frail and wrinkly he liked to relax by shooting his 357 Magnum.

-Dave Tendlar and Jack Ozark, animators for Max Fleischer who animated the First Popeyes and Betty Boop.

And the MGM gang now at Hanna & Barbera- Ray Patterson, Ed Barge, Ken Muse, Mike Lah. Plus a lot of other old friends- Marc Davis, Louis Tate, the Spider, Perry Keifer, Bill Hurtz, Stan Green, Joe Grant, Joe Ranft. Art Babbitt complaining about Jule Engel, and Jules Engel complaining about Art Babbitt.




I still see them in my minds eye. I raise my glass to them and other old friends. I think they are with us still.
Happy Holidays, Gang.

-----------------------------------------------------------------
Birthdays: Sir David Brewster,1781- inventor of the kaleidoscope, Fiorello LaGuardia, Robert Koch, conquerer of tuberculosis, Alexander Solzhenitsin, Carlo Ponti, Gilbert Roland, Big Mama Mabel Thornton, Jean Marais- The Beast in Cocteau's Beauty & the Beast, Jean Louis Tritignant, Tom Hayden, Jermaine Jackson, McCoy Tyner- John Coltrane's pianist, singer Brenda Lee, Rita Moreno, Teri Garr

711AD- death of Byzantine Emperor Justinian II Rhino-Nose.

1785-French artist Jean Baptiste Greuze was well known for making popular paintings of simple scenes like Young Girl Weeping For Her Dead Bird. This day he went to the Paris police prefect and accused his wife Gabriele Babuti of "Persistently receiving lovers into his home over his protests, stealing large sums of his money and trying to batter in his head with a chamber pot."He was granted a legal separation.

1793- Last July when the French Revolutionary Convention heard of the assassination of their great radical leader Jean Paul Marat one delegate called out "David ! We Need You!" This day Jacques David unveiled his painting THE DEATH OF MARAT for the first time.

1882- The Bijou Theater in Boston presented Gilbert and Sullivan's Iolanthe in the first show completely illuminated by electric light bulbs.

1929- Frenchman Charles Cros patented a searchlight he declared he would use to signal civilizations on Mars and Venus. Nobody's returned the call yet.

1941- Gone With The Wind producer David Selznick pitched a movie version of Hitler's book Mein Kampf to be directed by Alfred Hitchcock and written by Ben Hecht. Mercifully for movie goers the idea was soon dropped.

1957- Rock and Roll singer Jerry Lee Lewis secretly married his 13 year old cousin Myra Gail Brown, while still married to his second wife, who he divorced her when the press broke the story the following April. The incident shot down his meteoric career. Great Balls of Fire!

1964- Soul music star Sam Cooke was shot to death in an argument with a lady who ran an L.A. motel he had brought his girlfriend to.( "Darling you send meee...")

1968- Just point your browser and click! Dr. Douglas Englehardt invented the computer Mouse.

1970- Walt Disney's the 'Aristocats'.

1978- THE LUFTHANSA HEIST.- Some small time Brooklyn Mafiosi slipped into the Lufthansa cargo terminal at Kennedy Airport and stole $8 million in unmarked bills and jewelry, most from European money exchange booths. As the FBI moved in on the gang it's members tended to wind up dead, thirteen bodies in all. The money was never recovered and the reputed mastermind Jimmy the Gent Burke died in prison on an unrelated murder charge in 1991. The incident was dramatized in the Martin Scorcese film "Goodfellas".
| | |
| --- | --- |
| | |