Birthdays; Joseph Smith -Founder of Mormonism, Ruth Roman, Otto Soglow -cartoonist creator of 'the Little King', Frank Morgan (the Wizard of Oz actor was also the first president of the Screen Actor's Guild),Harry Guardino, Claudio Scimone, Vincent Sardi of Sardi's restaurant in NY, Harry Shearer- Mr Burns in the Simpsons, Bob Barker,Japanese Emperor Akihito is 73

1823- SANTA CLAUS BORN. This day the poem "A Visit from St. Nicholas" was published anonymously in The Troy Sentinel, a New York newspaper. The poem completed the synthesis of English and Dutch folk traditions that were merging in New York into our modern concept of Santa. The Dutch Klaus-in-the-Cinders" or Kris Kringle was an elf who climbed down chimneys to give children toys. He merged with the British Father Christmas or Saint Nicholas who was a big, fat, jolly bishop with a white beard in a red suit. The reindeer names Donner and Blitzen come from the Dutch words for thunder and lightning "Dunder und Blixem" Both cultures also had him use a whip on bad children but that part was edited out. In an 1859 reprint of the famous poem, famed cartoonist, Thomas Nast (who created the Republican elephant and Democratic donkey) drew the first likeness of Santa Claus. Because of residual rivalry from the Civil War claiming Santa was a Yankee or came from old Dixie, in 1867, Nast ended the argument by declaring Claus's true address to be the North Pole. The likeness we all recognize was created by illustrator Haddon Sundblom for a Coca-Cola ad campaign in 1934. Several years after A VISIT FROM SAINT NICHOLAS success, the authorship was claimed by a Bronx Bible teacher, the Reverend Clement Clarke Moore, and he was celebrated in his time as the father of Santa Claus until his death in 1863. In 2000, a literary-forensic specialist from Vassar named Foster has challenged Moore's authorship and claims an obscure Revolutionary War veteran from Poughkeepsie, NY. named Major Henry Livingston, actually wrote the poem. He uses as evidence the poetry style of Livingston being much closer to the anonymous poem than Rev Moore's. But unless a literary smoking gun can be produced, we may never know.

1834- In London, Joseph Hansom patented Hansom cabs. This is the one-horse, two-wheeled cab with the driver in back. Cab is shortened from Cabriolet, a type of springed horse-carriage.

1857- Ex-army officer, failed businessman and town drunk, Ulysses Grant pawned his watch so he could buy Christmas presents for his wife and kids. From this rock bottom he would eventually rise to win the Civil War, become President of the United States and the most famous American of his time.

1893- Humperdinck's opera "Hansel und Gretel" debuts in Weimar Germany.

1894- Claude DeBussey's "Afternoon of a Faun" premiered in Paris.

1912- The Max Sennett short comedy "Hoffmeyer's Release" premiered, the first comedy featuring the Keystone Cops.

1913- Young Italian Rudolph Valentino arrived in America to seek his fortune. He was so poor that after a year he sent his parents a photo of himself in a borrowed tuxedo to allay their fears. He worked as a nightclub dancer and gigolo until becoming a Hollywood film star in 1921.

1930- Struggling young actress Betty Davis signed her first contract with Universal Studio.

1935- Walt Disney sent a detailed memo to art teacher Don Graham outlining his plans for retraining his animators to do realistic feature films.

circa-1935- This was the traditional day for Republic Pictures to fire all their employees and hire them back after New Year's so they wouldn't have to pay them holiday pay. Republic billed itself on its business cards as The Friendly Studio.

1972- The Immaculate Reception. Football's Pittsburgh Steelers were trailing the Oakland Raiders 7-6 with one second to go when they scored a touchdown and won 13-7.

1973- Soap Opera "Young and The Restless" premiered.
Happy Winter Solstice! The shortest day of the year. Zoroastrians lit fires on their roofs to Ahura Mazda and Vikings brewed an extra strong beer and brought evergreen garlands indoors to decorate their homes.

In animationland studios are having their last day before the holiday break. Nothing too much gets done today- the execs and producers have already flown off to Squaw Valley to ski or Maui; the foreign artists have all gone home to see their families for a Joyeux Noel, Weinacht or Navidad. By about lunchtime the studios become ghost towns, except for an occasional office party. Those studios too small to afford a big catered event at the Odyssey or Sportsman's Lodge today will break out the booze and set out home made cupcakes and chips. At Filmation and Hanna & Barbera in the 1970s we'd all start drinking by 10 AM.

Lots of funny memories of people letting their hair loose for the holidays. One writer got so drunk Lou Scheimer caught him urinating on the central stairwell and chased him down the hall. My friend Sharon the storyboard artist remembered standing in the crush of the partycrowd, when she felt something wet at her feet. She looked down and saw another writer sprawled full out on the floor licking her ankles...
Who says writers and storyboard artists don't get along?

One year an overzealous department head had us all laboring until the last minute. Then at noon the Filmation production chief Joe Mazzucca, a drink in each hand and Three-Sheets-To-The-Wind, burst in our wing and bellowed "WHY THE HELL ARE YOU ALL STILL WORKING? MERRY CHRISTMAS, GO HOME!!"

So to all my comrades in Animationland, if you're still grinding away today, relax, it's only a cartoon. Merry Christmas, Happy Chaunnakah, go home and have a safe and Happy Holiday.

Santa by cartoonist Thomas Nast (1840-1902) still the best. Just LOOK at the articulation of those hands! Thats a really hard pose to execute.

-----------------------------------------------------------
Birthdays: Josef Stalin- real name Jozef Djugashvili, James Oglethorpe the founder of the State of Georgia, Jean Racine, Giacomo Puccini, Connie Mack, J. Arthur Rank, Ladybird Johnson is 93, Deems Taylor, Jean Michel Basquiat, Barbara Billingsley, Peggy Ashcroft, Emil Sitka, Gene Rayburn, Hector Elizondo, Diane Sawyer, Steve Carlton, Steve Garvey, Diane Sawyer, Robin Gibb & Maurice Gibb of the Bee Gees, Ralph Fiennes is 43

1742-HALELIEUYAH! HALELIEUYAH!- George Fredrich Handel's oratorio "the Messiah" debuted in Dublin. Legend says he completed the work in only three weeks. When Messiah was played in London King George II was so moved by the "Halelieuyah Chorus" that he rose to his feet. Of course then everyone else immediately had to also and to this day the tradition is to stand during it's singing. Critics of the king said the only reason he stood up was the silly old duffer thought they were playing the national anthem. Handel was beloved of the British despite curious behavior like ordering three dinners and eating them himself. He had a bad temper that made him throw a bass drum at his musicians when they played off key and he once threatened to throw a soprano out of a window. Handel at first had a bad grasp of English. After hearing the Messiah when someone asked him how could he write so sublimely in a language he had so little of, he replied :"It ist because I haff a little Religion in me alzo !" Truth be told he had an English collaborator named Whitney who picked appropriate passages from the Bible.

1808-DA-DA-DA- DUMMMMM…..Beethoven first performed his 5th Symphony.

1882- Thomas Edison introduced the string of electric Christmas Tree lights replacing candles.

1964- In Chicago Comedian Lenny Bruce was sentenced to four months in prison on obscenity charges. When the arresting officer read aloud his jokes the jury laughed but convicted him anyway. Bruce complained about the policeman's delivery. One fan arrested that night as well was future comic George Carlin.

2001- Would-be terrorist Richard Reid tried to blow up an American Airlines flight from Rome to Orlando by trying to ignite a substance concealed in his sneakers. He was stopped and beaten silly by his fellow travelers, including a 6'8 pro basketball player returning home from the Italian leagues.
Birthdays: Benjamin Disraeli, Josh Gibson- the Home Run King of the Negro Baseball Leagues, Pat Weaver-TV exec who created the Today Show and father of Sigourney Weaver, Frank Zappa, Jane Fonda is 69 , Paul Winchell the voice of Tigger and the Ant Hill Mob, Keifer Sutherland is 40, Samuel L. Jackson is 58, Florence Griffith Joyner, animator Phil Roman, Ray Romano is 49, Jeffrey Katzenberg is 58

1913-THE BIRTHDAY OF THE CROSSWORD PUZZLE-The first Crossword Puzzle appeared in the New York World.

1914- The premiere of the first feature length film comedy- Tilly's Punctured Romance, starring Marie Dressler, Mabel Normand and a young Charlie Chaplin.

1925- Sergei Eisenstein's cinematic masterpiece Battleship Potemkin premiered in Moscow. The film's pioneering use of montage editing, particularly in the Odessa Steps Sequence, inspired a generation of filmmakers.

1933- Twentieth Century Fox signed 5-year-old Shirley Temple to a seven-year contract.




1937-Walt Disney's "Snow White and the Seven Dwarves" premiered at the Cathay Circle Theater. The first feature-length American cartoon. Many predicted Disney's Folly would fail, and many theaters refused to run it. The theater managers felt they wouldn't be able to charge adult evening ticket admissions for a cartoon. The animators were so desperate for it to be a hit they themselves fanned out across the city and pinned up the posters themselves. When the film was done the audience stood and cheered. Snow White became the box-office champ of 1938,earning 4 times more than any other film that year. The Looney Tunes crew attended the black tie opening. That night Chuck Jones and Bob Clampett were inspired to create the mouse Sniffles.

1937- Ted Healy, former vaudeville partner and founder of the Three Stooges, was killed in a barfight. He and the Stooges had long since ended their partnership and he loudly resented their growing success. One legend has it that actor Wallace Beery and some gangsters did the fatal pounding. Another rumor is one of the gangsters was young Albert Cubby Broccoli, who forty years later would produce the James Bond movies and win an Irving Thalberg Award at the 1982 Oscars. Another hood at the scene a capo for Lucky Lucciano and Healy had been dating his girlfriend Thelma Todd, who also died under mysterious circumstances.

1939- In the year that saw them signing a non-aggression pact, Adolf Hitler in Berlin sent Holiday Greetings to his new buddy Marshall Josef Stalin in Moscow. Merry Christmas you Zionist-Bolshevik UnterMenschen! Thank you and same to you, you Fascist Maggot Tool of International Capitalism!

1940- Writer F. Scott Fitzgerald (44) dropped dead of a heart attack at Hollywood columnist Sheila Graham's house. She had just left the house to buy him some candy. His last words were 'Hershey bars will be fine..."

1971- Richard William's animated TV special "A Christmas Carol"



1989- Vice President Dan Quayle sent out 30,000 official Christmas cards with the word beacon misspelled- beakon.
This morning a blurb in the Internet Movie Database ran thus-

John Lasseter and Ed Catmull are planning to return the Walt Disney Co.'s studios in Burbank to its roots as a "traditional" (hand-drawn) animation company exclusively, while Pixar will continue to turn out computer-animated (CG) features, Disney watcher Jim Hill reported on his website www.jimhillmedia.com today (Tuesday). In doing so, Lasseter, the chief creative officer for Disney Animation, and Catmull, the unit's president, will be reversing Disney's efforts over the past three years to, in Hill's words, "retrain that studio's staff as well as to change Disney Feature Animation into a state-of-the-art CG operation." Hill observed that the plan has not yet been "entirely embraced" by Disney CEO Robert Iger. One result of the about-face, Hill noted, has been the cancellation of Disney's plans to produce the computer-animated American Dog, a movie conceived and supervised by Chris Sanders, who ironically was responsible for Disney's last big hand-drawn hit, Lilo and Stitch.
- IMDB Dec 20th 2006

Jim Hill is a pretty reliable source, he was one of the first to break the Pixar-Disney marriage story last year.

The rumors on the future of the MouseHouse continue to swirl, and no one is more confused than its occupants. Some say things are great, while others are concerned. A Disney shorts program was begun, followed by 130 layoffs of CGI personnel. We'll see. It shows that we are living in historic times for animation. When I was completing my book I had to keep recalling the galleys to add new events as they occurred. So stay tooned...
QUIZ:
What do Charlton Heston, Miles Davis, Enrico Caruso and Gary Cooper have in common with Disney animator Eric Goldberg?
(answer below)

I have not heard about the memorial plans for Joe Barbera yet. The Animation Guild with ASIFA/Hollywood hosts a group memorial for everyone who passed away this year. The Afternoon of Remembrance this year will be on Saturday afternoon February 3rd. It is a non-religious event, free to all. Check the ASIFA website for details.

----------------------------------------------------------------
Birthdays: Bonnie Prince Charlie, Branch Rickey,film director George Roy Hill, Dr. Samuel Mudd, Jenny Aguitter,spoon bending psychic Uri Geller, Irene Dunne, Cecil Cooper, Albert Dekker, Harvey Firestone, John Spencer, animator Amby Paliwoda

1892- According to Jules Verne's Around the World in 80 Days this was the day Phileas Fogg completed his trip.

1920- English song & dance man Leslie Townes Hope became an American citizen and changed his name to Bob Hope.

1937- Nazi Josef Goebbels noted in his diary that this day he sent his boss Adolph Hitler a Christmas present of a dozen Mickey Mouse Cartoons from America. Officially der Fuehrer called Mickey 'vermin' but privately he enjoyed his animated antics.



1950- Harvey premiered starring James Stewart and a 6 foot invisible rabbit.

1952- Bridgette Bardot married director Roger Vadim.

1955- Sir Lawrence Olivier's film version of Richard III premiered.

1962- The Osmond Brothers premiered on the Andy Williams Show.

1970- ELVIS MEETS NIXON or "The President Meets the King." Citizen Presley volunteers his services in the war on drugs and gave Nixon a gold plated 44 cal. pistol. The President thanked him with a White House security officer's badge for his collection of police badges....... you see why fiction pales next to this stuff.... A recent biography of Presley described the dozen or so patent medicines he was high on, while he met Nixon.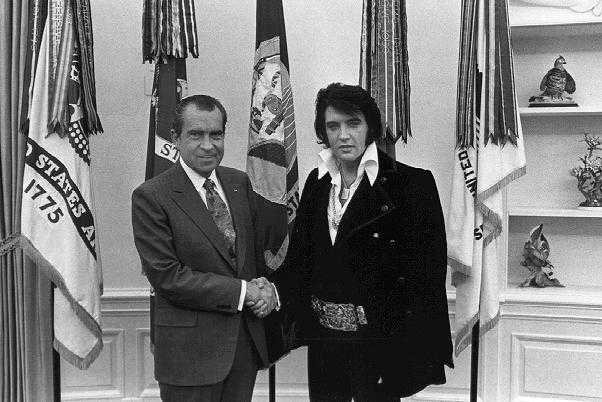 1971- Twentieth Century Fox chief Darryl F. Zanuck blames his own son CEO Richard Zanuck for Fox's monetary problems and fires him. This sets off a power struggle among the board of directors. When Zanuck's estranged wife Libby throws her support against the mogul, Zanuck is overthrown and fired from his own company. He was the last of the original Hollywood moguls.
------------------------------------------------------------------
QUIZ:
What does Charlton Heston, Miles Davis, Enrico Caruso and Gary Cooper have in common with Disney animator Eric Goldberg? They all could draw pretty well. Gary Cooper's first ambition was to be a cartoonist for the Helena Montana Times. Charlton Heston studied at the Art Students League in NY and paid by doing nude modeling.
| | |
| --- | --- |
| | |