Birthdays: Benjamin Disraeli, Josh Gibson- the Home Run King of the Negro Baseball Leagues, Pat Weaver-TV exec who created the Today Show and father of Sigourney Weaver, Frank Zappa, Jane Fonda is 69 , Paul Winchell the voice of Tigger and the Ant Hill Mob, Keifer Sutherland is 40, Samuel L. Jackson is 58, Florence Griffith Joyner, animator Phil Roman, Ray Romano is 49, Jeffrey Katzenberg is 58

1913-THE BIRTHDAY OF THE CROSSWORD PUZZLE-The first Crossword Puzzle appeared in the New York World.

1914- The premiere of the first feature length film comedy- Tilly's Punctured Romance, starring Marie Dressler, Mabel Normand and a young Charlie Chaplin.

1925- Sergei Eisenstein's cinematic masterpiece Battleship Potemkin premiered in Moscow. The film's pioneering use of montage editing, particularly in the Odessa Steps Sequence, inspired a generation of filmmakers.

1933- Twentieth Century Fox signed 5-year-old Shirley Temple to a seven-year contract.




1937-Walt Disney's "Snow White and the Seven Dwarves" premiered at the Cathay Circle Theater. The first feature-length American cartoon. Many predicted Disney's Folly would fail, and many theaters refused to run it. The theater managers felt they wouldn't be able to charge adult evening ticket admissions for a cartoon. The animators were so desperate for it to be a hit they themselves fanned out across the city and pinned up the posters themselves. When the film was done the audience stood and cheered. Snow White became the box-office champ of 1938,earning 4 times more than any other film that year. The Looney Tunes crew attended the black tie opening. That night Chuck Jones and Bob Clampett were inspired to create the mouse Sniffles.

1937- Ted Healy, former vaudeville partner and founder of the Three Stooges, was killed in a barfight. He and the Stooges had long since ended their partnership and he loudly resented their growing success. One legend has it that actor Wallace Beery and some gangsters did the fatal pounding. Another rumor is one of the gangsters was young Albert Cubby Broccoli, who forty years later would produce the James Bond movies and win an Irving Thalberg Award at the 1982 Oscars. Another hood at the scene a capo for Lucky Lucciano and Healy had been dating his girlfriend Thelma Todd, who also died under mysterious circumstances.

1939- In the year that saw them signing a non-aggression pact, Adolf Hitler in Berlin sent Holiday Greetings to his new buddy Marshall Josef Stalin in Moscow. Merry Christmas you Zionist-Bolshevik UnterMenschen! Thank you and same to you, you Fascist Maggot Tool of International Capitalism!

1940- Writer F. Scott Fitzgerald (44) dropped dead of a heart attack at Hollywood columnist Sheila Graham's house. She had just left the house to buy him some candy. His last words were 'Hershey bars will be fine..."

1971- Richard William's animated TV special "A Christmas Carol"



1989- Vice President Dan Quayle sent out 30,000 official Christmas cards with the word beacon misspelled- beakon.
This morning a blurb in the Internet Movie Database ran thus-

John Lasseter and Ed Catmull are planning to return the Walt Disney Co.'s studios in Burbank to its roots as a "traditional" (hand-drawn) animation company exclusively, while Pixar will continue to turn out computer-animated (CG) features, Disney watcher Jim Hill reported on his website www.jimhillmedia.com today (Tuesday). In doing so, Lasseter, the chief creative officer for Disney Animation, and Catmull, the unit's president, will be reversing Disney's efforts over the past three years to, in Hill's words, "retrain that studio's staff as well as to change Disney Feature Animation into a state-of-the-art CG operation." Hill observed that the plan has not yet been "entirely embraced" by Disney CEO Robert Iger. One result of the about-face, Hill noted, has been the cancellation of Disney's plans to produce the computer-animated American Dog, a movie conceived and supervised by Chris Sanders, who ironically was responsible for Disney's last big hand-drawn hit, Lilo and Stitch.
- IMDB Dec 20th 2006

Jim Hill is a pretty reliable source, he was one of the first to break the Pixar-Disney marriage story last year.

The rumors on the future of the MouseHouse continue to swirl, and no one is more confused than its occupants. Some say things are great, while others are concerned. A Disney shorts program was begun, followed by 130 layoffs of CGI personnel. We'll see. It shows that we are living in historic times for animation. When I was completing my book I had to keep recalling the galleys to add new events as they occurred. So stay tooned...
QUIZ:
What do Charlton Heston, Miles Davis, Enrico Caruso and Gary Cooper have in common with Disney animator Eric Goldberg?
(answer below)

I have not heard about the memorial plans for Joe Barbera yet. The Animation Guild with ASIFA/Hollywood hosts a group memorial for everyone who passed away this year. The Afternoon of Remembrance this year will be on Saturday afternoon February 3rd. It is a non-religious event, free to all. Check the ASIFA website for details.

----------------------------------------------------------------
Birthdays: Bonnie Prince Charlie, Branch Rickey,film director George Roy Hill, Dr. Samuel Mudd, Jenny Aguitter,spoon bending psychic Uri Geller, Irene Dunne, Cecil Cooper, Albert Dekker, Harvey Firestone, John Spencer, animator Amby Paliwoda

1892- According to Jules Verne's Around the World in 80 Days this was the day Phileas Fogg completed his trip.

1920- English song & dance man Leslie Townes Hope became an American citizen and changed his name to Bob Hope.

1937- Nazi Josef Goebbels noted in his diary that this day he sent his boss Adolph Hitler a Christmas present of a dozen Mickey Mouse Cartoons from America. Officially der Fuehrer called Mickey 'vermin' but privately he enjoyed his animated antics.



1950- Harvey premiered starring James Stewart and a 6 foot invisible rabbit.

1952- Bridgette Bardot married director Roger Vadim.

1955- Sir Lawrence Olivier's film version of Richard III premiered.

1962- The Osmond Brothers premiered on the Andy Williams Show.

1970- ELVIS MEETS NIXON or "The President Meets the King." Citizen Presley volunteers his services in the war on drugs and gave Nixon a gold plated 44 cal. pistol. The President thanked him with a White House security officer's badge for his collection of police badges....... you see why fiction pales next to this stuff.... A recent biography of Presley described the dozen or so patent medicines he was high on, while he met Nixon.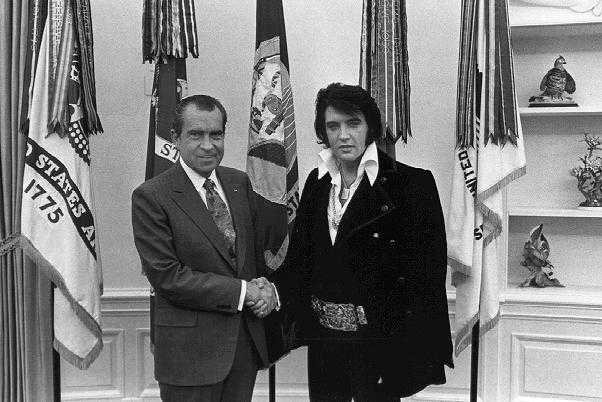 1971- Twentieth Century Fox chief Darryl F. Zanuck blames his own son CEO Richard Zanuck for Fox's monetary problems and fires him. This sets off a power struggle among the board of directors. When Zanuck's estranged wife Libby throws her support against the mogul, Zanuck is overthrown and fired from his own company. He was the last of the original Hollywood moguls.
------------------------------------------------------------------
QUIZ:
What does Charlton Heston, Miles Davis, Enrico Caruso and Gary Cooper have in common with Disney animator Eric Goldberg? They all could draw pretty well. Gary Cooper's first ambition was to be a cartoonist for the Helena Montana Times. Charlton Heston studied at the Art Students League in NY and paid by doing nude modeling.
Yesterday we in Hollywood learned of the death of Joe Barbera. He was 95 and he slipped away peacefully surrounded by his family and friends.




Joe Barbera was one of the best story artists in animation. With Bill Hanna, who died in 2001 at age 90, he made one of the greatest creative teams in film history. I worked for them on Scooby, Yogi's Galaxy Goofups, Superfriends, Godzilla, Jana of the Jungle, Challenge of the Gobots and Young Flintstones.It was a fun atmosphere where it always seemed to be someones birthday and free cake was around, and I once made it into the lunchtime poker game with Nick Nichols, Rick Leon, Bob Gogh, and Mother Mabel Gesner.

Tributes are pouring in from all over the animation world. There are some great anecdotes on Jerry Beck's Cartoon Brew and Mark Evaniers websites. I wrote a long tribute in the Animation Guild 839 blog. Check my links for how to get there.

For here, suffice it to say, from one former Flatbush native to another, ya did good Joe! Thanks for the memories.

------------------------------------------------------
Birthdays:Edith Piaf, Cicely Tyson is 73, Sir Ralph Richardson, Robert Urich, Jennifer Beals is 43, David Susskind, Fritz Reiner, Darryl Hannah, Alyssa Milano, Bronwen Barry, Jake Gyllenhaal is 26

1914- Earl Hurd patented animation 'cels' (celluloids) and backgrounds. Before this cartoonists tried drawing the background settings over and over again hundreds of times or slashed the paper around the character and tried not to have it walk in front of anything. By the late 1990's, most cels & cel paint had been replaced by digital imaging.

1918- Robert Ripley began his "Believe It Or Not" column in the New York Globe.

1932- BBC Overseas Service Radio broadcasts begin.

1971- Stanley Kubrick's 'A Clockwork Orange' premiered based on a novel by Anthony Burgess. In America the film received an X Rating, more for the sex than the violence. Kubrick later cut some naughty scenes to get the rating down to R. The sensation over the film caused so many incidents of urban violence that it was banned in England for three decades.

1974- The first personal computer went on sale. The Altair 8800, named for the planet in the 1955 sci-fi movie classic Forbidden Planet. The computer came in a kit that you had to build and it cost $397. The next year two kids at Harvard named Bill Gates and Paul Allen created a programming language for it called BASIC.

2001- Peter Jackson's film 'The Lord of the Rings, the Fellowship of the Ring' first opened.
Quiz: Which was the first animated TV special? The Grinch? A Charlie Brown Christmas? see below.


--------------------------------------------------------
Birthdays: Antonio Stradivari, Karl Maria Von Weber, Ty Cobb, George Stevens, Ozzie Davis, Diane Disney-Miller, Anita O'Day, Paul Klee, Betty Grable,Keith Richards, Leonard Maltin,Ray Liotta, Alyssia Sanchez-Vaccario,Katie Holmes is 28, Brad Pitt is 43, Steven Speilberg is 60

1937- Mae West does a comedy routine on national broadcast radio with Don Ameche about Adam and Eve that was considered so racy CBS banned her from their network. At the same time she got fined by the networks for joking about ventriloquist puppet Charlie McCarthy:" Hmmm…he's all wood and a yard long!"

1939-Max Fleischer's animated classic "Gulliver's Travels".

1956- TV Game show To Tell the Truth made its debut. Bud Collier hosting, and panelists like Kitty Carlisle, Bennett Cerf, Orson Bean and Dorothy Killgallen as panelists.

1960- A young eccentric man named Jerry Garcia was dishonorably discharged from the army. He had done things like drive a tank into a field then walk away and had been AWOL 8 times in one year. After leaving the army Jerry Garcia became a hippie musician in San Francisco and in 1966 formed the rock band the Grateful Dead.

1961-" In the Jungle, the mighty jungle, the lion sleeps to-night…a winoweh, etc. " this song by the Tokens goes to #1 in pop charts.

1966-FORTY YEARS AGO- YOU'RE A MEAN ONE, MISTER GRINCH!


Chuck Jone's TV version of the Doctor Seuss classic 'How the Grinch Stole Christmas' premiered. Chuck used many of his stalwart artists from his Bugs Bunny days like Maurice Noble, Ken Harris and Ben Washam. Narration was by Boris Karloff and the song "You're a Mean One, Mister Grinch" was sung by Thurl Ravnscroft,better known as the voice of Tony the Tiger.

1975- Rod Stewart announced he was leaving the band Faces for a solo singing career.

1978- SAG strikes Hollywood again for residuals. (again...)

1984- Christopher Guest married Jamie Lee Curtis at Rob Reiner's house .

1997- Saturday Night Live Comedian Chris Farley was found dead in his Chicago apartment in the Hancock Tower, surrounded by empty food containers and porn magazines. The chubby 31-year-old had been partying for 17 straight hours doing cocaine, heroin, vodka and crystal-meth. His last words were to an exhausted prostitute:" Please don't leave me.". Chris Farley was scheduled to be the voice of the character Shrek; Mike Myers now took over. Farley idolized the late John Belushi, who had also died of drugs and hard living at age 31. One writer recalled Farley drunk, throwing chairs and tables around in his hotel room, then he turned to him and asked innocently:" Do you think Belushi is in heaven?"

1998- Dreamworks feature cartoon the "Prince of Egypt", or, as it was nicknamed,"The Zion King".
----------------------------------------------------

Quiz: What was the first animated TV special? The Grinch? Charlie Brown Christmas?

ANSWER: In 1956 UPA director John Wilson created animation to Stavinsky's ballet Petroushka with Stavinsky himself conducting.It was for the Sol Hurok Music Hour on NBC. Mr Magoo's Christmas Carol was in 1961,Rankin Bass Rudolph the Red Nosed Reindeer in 1964, A Charlie Brown Christmas in 1965,The Grinch who Stole Christmas in 1966.
| | |
| --- | --- |
| | |