Birthdays: Harrison Ford, is 65, Cheech Marin, Cameron Crowe,Patrick Stewart is 66
,Film special effects artist Jim Danforth, Dr. Erno Rubik inventor of the Rubiks Cube

1865- P.T.Barnhams American Museum in New York City burned down in a spectacular
fire. Barham rebuilt but after that one burned as well he got the idea of getting
into the circus business. In his American Museum , more a sitting menagerie and
sideshow than a museum as we know it, Barnum invented the idea of advanced hype
and created kiddie matinees.

1925- Walt and Lillian Disney marry.Lillian was one of the first female animation cel painters.

1930- Six thousand people in formal evening wear crowded into Londons Albert Hall
to hear a special message from Sherlock Holmes author Sir Arthur Conan-Doyle. It
was extra special because Conan-Doyle had died five days ago. Conan-Doyle
was a champion of spiritualism and declared he could get a message through from
beyond the grave. An empty chair was placed on stage in hopes of his apparition
taking a seat. Hymns were sung and a clairvoyant medium claimed she saw Sir Arthur.
Others saw nothing and thought it was all a big humbug.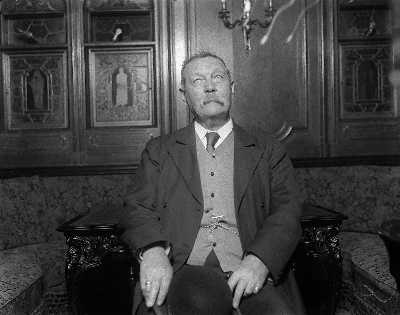 1930 David Sarnoff the head of the NBC radio network said in the NY Times that
" The new invention of Television would be a theater in every home". Sounded
crazy back then.

1939- Frank Sinatra recorded his first album, this one with the Harry James Orchestra.

1949- Producer David O. Selznick left his first wife Esther, the daughter of Louis
B. Mayer, and married actress Jennifer Jones.

2305- According to Star Trek Next Generation Captain Jean Luc Picard was born.
| | |
| --- | --- |
| | |