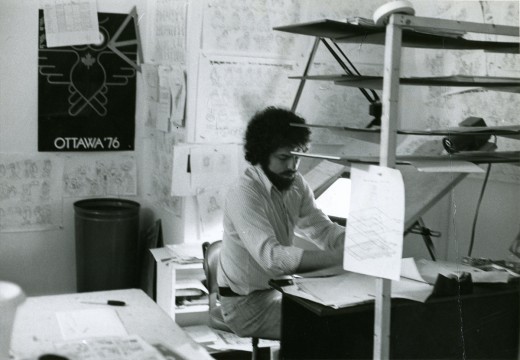 Michael Sporn died yesterday from pancreatic cancer. He was 67 and had been battling the disease for 3 ½ years.

I was friends with Michael Sporn for almost forty years. Mike was an award-winning animator who created films like Dr. DeSoto, The Man Who Walked Between the Towers and The Amazing Bone. He was passionate for animation when many were not, and was passionate to remain in New York when many were leaving. He collaborated with a great many notable people in his career like Tissa David, John Hubley, Richard Williams, Lauren Bacall, R.O. Blechman and William Steig. He started a great many animators today on their first jobs, and encouraged many young careers both through his studio, and from his website blog - the Splog.

When you hear someone close to you has died, someone you laughed with, argued and drank with, shared successes and failures, grew up and grew old with, dozens of feelings and images flood your mind. It's hard to know where to begin.
Meeting Mike on my first day as an inbetweener on Raggedy Ann in 1976. Swapping opinions on animated films over cheeseburgers at Four & 20 Pies in the Village. Hooking up at film festivals in other cities, seeing the pride in his eyes as he showed us around his studio and introducing me to each one of his young artists.

But one memory does stand out in particular.

I think it was in December 1977 Mike threw one of his Xmas parties in his Forrest Hills apt. Lots of animation folks and lots of laughter. Near midnight, Mike, me, and Duane Ulrich went for a walk to clear our heads. It was snowing heavily and Queens Blvd was all but deserted, because the plows had not yet come. So it was just us, watching the gentle, fat snowflakes illuminated by the amber streetlights as they drifted down. Mike opened up about how tired he was, running other people's studios, and other people's moviolas. He wanted to have his own place, and make his own films. We smiled and were encouraging, as with any friend with a dream. But shortly afterward, Mike did indeed start a studio. And a very successful one at that.

I remember our last meeting last Sept when he came out to my book signing at SVA. He looked so painfully thin; his handshake was weak. Yet his big eyes smiled in their old way, as if to say " Well done. Wish we could talk more." I was so happy he came.

Adieu for now, Mike. When you get to Animation Valhalla, have Hubley and Babbitt introduce you to Tytla and Freddy Moore.

And for me back here, I'll keep you in my mind's eye, walking in the snow.
| | |
| --- | --- |
| | |