Question: Greek-American actor Telley Savalas 1922-1994( Kojak) had a goddaughter that is pretty famous today. Who is she?

Answer to yesterday's question below: Who is older? Bugs Bunny, Mickey Mouse, Felix the Cat or Betty Boop.
------------------------------------------------------------------------
history for 9/22/2009
Birthdays: Anne of Cleves 1515- Henry VIII's fourth wife. Bilbo Baggins and Frodo Baggins, Mafioso Joe Valachi, Michael Farraday, John Houseman, Joanie Jett, Erich Von Stronheim, Tom Lasorda, Paul Muni, Debbie Boone, Scott Baio, John Woo is 61, Meryl Streep is 60

287 AD.-THE THEBAN LEGION-One of the celebrated myths of the Middle Ages. A Roman general Maximian Herculius recruited an entire army unit from Christians in upper Egypt. In Gaul with the imperial army the Emperor Maximian orders sacrifices to the gods for victory. The Theban Legion refused to a man to participate in the pagan rituals. The emperor had every tenth man executed (to "decimate") and still they refused. Soon all 1,500 were executed. So much time and money was invested by the state in the training of veteran soldiers that it is unlikely that the practical Romans would massacre an entire legion, still, it's a good story.

1692- Seven witches hanged in Salem, Mass. When the daughter of the Royal Governor of the Massachusetts Colony was accused the Governor finally stepped in and stopped the madness. He overturned the decisions of the Salem court and ordered it's disbandment. These were the last witch executions in America.

1761- King George III's coronation in London. Unlike his two George forebears who clung to their German Hanoverian roots, George III spoke English without an accent. All the great men of the day were there like Pitt the Elder, Edmund Burke and Dr. Samuel Johnson. In the crowd in front of Westminister Abbey, dazzled by all the pomp and circumstance, was a young colonist from America named John Hancock. Presented at court, he received from his sovereign's hands a silver snuffbox. Ironically this was the very same Hancock whose bold signature would one day adorn the U.S. Declaration of Independence.

1776- Nathan Hale is hanged as a spy by the British in New York. The Connecticut schoolteacher had only been a spy for nine days until he was sniffed out and exposed by Colonel Robert Rogers, the French and Indian War hero who was now a Tory Loyalist. Today the spot where he was executed is near the w44th st. entrance of the PanAm err..Sony building near the flagship store of Brooks Brothers. Hale met his death cooly, one account later by a English officer named Montrose was that his last words were a quote from Addison's play Cato :"I regret that I have but one life to give for my country…."

1925- Lon Chaney's horror classic film the Phantom of the Opera premiered.

1927- The Dempsey-Tunney championship fight. Tunney wins in the famous 'long count', meaning the referee delayed the count because Dempsey wouldn't return to his neutral corner. The extra time allowed Tunney to recover his wits and continue the fight to victory. Jack Dempsey was world heavyweight champion for ten years but retired a year later.

1964-Jerome Robbins' "The Fiddler on the Roof " opened on Broadway. In 1953 Robbins had named names to the MacCarthy HUAC committee to save his career. Now in Fiddler he had to use blacklisted actors like Zero Mostel and Beatrice Arthur who despised him.

1975- A emotionally unstable FBI worker named Sarah Jane Moore tried to assassinate President Gerald Ford in front of the Saint Francis Hotel in San Francisco. Her gun arm was deflected at the last second by a man named Bill Sipple. In the subsequent media attention Sipple was outed as a gay man and his career was damaged. "I can't see what my sexual orientation had to do with saving the President's life!"

1976- TV show Charlie's Angels premiered. It made a star out of Farrah Fawcett.

1979-THIRTY YEARS AGO! Hanna Barbera's Super Globetrotter's Show, featuring Multi-Man, Sphere Man, Gizmo-Man,Spaghetti-Man and Fluid-Man.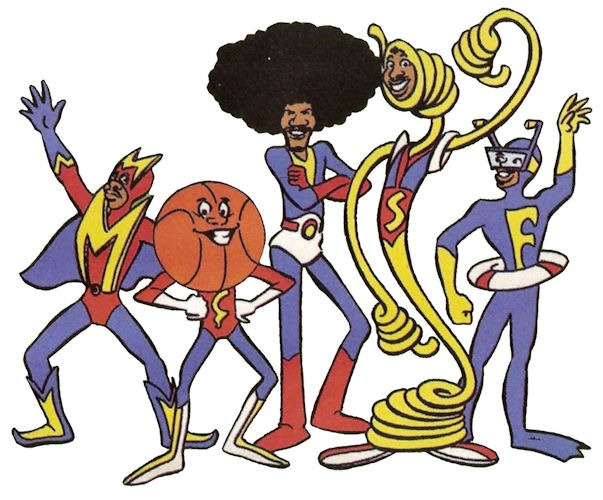 1980- Proctor & Gamble announced a recall of millions of tampons following several deaths from a rare infection called Toxic Shock Syndrome.

1984- Michael Eisner named CEO of the Walt Disney Corporation.
---------------------------------------------------------------------------------------
yesterday's question: Who is older? Bugs Bunny, Mickey Mouse, Felix the Cat or Betty Boop.

Answer: Felix the Cat (1919), the Mickey Mouse (1928), Betty Boop ( 1931) and Bug Bunny ( 1940)
| | |
| --- | --- |
| | |