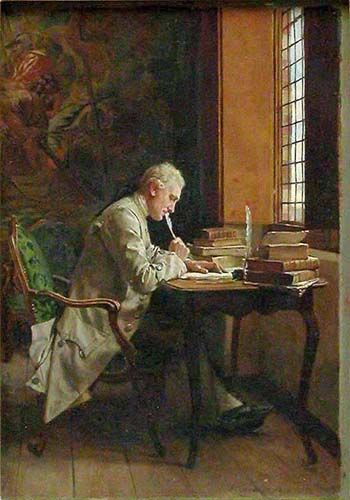 Eduard Meissonier
Yersterday marked the One Year Birthday of this website and this blog!I want to thank all of you who routinely read and enjoy this little page. I promise to share some of my own artwork on this site eventually. I have to get over my stage fright. I appreciate those who contact me with corrections to my trivia when I err, and I look forward to sharing more stories, anecdotes and tall tales from ToonTown with you all in the future.

---------------------------------------------------------
Birthdaze: King Louis XI of France "the Spider King"1423, Franz Kafka, Mr. Preserved Fish -New York Congressman-1819 and father of Vice President Hamilton Fish, Dave Barry, Leos Janacek, John Singleton Copley, Ken Russell, Tom Stoppard, George Saunders the voice of Shere Khan in Jungle Book, Peter Fountain, Tom Cruise is 45

1916-Hetty Green "the Witch of Wall Street" dies at 80. Her eccentric cheapness created the millionaire-bag lady myth. The richest woman in America, worth around $100 million, she lived in a dumpy apartment in Hoboken, refused to pay for a doctor when her son broke his leg, and stole bread off the tables at fashionable restaurants.

1931- The Cab Calloway Orchestra recorded 'The St. James Infirmary Blues."

1937- In California the Del Mar Racetrack opened, partly owned by Bing Crosby.

1946- Millionaire aviator Howard Hughes crashed an experimental airplane into four homes in Beverly Hills. Hughes had crashed planes before without much injury, but this crash left him near death. His slow recuperation addicted him to morphine and codine.

1969- Brian Jones, having been kicked out of the Rolling Stones just days before -- drowns in his swimming pool. His home was once the estate of A.A. Milne. To this day, conspiracy theorists still insist foul play was involved. More likely, lots of drugs and depression.

1969- On the same day, John and Yoko Lennon are almost killed in a car crash, along with John's son Julian and Yoko's daughter Kyoko.

1971- Rock singer Jim Morrison 28, found dead of a heart attack in his bathtub in Paris.

1971- First laser surgery performed in Sweden.

1978- The Supreme Court upheld the FCC's reprimand of N.Y. Pacifica radio station WBAI's airing of a George Carlin comedy routine called the "7 Deadly Words", reciting expletives you cannot say on radio or television even today.
| | |
| --- | --- |
| | |