The plans for a reunion for the 30th anniversary of the film RAGGEDY ANN & ANDY- A MUSICAL ADVENTURE is proceeding. ASIFA hopes to hold simultaneous events in New York and Los Angeles, with a virtual link. We're scheduled for Sat Nov. 17th.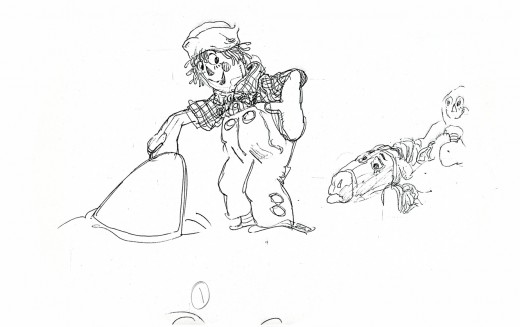 Corny Cole sketch, courtesy of MichaelSpornAnimation.com

If you know of any Raggedy vets out there, please tell them to contact me via my contact numbers. The public is invited too, of course! More details to come as we get closer to the date.

All proceeds will go to the ASIFA/Hollywood Archives.

--------------------------------------------
Birthdays: William Wrigley the Chewing Gum king 1868, Truman Capote, Eli Weisel, Lester Maddox, Buddy Rich, David Oistrach, Deborah Kerr is 86, Angie Dickinson is 76, Marylin McCoo, Len Cariou, Johnny Mathis, Rula Lenska, Eric Stolz, Monica Bellucci is 43, Jenna Elfman is 36

420AD- Today is the feast of Saint Jerome, who first translated all of the Old and New Testaments from Hebrew, Chaledean , Aramaic and Greek into commonly spoken Latin. This is referred to as the Vulgate Edition. Much everyday Latin words of the Romans disappeared when it became mostly a Clerical and Scientific language in the Middle Ages. One Latin scholar told me the Romans had a verb which meant "to have a large radish rammed up one's butt". It was the penalty for public buggery. I wonder how you would conjugate that verb... I shoved, he shoved, we shoved...

1187-SALLADIN CAPTURED JERUSALEM- After destroying the Crusader army at The Horns of Hattin in July the Sultan of Egypt laid siege to the Holy City. The Latin Patriarch of Jerusalem and the Baron of Ibelin threatened to destroy the Al Acqsa, Dome of the Rock and other Moslem Holy Places if Salladin didn't agree to mild treatment of the Christian citizens of the city. Salladin didn't want his name to go down in history with such an infamy, so he agreed. Still, he consoled himself with beheading 3,000 captured Knights Templar (you gotta have some fun). Remember Richard Lionheart had 5000 Arab people chopped up outside St.Jean d'Acre just to piss Salladin off. The Queen of Jerusalem, Yolanda DeCourtenay, wife of Baldwin IV 'the Leper King '(deceased), went into exile looking for Western support for more Crusades. Despite her efforts the Europeans never got back Jerusalem and Yolanda's titles passed from one courtly alliance to another. Today Dr. Otto Von Hapsburg, a retired dentist from Stuttgart, European Parliament member and heir apparent to the Austrian Empire has among his other titles King of Jerusalem.

1399- King Richard II abdicated the throne of England for Henry IV Bollingbroke. He was Henry IV part one,if you're a Shakespeare fan .Henry was the eldest surviving son of John of Gaunt and Richard the son of his brother Edward the Black Prince. The cousins familys would wage the War of the Roses a generation later. Richard was later murdered at Pontefract Castle. Richard II is remembered for is the invention of the pocket-handkerchief.

1630- Pilgrim John Billington became the first American hanged for murder. Known as the "Wickedest Pilgrim Father" criminologists call him the first American crook.

1789- After adopting the Constitution, setting up the Supreme Court and working with the first President, the First Congress of the United States adjourned. The current congress is called the 106th.

1791- Mozart's opera "Die Zauberflotte, The Magic Flute" premieres at Emanuel Schiknader's theater in Vienna. One of the theories about Mozart's death was that he enthusiastically put so much FreeMason's secret ritual into the Magic Flute that the Masons did him in for violating their secrecy. The Papageno-Papagena duet when they meet at the end was Schiknader's idea. Mozart gave pyrotechnical trills to the coloratura aria of the Queen of the Night, but privately he laughed at such singing as "Cut Up Noodles".

1846- Dr. William Morton first pulled a tooth using ether as an anesthetic.

1868- Louisa May Alcott's novel Little Women first published in installments.

1919- The Fleischer Brother's first Out of the Inkwell cartoon featuring Koko the Clown. Koko was rotoscoped- meaning traced from live action like Motion Capture does today. Dave Fleischer put on the clown suit and was filmed by his brother Max. Dave joked "if the films weren't a hit, I already have a suit for a new career."

1930- Death Valley Days show premiered on radio, sponsored by Twenty mule Team Borax powder. When it moved to television in the 50's the host was actor Ronald Reagan.

1935- George Gershwin's opera Porgy and Bess premiered at the Colonial Theater in Boston. It flopped originally but after some rewrites it became a major hit.

1942-THE STAR OF AFRICA- Just prior to the Battle of El Alamein the top German fighter ace Hans Joachim Mareilles The Star of Africa died when his ME 109F caught fire and his parachute didn't open. Marseilles had shot down 158 aircraft in one and a half years. He was just 22. His marksmanship over the Sahara desert was so good that his wingman was nicknamed "The Adding Machine" for his only job seemed to be to watch and tally up the enemy planes as Marseilles shot them down. Because of the desert heat this air ace fought his battles in shorts and white tennis shoes.

1947- The first World Series Game on Television- New York Yankees beat the Brooklyn Dodgers 5-3. Gillette and Ford paid $65,000 to sponsor the entire series.

1952- This Is Cinerama, showcasing the widescreen film process, opened in theaters.

1955-James Dean (24) died when his Porsche 550 Spyder crashed head on into a pickup truck driven by college student Donald Turnupseed on Highway 41 outside of Paso Robles, California. He was driving 85 mph at dusk without his headlights on and two hours earlier had been given a ticket for speeding. Until now the American public had only seen him in one movie- "Rebel Without a Cause" and some t.v. work. Giant and East of Eden had yet to be released, yet the legend endures to this day. In an errie coincidence Dean filmed a public service announcement promoting automobile safety. His last lines were:"Remember, the life you save may be mine!"

1960-Hanna Barbera's "The Flintstones" debuts. For six seasons in prime time the inhabitants of 301 Cobblestone Lane, Bedrock, was one of the most successful tv series ever. Originally going to be named the Flagstones, then Gladestones, before Flintstones. Ed Benedicts' designs with Alan Reed as the voice of Fred, Jean Van Der Pyl the voice of Wilma, Mel Blanc doing Barney and Bea Bernadette doing Betty.

Trivia: Wilma became the first character on television to appear visibly pregnant. Lucille Ball went through her pregnancy on TV in 1953, but she was not allowed to be seen as such, covered with a lot of big clothes and filmed from the neck up. Fred and Wilma were also the first couple since 1935 allowed to be seen in a bed together. The Motion Picture Production Code demanded even married couples be portrayed in separate beds, and if together one had to have one foot touching the floor.

1970- The Presidential Commission on Obscenity and Pornography published it's report. After two years and 646 pages, they reported that porn was not harmful to society and does not encourage juvenile crime. This report helped the already burgeoning Sexual Revolution of the 60s but by the 80's was ignored by both Left and Right. Pres. Ronald Reagan had a new commission under his lieutenant Ed Meese and Savings and Loan Scandal crook Charles Keating, that concluded the opposite view.

1971- The Baseball Washington Senators played their last game in RFK Stadium. Their fans rioted and threw so much trash on to the field that the game was declared a forfeit. The Senators moved to Texas and became the Texas Rangers. No longer would the joke apply:" Washington: First in War, First in Peace and Last in the American League!"

1982- The TV comedy Cheers premiered. The Beacon Street Bar in Boston where everybody knows your name. It made stars of Ted Danson, Woody Harrelson, Kirsty Alley and Kelsey Grammar.

1990- President George Bush Sr made the cornerstone of his policy that he'd never raise taxes- He declared "Read my lips, no new taxes!" Well today he went back on his word and announced a hefty tax increase of $134 billion. When a spokesman was called on this obvious flip-flop he responded:" The Presidents position has evolved." So did the American public's view of Bush, they voted him out of office.
| | |
| --- | --- |
| | |